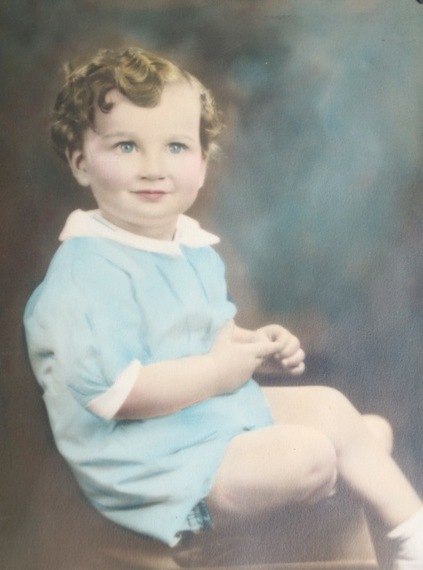 Sept. 29, 1930 - April 28, 2012
My late, great Uncle Bruce was otherwise known as a fart knocker, rump ranger, poofter, fairy and shit-packing fag. It hurts to write those words, but that's how a lot of people saw homosexual men, and over the course of his long life, some weren't ashamed to spit it in his face. Outside a primo LGBT crew and a few trusted relatives and straight friends, my high-strung uncle remained locked in the closet for most of his 81 years.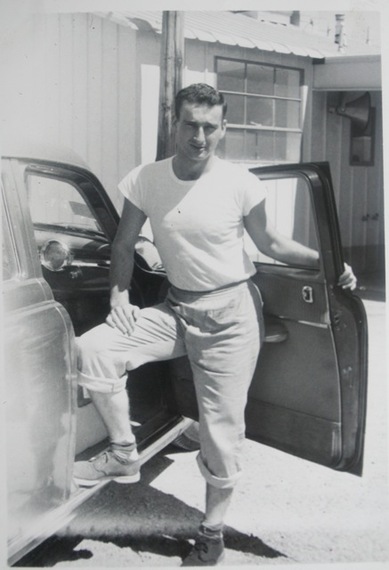 When he was young, Bruce was blessed to fall in love with another Midwesterner, the cool breeze to his hot afternoon: my serene Uncle Craig. They lived together in Chicago and then Phoenix, Arizona, uncomfortable with being seen kissing in public and unable to marry, for close to 50 years. Bruce worked hard at the same bank for his entire career, eventually climbing the ladder to vice president, but as far as I know, not a single co-worker knew that Craig was the love of his life, or that he, such an accomplished, manly man, was queer.
Bruce was larger than life and could not be entirely contained, or maybe the fact that so much of him was indeed contained made him fill every room he entered with his intensity, anger, dirty jokes and unconditional love. His unwavering support of who I was and what made me different from the "norm" helped me learn to accept and be exactly who I am. He insisted that I follow my heart's desire, in part because he could not openly follow his. Whenever I visited, he loved that my favorite thing to do was hang out with him, Craig and their mostly closeted friends.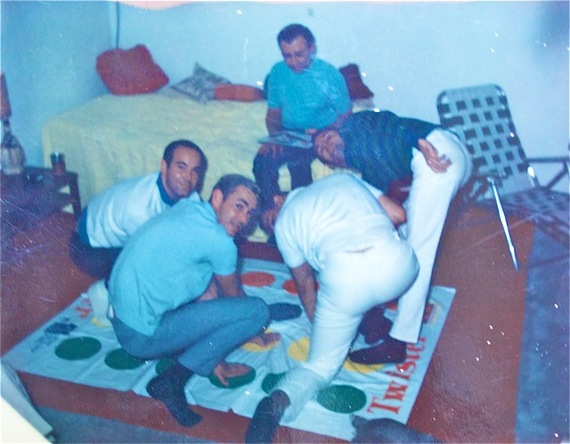 Craig (in the white T-shirt), Bruce (with the white ass) and friends twist and shout
He was a rock-star uncle, the most popular on the block: funny, wildly generous and a patron of every underdog that crossed his path, including stray dogs, his struggling-artist niece and anyone who needed help. Every time we spoke, he'd ask, "What's it gonna be, hon?" No matter what I said, he would, knowingly, thankfully, send me a check.
He's been dead for over two years. The last 10 were rough. He lost his beloved Craig to a slow, degenerative illness, and after decades of volunteer work for the American Cancer Society, the disease attacked and brought him down.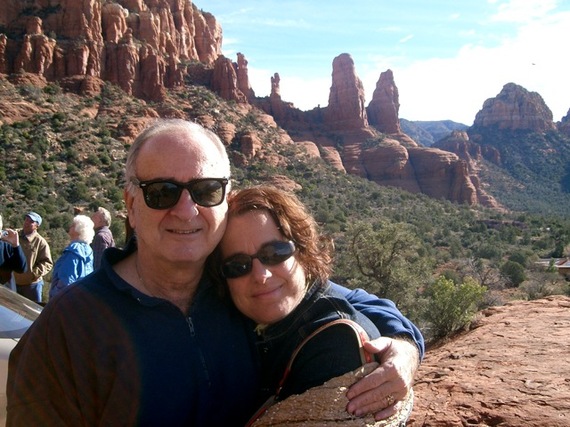 Bruce spread Craig's ashes behind us in Sedona, Arizona, a place they loved
Sometimes he feels so close that I can smell his swank French cologne. It strikes me that he would be pissed and proud that I wrote this post. He may have had a good life, but I mourn the fact that he was never really free. I feel the echo of his frustration and rage, and the ferocity of his commitment and love. I am haunted by him still.
GOOD NEWS FLASH: Same-sex marriage was made legal in Illinois on June 1, 2014, and in Arizona on Oct. 17, 2014. Not to sound ungrateful, but it's about time.
Onwards! There's more work to be done.
Popular in the Community