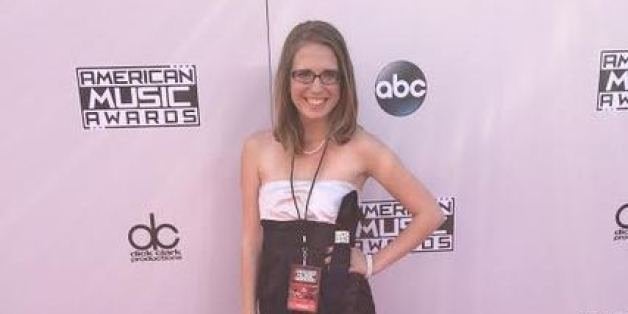 Hey darlings! Last time I posted my unconventional adventure, I was at the 2014 Emmy Style Lounge, gaining exposure to different celebrities, journalists and experiences in the entertainment industry. Now, I'm back, reporting for the 2014 American Music Awards!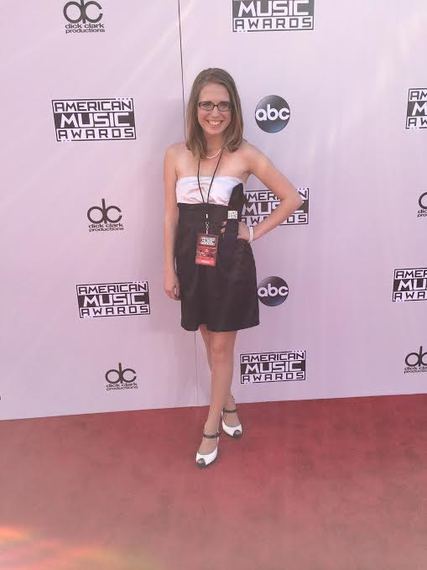 Reporting at the 2014 American Music Awards! Does my dress match the carpet?!
The adventure began on Saturday, November 22, as my dad, sister and I set out to Los Angeles to pick up the press credentials for the event. As we huddled into a red Elantra at 4 in the morning, we rocked out to High School Musical, Ariana Grande and Pharrell. After stopping for coffee and filming a few video updates, we were set for the city that has invaded my thoughts, dreams and ambitions: Los Angeles.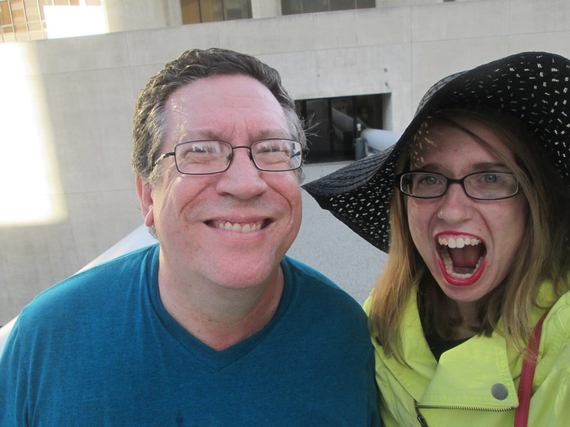 Two hours later, we were in the City of Angels! Since it was 6 a.m., we figured the best thing to do would be to stop for breakfast. Little did I know that my dad, who is extremely familiar with the city, stopped at one of the coolest joints in LA: Philippe's. All around the restaurant is a feeling of a time gone by, a time where joy was found in a 49 cent cup of coffee and a warm smile. The restaurant, established in 1906, is decorated with phone booths, historical artifacts and train station models. I ordered none other but biscuits and gravy, a classic for all Southerners. Since the coffee was 49 cents and didn't offer any refills, my dad and I split six coffees. (Note: this is a VERY bad idea if you don't want to be sick).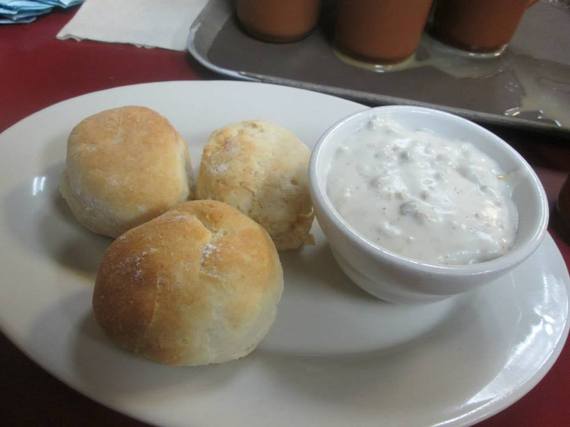 Love your curves and all your edges, all your perfect imperfections
Having time to spare, my dad, sister and I went exploring in downtown L.A., which in my opinion is one of the prettiest sites to see. I know Ralph Waldo Emerson and Henry David Thoreau would be disappointed with my love of seeing the industrialized, purposeful buildings, but there's something unique about standing under a fifty foot building. You begin to feel a whole lot smaller and less significant in the world of human progress, yet at the same time a contradictory pride that you belong to the species that created it.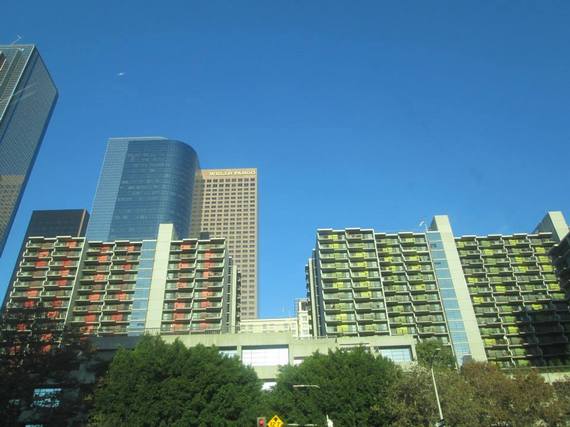 Exploring LA with my Daddy!

Moving away from my philosophical rant, my dad, sister and I decided to go to the Westin Bonaventure, the site where movies like True Lies, Midnight Madness and Hancock were filmed. There's a reason why directors have chosen this to be the site of their production: it's GORGEOUS! Pools filled the hotel lobby, and the elevator was completely open, showing downtown LA as you go up. (Note: my dad and I spent at least a half an hour riding the elevators. No shame!) Also, because I love ya'll, I even made a travel video.
After walking around, exploring gift stores and seeing all the beautiful buildings, we headed to the Nokia Theater to pick up the press credentials. However, what seemed like an easy task turned into a hour of driving, avoiding crazy drivers and most of all, soaking up the sunny feels of Los Angeles. Most people would get frustrated in not finding their destination, but hey, that's part of the adventure! I was surrounded by people I love, a city that I adore and the prospect of attending an event that I've wanted to go for as long as I could remember, so what's there to complain about? Plus, "Beautiful Day" by U2 played on our radio, so what's better than that?!
After a sleepless night, video editing and exploring the city, the time finally came. It was the day of the 2014 American Music Awards! The morning of the awards began with hair and makeup by the fabulous Megan Ashley. With her help, my hair was curled, a smoky eye was created and I was ready to rock the world.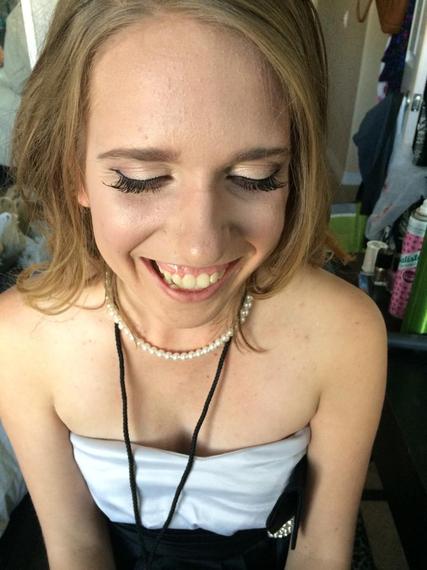 The red carpet arrivals began at 3:00 p.m. at the renown Nokia Theater. After posing for selfies, drinking Coke out of a vintage bottle and meeting other journalists, we were ready to meet as many celebrities as we could! Before the show began, we jammed to Mary Lambert, R5 and Imagine Dragons.
The first interview was with social media studs Jack and Jack and Dylan Dauzat, who inspired me with their ability to rise to the top of the social media ladder. Although they are only in their twenties, they've been able to make a name for themselves simply by doing what they love!
Next up was Frankie Grande, the brother to pop icon Ariana Grande. Strutting on the carpet wearing a painted on t-shirt, Frankie's enthusiasm was contagious! Recently, Frankie began his role as Franz in the Broadway production Rock of Ages.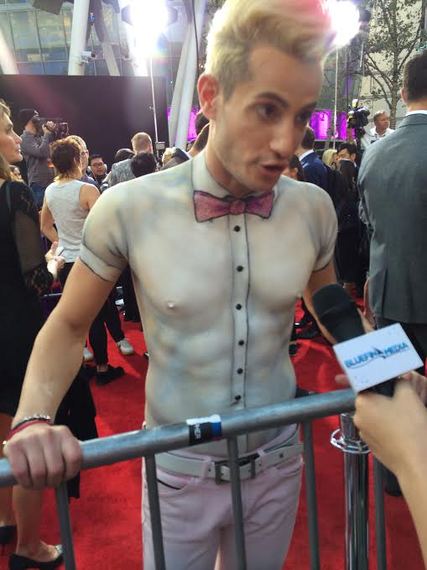 Interviewing Frankie Grande
"It's so much fun! I love Franz and I love the show, and it's going to be an honor to close the show," explains Frankie. "It's been nothing but a dream. [The best part of performing] is losing yourself in your character and getting to do things that you typically wouldn't do onstage. I don't have many boundaries, but it's still fun to lose yourself."
Katy Tiss, the singer of "The Big Bang" approached us for the next interview! She explained that her new album is releasing at the top of the year, but that was the only details she was able to release. "It's a true rumor, a trumor. More stuff is coming, but I can't talk about it. Look out for it! It's a mix of everything," says Katy.
Time on the red carpet flew by, and before I knew it, we were headed to the media room! At first, I thought a media room would be a room filled of fifty-something men frantically typing on computers, but man, was I wrong! We were fed (thank Jesus!) with decadent spaghetti, sandwiches, macaroons and cake. As we watched the show, I had the opportunity to mingle with other journalists, learning about their specific areas of expertise. In fact, as I handed someone my Disney Dreamers Academy business card, one of the writers explained that she covers the Academy as well! Small world!
As we watched the show from monitors, celebrities would regularly enter the media room and answer two or three questions. Usually, my questions were overshadowed by other journalists, but I had the opportunity to personally interview Luke Bryan on his preshow rituals. Other celebrities, such as 5 Seconds of Summer, Imagine Dragons and Danica McKellar entered the media room during the show.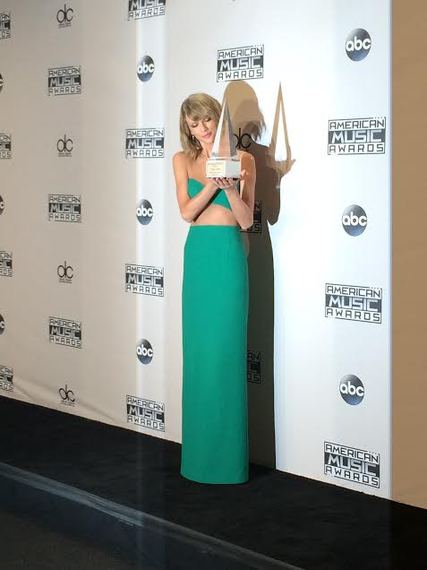 However, my fangirling didn't quite begin until after the show ended, and celebrities flooded the room. We were one foot behind Taylor Swift and One Direction! Now, normal people would use that opportunity to talk to them, get their number, take a selfie, etc. For me, I could only think of filming them exiting the backstage area. Way to go, Julia.
But hey, if you want to see the video of them exiting (I could have grabbed Harry's hat if my entire body wasn't paralyzed), here it is:
Overall, this event was filled with laughter, excitement and the sheer joy of doing what I love the most: journalism. Who knows where my next adventure will be? Follow my adventures on Instagram (@missjuliadarling) and check out #juliasjollyholiday!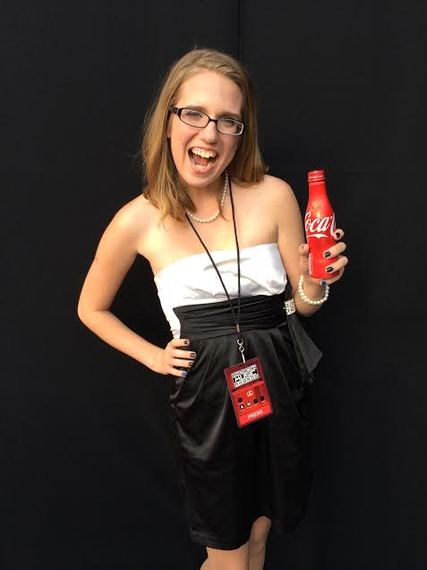 REAL LIFE. REAL NEWS. REAL VOICES.
Help us tell more of the stories that matter from voices that too often remain unheard.