This February contains a plethora of important events -- almost too many to name. There's Valentine's Day, the start of the new Congress, the State of the Union address and several significant opportunities to look back and honor those who have come before us, including celebrations for American History and American Black History month. February is also dedicated to heart health so Every Mother Counts is spending this month focused on matters of the heart. Because women are at the heart of all of these events and because we've worked hard to attain our place in history, we're especially focused this month on keeping women at the heart of the political process.

I am optimistic that we're starting the second term of the Obama administration with more women seated in the House and Senate than ever before in history. Those of us focused on issues related to social justice and equality are grateful for the significant steps President Obama has made to advance women's equality and status all over the world. I'm confident our new Secretary of State, John Kerry, will make his own mark in history and carry forward some of the work of his predecessor, Hillary Clinton. I'm also fascinated by the changes I see world citizens making as they learn and understand how the welfare of girls and women is deeply integrated with the health and well-being of the world at large on all levels including in the areas of finance, business, climate change, global conflict and peacekeeping.

As the powerful title of Nicholas Kristof and Sheryl Wudunn's book states, "Women hold up half the sky." (Half the Sky:Turning Oppression into Opportunity) It appears Americans are realizing the truth of that statement. The wheels of history are moving forward and more Americans are realizing we must ensure that each of us has a voice and a role in this movement.

I know the road ahead will include some difficult battles if we are truly going to move this agenda forward. I also understand the constraints presented by our budget and competing political priorities. I know not everyone who represents us in government is fully on board yet with regard to insuring safety, education, access to health care, employment and women's ability to make personal choices to reach their full potential in life. I am hopeful however, that this combination of an unprecedented female leadership in Congress and the opportunity for our own voices to break through will make sure women's rights and status in society are fully equal to men's and truly secure all over the world.

I invite you to join us by celebrating matters of the heart this month by signing Every Mother Counts' petition to support policies that empower and protect the health and well-being of women and girls in the U.S. and worldwide (or simply like and share on Facebook).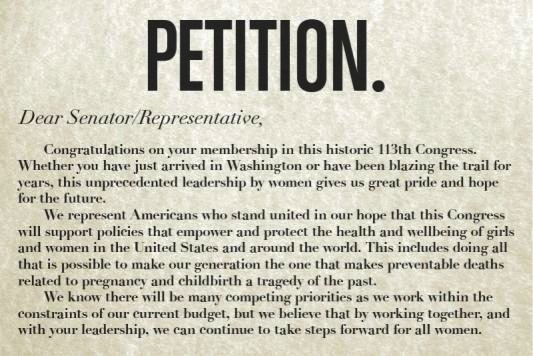 To sign with us, just follow this link. We will deliver this petition at the end of the month so that each female Representative and Senator will hear from you that this is not only imperative to the well-being of women, but also a personal priority to you. Please join us.
Related