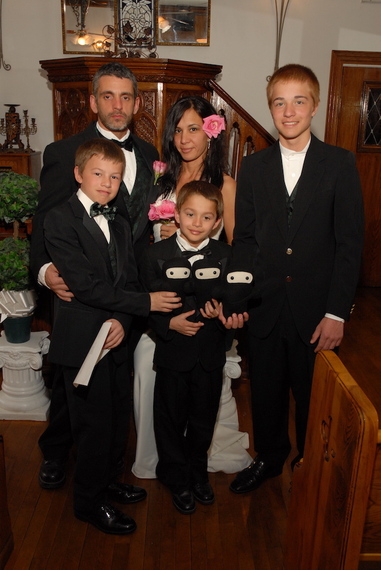 When planning to get married, what happens when you suddenly realize that you don't want to spend your hard-earned money on a party for 100 people? And that you don't even know 100 people you like enough to spend money on? And that you don't want to figure out what kind of dress your bridesmaids will wear because you don't even understand what the hell bridesmaids are for? And that you've already lost your attention span for selecting caterers, cake, and the damn white dress that looks just about the same as the one in every single wedding photo you have ever seen? And that you can't bear to think of the loss/profit ratio in relation to a ceremony that is supposed to be about love and commitment?
You 'plan' a Vegas wedding instead.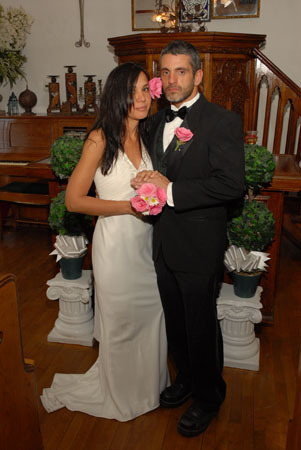 In magical, mystical Las Vegas, you can get married on (damn near) exactly your own terms. If you want to dress up as a mermaid and pirate, do it! If you want to exchange vows in a helicopter over the Grand Canyon, there are a couple of companies that offer this. Bungee jumping and skydiving are also options.
After a few Google searches and some creative budgeting, we booked flights and a five-night stay. We made lists of what to pack and enjoyed this justifiable excuse to go shopping. We both already experienced the dread of taking a wedding too damn seriously -- weddings that obviously ultimately resulted in divorce, so we were excited to board that plane with no detailed plan and one goal: to come home with a marriage license.
Oh, and we also brought the kids!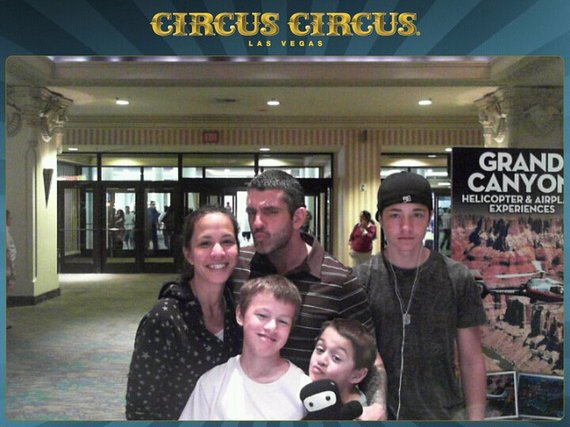 This happened to be my kids' first time on a plane. And it would be their first time having their own hotel room. And it was our first trip as a family, so this trip was about a lot more than a quickie wedding.
Arriving in Vegas around midnight is fascinating. While you're jet-lagged and exhausted, the city is just coming to life. We tried our best to muster up the energy to do something as soon as we arrived, but we decided that getting in bed would be a better idea. We spent the next day getting acclimated and enjoying our resort. Breakfast buffet, amusements, lounging poolside and general shenanigans were on the top of the list. With kids old enough to mind themselves as a group, we also took the time to explore the casino downstairs.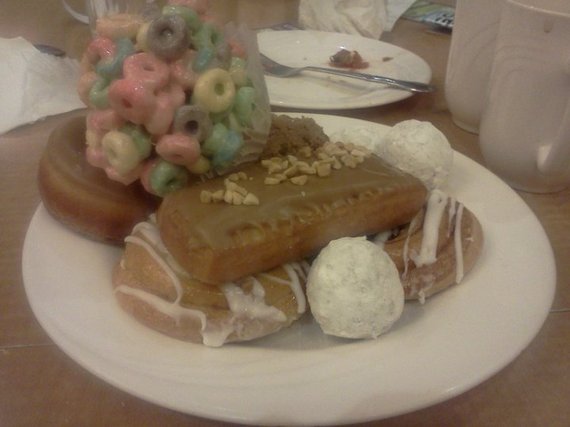 The following day, we rented a car and drove around the area, hoping to hike at Red Rock Canyon, but with high winds and extreme temperatures (and Jersey Shore boys that might not be able to hang), we decided against it. We hit a few other resorts on the strip, enjoyed meals at great restaurants, and took in the sights and sounds of the area.
On the fourth day, we thought we ought to get a move on with the getting married thing. We got the basic information about where to get a marriage license and headed to the county clerk to get started. On the way, we Googled a few wedding chapels and bookmarked them to check out later. We had no idea where to start. As we approached the clerk's office, to our surprise and delight, we were accosted by a few chapel solicitors. How brilliant! Stand outside the place where people are flocking for marriage licenses and sell your chapel! One in particular, Hernando, got (read: politely insisted on) our attention and handed us a flyer with his phone number written in marker on it.
He promised to wait for us outside the building after we were done (yes, that sounded a bit creepy to us too). When we were finished with all the paperwork, we walked out and Hernando was right there waiting to bring us to his chapel. The seven-minute drive to the chapel was worth our time. Hernando told us we could have everything we ever dreamed of for our wedding! Really? All we wanted were photos, a nice backdrop, and to not have to figure out what to wear. He covered all of that and more -- he threw in video recording and flowers too!
Upon the day of our matrimony, things were less than perfect. We arrived on time to the chapel, and waited outside for 20 minutes because no one was there.
Although they promised to dress all of us, they didn't have a tie for my oldest son.
A selection of dozens of dresses and only one kind of fits?!?!A selection of dozens of dresses and only one kind of fits?!?!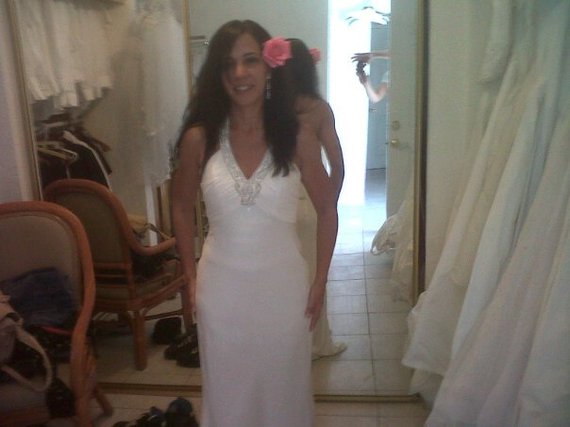 The dress selection was wonderful for anyone who was a size 8-12, but for a short, petite person, there was only one option and the fit was not quite perfect.
The recording failed when we exchanged vows, so we got married twice that day -- once for real, and once for the video camera.
We couldn't sweat the small stuff because our only goal was to get married. We were all together and we had a great time. What else could we possibly hope for?