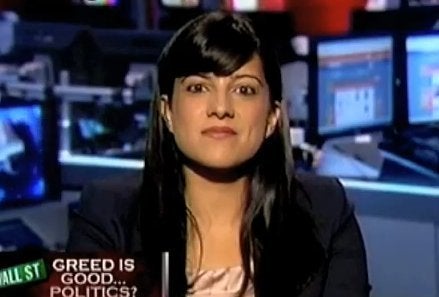 Yesterday, the Washington Post published a front-page story calling me an "Ivy-educated, Wall Street veteran" who is "embracing Wall Street" in a bid to unseat my opponent, 18-year incumbent Carolyn Maloney, in the Democratic primary. In an all too familiar media distortion that favors process over policy, this piece is emblematic of a political culture that is failing to inform voters about the issues. So let me attempt to break through the media filter and set the record straight by speaking directly to voters.
My opponent and the media have repeatedly tried to create a narrative that labels me as a candidate embracing Wall Street. They have pointed to and distorted the fact that I used to work on Wall Street and have received contributions and support from people who work in the financial services industry, many of whom are voters in my district, as proof that I must have been put up to run by Wall Street.
It's not surprising that Congresswoman Maloney and the press have tried to label me as pro-Wall Street - an angle designed to sell newspapers and, even worse, distract voters from my opponent's conduct. She claims to be a fighter taking on Wall Street and the financial industry, but what she doesn't tell you is that she has taken $2.5 million in special interest corporate PAC money, with huge sums from Wall Street, while I have taken none. She doesn't tell you that she advocated for risky subprime mortgages while she sat on a committee charged with protecting consumers and regulating the financial services industry. She doesn't tell you that she held two special interest corporate PAC fundraisers while she was a conferee negotiating the financial regulatory reform bill (see the invitations here and here). She doesn't tell you that she continues to actively solicit Wall Street contributions.
Congresswoman Maloney compromised her integrity and her ability to represent New Yorkers by raising money from the financial services industry at the exact moment she was negotiating a bill with profound impact on that same industry. When asked by a reporter to comment, she pretended she didn't know she was attending her own fundraiser. Representative Maloney says she is an advocate for her constituents, sending out press releases attacking the same industry she is happy to take huge sums of money from while negotiating a bill that affects their bottom line. That is wrong, and the ultimate hypocrisy. She clearly broke House ethics rules and eight House members are under investigation for similar conduct. She should come clean about who she raised money from, how that impacted her ability to do her job, and why she continues to take corporate PAC contributions.
I got into this race because I looked around and knew we could do better. It's time for our generation to step up and lead. I've talked about my ideas for a new 21st Century Job Corps, because 37 percent of Millenials (18-29 years old) are out of work, the highest rate since the Great Depression. I've talked about education reform because our schools are failing our kids instead of preparing them for the new economy. And I've talked about a new ethic of service, by refusing to take corporate PAC contributions and by stepping up to lead as a young woman of color with a funny name, little money, and a lot of faith that if my generation got involved in government we could ensure a better future for the next generation.
But I've found out that too often elections are not about ideas. They become about process and media spin and professional politics. This race has devolved into splicing the spin of surrogates instead of a critical analysis of our policy platforms to create jobs, reform education, and fix our broken immigration system.
Unfortunately, Congresswoman Maloney has flip-flopped on whether or not she will debate me. I hope she will allow voters to hear my ideas and her ideas so they can make a choice about who would best represent them. If I am the pro-Wall Street candidate and she is a fighter for middle class families as she claims, then let's discuss our records and our ideas and let the people of the 14th District draw their own conclusions.
In the meantime, I want to directly address the narrative that has been the cause of a lot of chatter and distraction: my background and my views and experience on Wall Street.
First, I am the daughter of political refugees who fled the brutal regime of Idi Amin and were offered asylum in America to build a new life. I went to public schools and attended the University of Illinois. I felt a commitment to public service and took out many student loans (which I am still paying off) to attend Harvard's Kennedy School of Government and then Yale Law. I worked at a New York law firm by day and organized the first national South Asian American voter outreach organization by night. I spearheaded an under-40 grassroots mobilization effort for the Democratic National Committee and for our candidates in the 2008 elections.
Most recently, I worked at Fortress Investment Group, a publicly traded hedge fund, as the Deputy General Counsel. I resigned my position last year to enter this race because I was frustrated, like many New Yorkers, about a lack of transparency, an unbalanced economy, and a Congress too dysfunctional to address the root of the financial crisis.
I'm not pro-Wall Street or anti-Wall Street. I'm pro-New York City. For the past eight months, I have been talking about smart and strong Wall Street reform and wrote an op-ed on my position in January. Not only would I have voted for the House financial regulation bill last December and the final conference committee bill, I would have introduced an amendment to create an SEC regulated clearinghouse for credit rating agencies, because the current model of allowing banks to pay for faulty investment ratings was a major contributor to the crisis. During the conference committee, I also called to extend the Durbin amendment to reign in the excessive fees small businesses pay for both debit and credit card transactions. Lastly, I was strongly opposed to the carve-outs from consumer protections that the House granted to auto dealers, a special interest provision that was championed by Congresswoman Maloney.
I refuse to accept the reductionist tendencies of our broken political process. Did Wall Street mess up? Of course it did. It lost its way and stopped investing in companies and entrepreneurs in favor of complex financial instruments. Is the investment community critical to our economic success? Yes. Free markets, innovation, access to credit, venture capital, and strong labor rights - these have been the underpinnings of our economic vitality, from laying railways to broadband lines.
According to last week's job report, 125,000 Americans lost their jobs in June and another 652,000 left the labor force entirely, unable to find work. I've spoken at length on the need to diversify our economy beyond financial services and transform New York into a center of entrepreneurship and clean-tech, bio-tech, and nano-tech innovation. I've even written six issue-specific op-eds and four pieces of Congress-ready legislation because I believe candidates owe voters concrete policy proposals, not political platitudes.
I'm not going to give you sound bites or bumper stickers slogans. I'm going to respect your intelligence, communicate nuance, and be a representative who is focused on policy instead of polls and process. We need new leadership in New York and in Washington to fundamentally change the way politics works so we can actually tackle the major challenges facing our country.
It won't be easy - I've already been dealt a harsh lesson in challenging the status quo - but that's my generation's responsibility, to renew the great promise of our nation.
So, candidates, consultants, and columnists can continue to engage in the political punditry that voters have grown so tired of - but I am going to keep rolling up my sleeves, listening to people's concerns, and talking about my ideas to change our country and my city for the better.
Calling all HuffPost superfans!
Sign up for membership to become a founding member and help shape HuffPost's next chapter