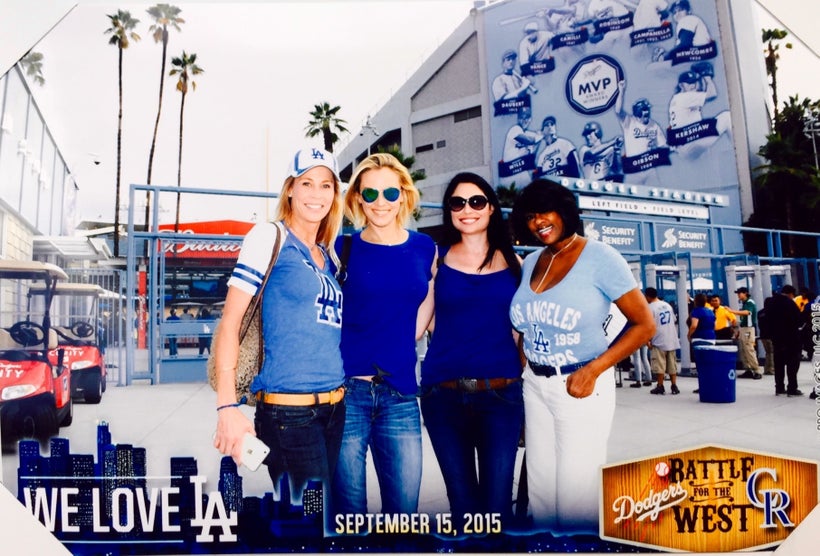 For Vin Scully ~ The Voice Over of My Life
I was born and raised in Los Angeles and I'm a crazy Dodger fan. Some of my fondest memories growing up in the 70's happened when our dad would take my two brothers and me to Dodger Stadium. Dad had reserved seats in the first level, along the first base line. I remember them to this day: Aisle 20, Row R, seats 1, 2, 3, 4. With the emerald green grass before us, the aroma of hot dogs, salted peanuts, and beer around us, the scene was perfectly set for Vinny up in his box to enthusiastically announce, "It's time for Dodger baseball!" No matter what happened in your week or month or year, in that moment you belonged to the club, to the view and to our boys in blue. I learned to love baseball in those seats. I especially loved being able to look up to the left to see Vin Scully, joyfully commentating away. When we weren't at the game, we would faithfully tune him in on the radio. Like many, I've been listening to his brilliant play-by-play, stats and stories all my life. I've never heard him run out of something to say with his captivating, spirited delivery. His consistent voice has thoroughly deepened my love for the game and our beloved Los Angeles Dodgers.
I've been pretty lucky in my life, but one particular Dodger game against the Colorado Rockies made all else pale. A year ago, September 15, 2015, my absolutely fabulous friend, Miranda, invited me and two of our other dear friends, Kristanna and Lisa Marie, to her extraordinarily excellent seats along the third base line: front row, just to the left of the Dodger dugout. If I thought the seats growing up were good, Miranda's seats are rock star. We tend to get a lot of action in those seats, including the occasional tossed ball from a player or coach. I know that every at bat could be a potential screamer into someone's skull, so I was keenly adamant about all of us paying close attention to every pitch. Especially the lefties.
During our pow wow before the game, we discussed that if a pop up foul comes close, we really wanted Justin Turner to catch it. None of us wanted to be that random stupid idiot on National TV that disrupts a potential out for our guys. We agreed that we want to exhibit good sportsmanship and catch a player, not the ball. Unless, of course, the ball happens to come right to us, and for that I'll have my mitt, which I promptly left in the car. I was pretty upset about that because I had promised my younger brother, John, that if I caught a ball, it would be his. Pretty ballsy, I know, but I've had a few thrown my way. I attempted to leave the stadium to get my mitt, but once you're in, there's no leaving and coming back. Miranda comforted me with, "Just catch it in your hat, buddy, you've done it before." She always knows what to say.
We get to our seats early so we could watch our Dodgers warm up and possibly get a ball signed. Another amazing perk of Miranda's seats is the chance to see the players up close. More often than not, a Dodger or two will sign for a brief moment before the game. This particular lucky day, Corey Seager signed our balls. Dodger McDreamy extraordinaire. What an incredible player and ridiculously gorgeous young man. Wow. Way to go God, high five and thank you Universe, Corey signed my ball that day. I gave that ball to my older brother, Matt, for Christmas. Major killer sister points. As Corey signed the ball I was able to tell him how happy we were to have him on the Dodgers and to congratulate him on his recent first solo home run. And you know what he said? "Thank you." Swoon. Talent and class. I was pretty much floating for the next 4 innings.
Somewhere in there a foul ball came dangerously close to us and Justin Turner almost landed in our lap. Swoon again, and oh yeah, Justin for President!! I'm with Hunny on that. Shortly after, another foul ball was hit and Antonio Sabato Jr. caught it. Triple swoon. Antonio is friends with Kristanna and they had already said hello, so we waved and that was neat. And then it started to rain and I mean a weird downpour, in LA, at Dodger Stadium. Really, it did. Everyone was like, "Whaaaat?" A large part of the crowd instantly ran up the steps for shelter. Typical LA moment. "No way! It's raining! What do we do? Run!!"
And I was all, "If the guys are on the field and they're still playing, then us girls are still in these seats." We were drenched, it was awesome! We were lovin' it. And then it happened.
Brett Anderson was pitching. Carlos Gonzalez was at bat. I'll let Vin Scully take it from here. "... and he flares one off third. 0 and 1 the count. And a nice catch down there, aah, the old hat trick. Ha ha, that's great. Yes indeed, you deserve a curtain call."
So yes, I caught a ball in my hat, in front of my gal pals at Dodger Stadium, with the one and only Vin Scully commentating over one of my greatest dreams come true. After reviewing the footage a few thousand times, I've noticed that I'm instantly stunned that I caught the ball and I immediately look to Justin to make sure I hadn't messed up a play. JT gave me a cool thumbs up, to which I casually nodded and then naturally looked up to Vinny, hoping he saw that. Which apparently he did. The dream of catching a foul ball and having Vin Scully commentating over it is a Dodger fan moment I'm absolutely sure many people have had. The thrill of it actually happening is something I absolutely love to share. Vinny's pure joy in watching me enjoy the moment is what I believe makes us all fall in love with him. He's infinitely in the moment and as welcoming as rain on a hot summer night.
The best part of having a Vin Scully moment is that I've been able to hear about others from family and friends. My dad has a terrific Lakeside golf story involving Vin and Dick Whittinghill. My mom has a great story about having a, "Pull off the road, Jack!" craving for Cracker Jack while listening to Vin on the radio when she was pregnant with me. Maybe that's where it started. I even got to show the foul ball catch to former Dodger catcher, Rick Dempsey. Rick caught the final ball, on the final game, of our last World Series win. This footage has been a fantastic ice breaker. My catch sparked Rick into telling me how he willed himself onto the Dodger team back in the day. The Vin Scully and Dodger stories and memories are endless.
I've shown my foul ball catch to so many people, not only because of the fun catch but because one of my heroes is doing the voice over. As a Dodger fan, who truly loves the game, this has been a great thrill of my life. I'm writing this story as a humble thank you to Vin Scully, for all that you do, all that you've done and your continued legacy to one of the greatest teams on the planet, our Los Angeles Dodgers. WE love you Vinny. YOU deserve a curtain call.
Btw, that September 15, 2015 game was timeless. It went on for 16 innings. Vin commentated the whole thing. Talk about a hat trick.
If that wasn't enough luck for one lifetime, we got struck by lightening again on the last day Vin commentated at Dodger Stadium on Sunday, September 25th, 2016. Another Dodgers vs. Rockies game. This time, before the game even started, the cameras had landed on Miranda, my daughter Ayden and one of her besties, Amelia. We were in full Dodger regalia, complete with blue pom-poms, when we were invited to say along with Vinny those wonderful words we won't hear him say live again at a Dodger game, "It's time for Dodger baseball."
Talk about a full circle moment with my own daughter looking up to see the man that we will hold in our hearts forever. And if anyone out there has footage of that Jumbo Tron moment of the four of us, I would greatly appreciate a copy.
Dedicated to the generosity of the Ryan Family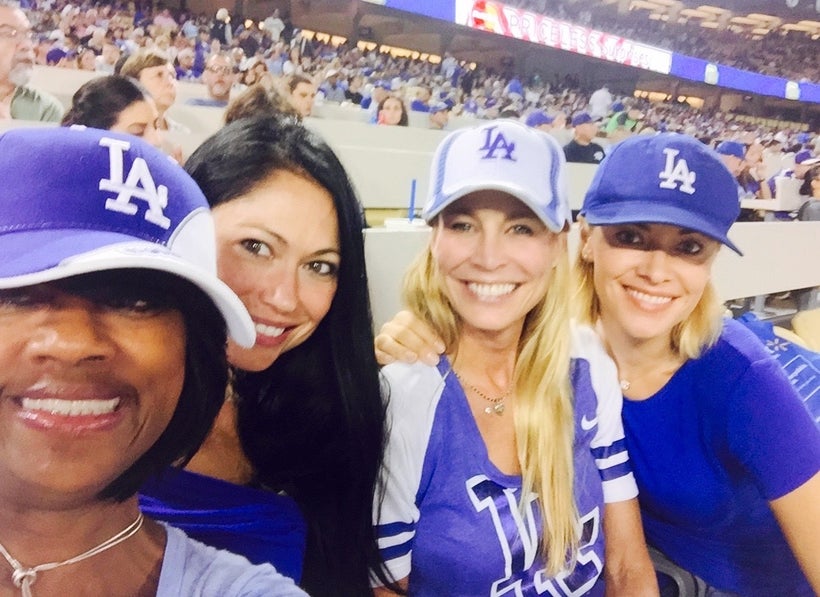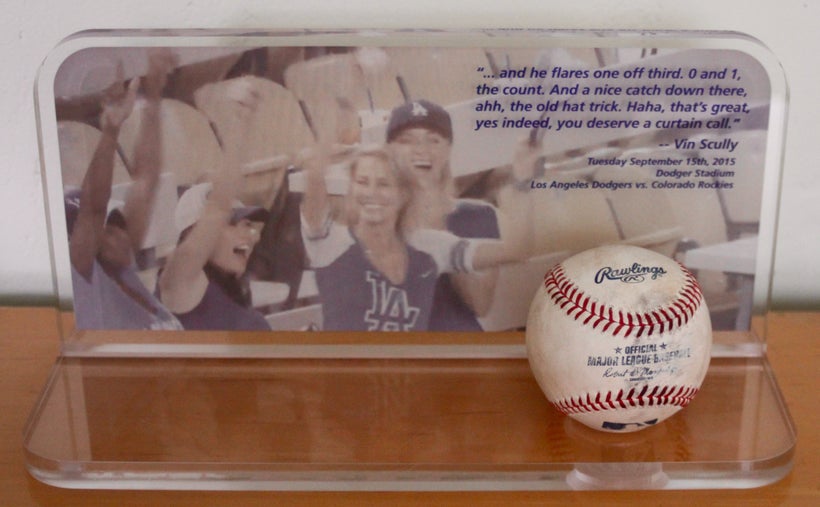 Calling all HuffPost superfans!
Sign up for membership to become a founding member and help shape HuffPost's next chapter
This post was published on the now-closed HuffPost Contributor platform. Contributors control their own work and posted freely to our site. If you need to flag this entry as abusive,
send us an email
.