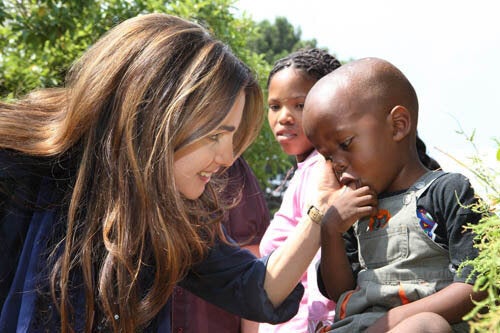 I've never walked into a library to the sound of stomping, rattling, and rhythmic gumboots pounding the floor, but I did today, thanks to two amazing dance groups from Soweto and Thembisa. Not only did it wake me up, but it set the tone for some pretty lively storytelling and discussion with them.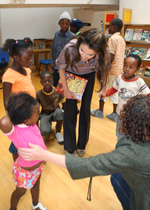 Sitting in a cozy and colorful little amphitheater in Sandton Library, we talked about books...the joy they give us, the friends we meet through them, the new experiences they teach us, and the imaginary places they transport us to. Larger than life, Gcina Mhlope, South Africa's popular poet and inspirational storyteller, held us spellbound with her animated and expressive tales. Gcina has a rare gift, made all the more remarkable by the fact that until she was 20, she had never set foot in a library. Her aunt was illiterate, but she collected words and books in a suitcase. Now, in her memory, Gcina travels around schools and centers putting those words to work, and encouraging children to read. She leaves a suitcase of books behind everywhere she goes. Luggage for life.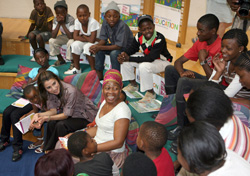 (P.S. I later discovered that the children dance at the weekends to earn money for gumboots, drums, and to help them with school expenses.)
But sadly, today, there are nearly 800 million adults around the world who cannot read or write. The majority of them are girls and women. They can't read newspapers, or instructions on medicine bottles. They can't fill out application forms, or use the internet.
Learning to read and write changes lives; it means jobs, money, health, and dreams fulfilled. Next month, the Global Campaign for Education will organize a global call to put children into classrooms by focusing on literacy. It's called, The Big Read. Please check it out and lend your support so that we can all turn to a new page together. www.campaignforeducation.org
A chance encounter with rugby legend, François Piennar, after that event meant I, quite unexpectedly, found myself at the Liberty Life Wanderers' Stadium watching cricket. The ICC World Twenty 20 tournament to be precise. South Africa vs. Australia. Until a few hours ago, what I knew about cricket could have been carved on the back of a postage stamp with an ice axe, but after a crash course, I now know my overs from my batsmen and my runs from my sixes. What an amazing atmosphere: celebratory fireworks lit up the dusky sky; there were victory dances to booming drums; endless Mexican waves, and rousing choruses of "We Will Rock You!"
But even amidst the gasps and cheers of a cricket match, South Africa's history bubbled to the surface. In a stadium of 34,000 people, Dr. Essop Pahad, former Minister in the Presidency, pointed to around 400 seats under the scoreboard that, in the Apartheid era, were reserved for non whites, like him. Because, at midday, those were the hottest, least desirable seats. Little wonder he sat so proudly in the Presidential box today.
Sport has a special status here. It's unified this country. In 1995, when South Africa won the World Cup, whites and non whites rallied around rugby to help heal the wounds of apartheid.
A TV commentator asked François, captain back then, what it felt like to have such passionate support from 63,000 people packed into Ellis Park. He replied: "We did not have 63,000 fans behind us today, we had 43 million South Africans." Nelson Mandela later wrote: "It was under François Pienaar's inspiring leadership that rugby became the pride of the entire country. He brought the nation together." I can only imagine what it must feel like to have Madiba describe you as the 'man who brought the nation together.'
Such humility and charm are typical of the father of this nation. Walking around the incredibly moving Apartheid Museum in Soweto, I struggled to understand how he could have endured 27 years of imprisonment and emerge as compassionate as he is.
The museum shocks from the outset. Your ticket randomly labels you by race so that some visitors experience the humiliation of walking through the dark, non-white entrance. Faded identity papers cover the walls. Visitors glimpse each other through a metal grid.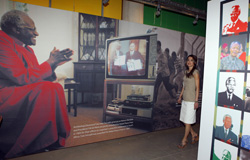 Hundreds of nooses hang, symbolizing state executions. The tour takes you into Mandela's tiny cell to experience his numbing, stifling, isolation. His voice echoes everywhere. A priceless array of artifacts, footage, photography and text tell the chilling apartheid story, and bring to life the struggle...the sacrifice.
Mandela has said that, "True reconciliation does not consist in merely forgetting the past." If we are truly to move forward, we need to understand the past. We need to reflect on how after 27 stolen years, he built a new nation from the fragments of conflict. We need to learn his lessons. We need to live up to his example.
The curator told me that there are plans afoot to adapt the photographs and footage so that Madiba's legacy of peace and reconciliation can travel the world, and reach even more people.
What did I take away from my visit? That reconciliation is achievable. That deep-rooted hatreds can be addressed.
But as I came out into the sunlight, I was shaken and sad. In my part of the world, we haven't learned those lessons.
Our long walk to freedom continues.
Click here to read Queen Rania's first blog post about her trip to Africa.
Support HuffPost
The Stakes Have Never Been Higher
Related
Popular in the Community