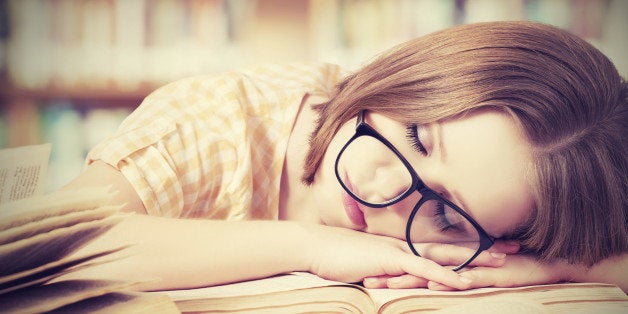 We haven't met in person yet, but Arianna Huffington is my mentor and my inspiration -- taking first place alongside Oprah Winfrey.
Arianna is the founder of this very website, The Huffington Post. She has been listed in Forbes The World's 100 Most Powerful Women, wrote her first book at 23 years old and has recently published Thrive, which literally tells women to sleep their way to the top. More on this later.
When I heard Arianna was coming to New Zealand this year I went giddy and she instantly became my daily fix. I read the Huffington Post even more religiously than before, my partner blessed me with her book for my birthday and I even emailed the HuffPost team hoping for some cross collaboration. Initially, the latter was not successful, but as Arianna says, "It wasn't failure but a stepping stone to success."
But like a drug addict on a comedown, I fell into a state of misery when I learnt the tickets to her event in Auckland were beyond my financial means.
Thankfully, the event was streamed live on the internet, including the insightful question and answer time. So last week I laid on the couch with my laptop on well, my lap, the cat at my feet, herbal tea on the table and my partner huddled around, and listened to how Arianna continues to successfully thrive.
It wasn't a long speech but it was an inspirational and motivating one that all women, and men for that matter, who are striving to succeed should watch. She had me hooked on every word and I closed my laptop feeling fresh and invigorated, but also slightly guilty.
In a nutshell, Arianna said success should not be measured on money or power but by a "third metric" that values wellbeing, wonder, wisdom and giving.
After hitting her face on a desk and waking in a pool of blood from exhaustion and burnout one afternoon in 2007, Arianna realized her initial recipe to success was not sustainable. That's when she changed her tune and created the third metric.
Arianna went from working 18-hour days, seven days a week, to encouraging naps at work with the introduction of nap-rooms, undertaking daily meditation and embarking on digital detoxes.
"The idea that never resting is a good business strategy is absurd. You need to sleep your way to the top."
She says The Huffington Post has a "no email after work" policy, which she abides by, and part of her digital detox involves removing technology from her bedroom and switching off her phone when she is at home. She also insists on getting eight hours of sleep each night.
It sounds simple and logical, and it probably would have been if we were living in the 19th century. But as we approach the end of 2014 the digital world appears to be growing at a faster rate than Asia's population, the ability to differentiate work from life is difficult and the younger generations mindset to want it all and want it now is both commendable and condemned.
As someone who is career-driven and always thriving to succeed in life, whatever that may mean, Arianna's speech was my "hitting my face on the desk" wake-up call -- albeit a lot less painful.
It is not unusual for me to come home from an eight to nine hour day at work to open the laptop and spend the next five hours working on other projects or business ideas. If the laptop isn't open, the smart phone is at my fingertips. Switching off just isn't something I do easily.
Foolishly, I deny that it is work because it's something I enjoy doing. But that doesn't mean I'm not on the brink of burnout or that my internal battery isn't dropping below 0 percent.
I don't want to be like Arianna in her former life and injure myself to realize it is time to slow down. I don't want to lose my partner before I value my relationship. And I don't want money in the bank, power or fame to determine my success, but the ability to wake up feeling fresh, and to genuinely smile each day to focus on my direction with clarity.
It's now 6.30 p.m. I'm committed to closing my laptop and giving the digital detox a go. You should try it too. Even just for tonight.
Chloe Johnson is the co-founder of Paper Trail.co.nz, a news and views website that's all about adding value to people's day. Follow her on Facebook and Twitter