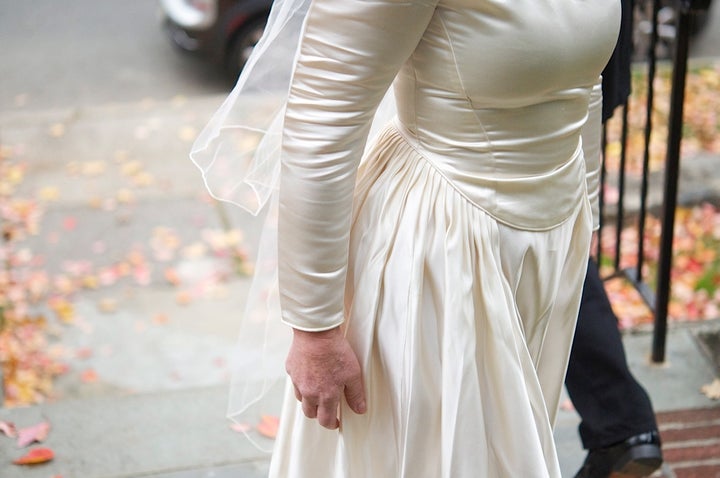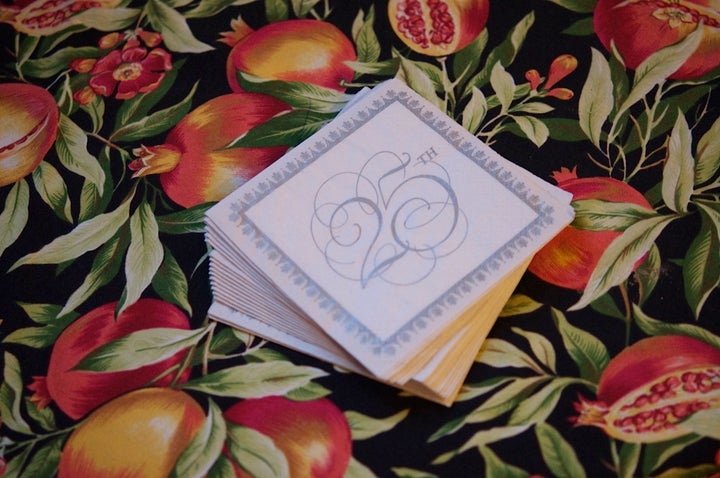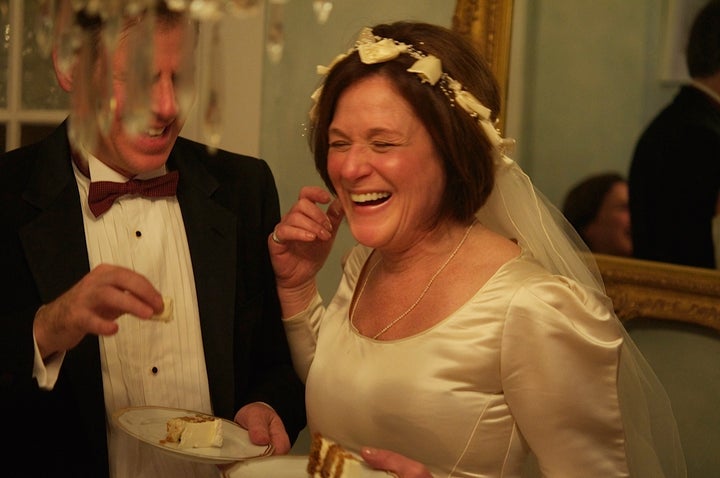 Don't hate me, but my wedding gown from 25 years ago still fits. We were even able to fasten the 31 handmade satin-covered buttons down the back. (And I say "we" because it took two people — my beloved and me — to make that happen.)
What brought about excavating the gown from mothballs? A few close friends wanted to honor my husband's and my quarter-century wedding anniversary by hosting a party. Someone taunted, "Does your wedding gown still fit? I dare you to wear it." I had to at least try.
Far corners of the attic were searched. Nudged into a distant and dusty dormer, I found the box and brought it down to the den.
"Look, honey!" I exclaimed as I lifted the lid. I was sure my husband would be excited to see my wedding gown again for the first time in 25 years.
"Nice," he said. (And that's all he said. The Giants football game was on. Slight distraction.)
I took the gown, walked out of the room, and after exhaling a deep breath, slipped on the satin frock. Amazingly, it (barely) fit, even after two pregnancies.
"Look, honey!" I exclaimed again when I reappeared in bride guise.
"Nice," he said. (And that's all he said. Again.)
When I asked for help closing the (big) gap in the back, my husband kept his eyes on the game and fumbled with the buttons. Within seconds he yelped that his fingers were getting numb.
"I just need to get the blood running back into them," he said as he flapped his hands wildly.
We (finally) got the gown buttoned and I (almost) looked like a young bride again. All bets were on!
When the football game was over, my husband ardently began the hunt for his wedding tie and grabbed the dusty tuxedo jacket from the back of his closet. My handsome groom, with slightly grey sideburns now, was ready, too.
On the afternoon of the anniversary party we drove with emotions both reminiscent and wistful. We also had unusually stiff posture. Why? Because our outfits were so tight that we could hardly move.
Although I got my wedding gown on, it was like a girdle. Any move sideways would set off a chain reaction of button-popping. In addition, the sleeves were squeezing my arms so tightly that they looked like sausages. If I bent my elbow too far, I was afraid the fabric would tear. My husband complained that his wedding tie was so tight around his neck that he was starting to feel slightly light-headed. We kept to the far right lane on the parkway just to be safe.
Upon arrival at our best friends' house, we were enchanted.The front steps were strewn with white rose petals. When the front door opened slowly, cameras began to flash. With irreverence and gusto, everyone screamed, "Happy Wedding Anniversary!"
As my husband and I entered the front hallway, campy Bee Gees and Stevie Wonder love songs oozed from the speakers. The fireplace mantle in the living room had a group photo of my husband's and my real wedding day two-and-a-half decades ago. The dining room table had a mini-wedding cake for the centerpiece. Fake wedding rings were thrown on a side table. Every detail of the gathering was an expression of devoted friendship and joyful cheekiness.
During dinner, the front doorbell rang unexpectedly. The hostess opened it and there stood my son. He came all the way from Brooklyn to the suburbs to share in his parent's anniversary hoopla.
I think he was aghast seeing his mother in her wedding gown. The last time I had worn it, my son was but a seed in my belly. Now, he was a young man. Neither of us could (nervously) stop laughing because there was something strangely anachronistic and bizarrely hilarious about the setting. (I also hoped my son wouldn't be psychologically traumatized for life seeing me in my white bridal garb.)
Nonetheless, he was right on time for wedding cake! I tried to blush when my husband fed me a piece. As I reached to wipe off a smidge of frosting on his hand, I dropped my napkin. I didn't dare bend over to pick it up. At this point in the festivities, the gown was so tight that the fabric was literally starting to hurt my skin.
The afternoon of pseudo-nuptials was a blast. When someone asked, "What's the trick?" I thought about it for a nanosecond.
"The trick to marriage is communication and honesty. Also, stay true to your vows," I responded.
"No, what's the trick to fitting into your wedding gown?" my friend clarified.
#1: Store it in a place you'll remember after it came back from the dry cleaner 25 years ago.
#2: Eat your peas and carrots.
#3: Be prepared should anyone ever challenge you to wear your wedding gown again.
When the festivities honoring our silver anniversary connubial union quieted, our dear friends blared Sam Cooke's "You Send Me" as my husband and I walked to our car which, by now, was festooned with tin cans trailing from the fender and a "Just Married" sign stuck in the back window.
As re-newlyweds, my husband and I drove off into the sunset. He immediately tore off his tie. When I bent my arm to reach over and affectionately brush his cheek, the satin sleeve ripped at the elbow.
Although my wedding gown was definitely finished with any further celebrations, my husband and I were onto a great start towards the next happy wedding anniversary.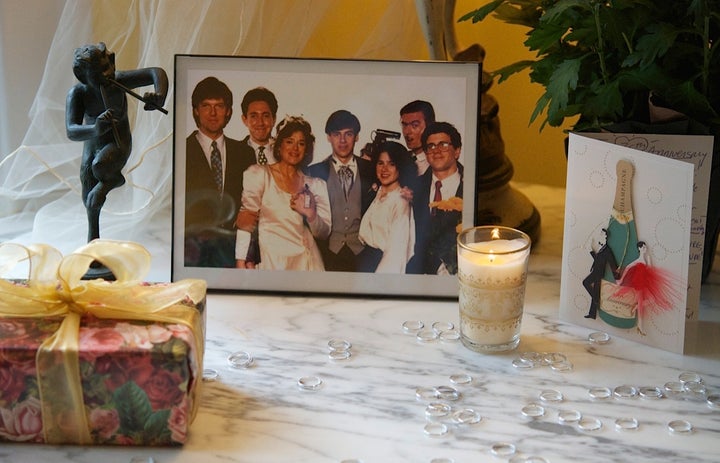 Related
Popular in the Community