Watching Michelle Williams' performance as Marilyn evolve on set each day ranks as the most thrilling experience of my career. When we first spoke to potential financiers about the film, many admired the script but needed persuading that we could find an actress of stature who would take on the iconic role. I was delighted when Michelle read the script and even happier when we met and it was clear she was actually considering it very seriously.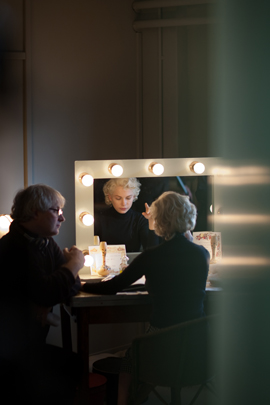 I remember taking the bus back to New York City from our first meeting, praying she would accept the part as I could not now imagine making the film with anyone else. There followed a year of discussion, emails, comparing notes about what we had seen and read. Given it is nearly fifty years since Monroe's death; it is extraordinary how much material about her there still is to find out there. Whilst we were shooting, at least three new books about her were published -- including Fragments, which included poems she had written whilst in England in 1956 in the very house we were shooting in. Michelle and I exchanged ideas about Marilyn's performances, her voice, her moves and read all kinds of articles about conditions including borderline personality disorder that referenced her.
When Michelle came to London, she began to work with Jane Gibson, our choreographer, on the dance Marilyn performed in The Prince and the Showgirl that was to be recreated in our film. It soon became clear that these rehearsals were a way for Michelle to learn about Marilyn's body language and, for example, we discussed how she had used pointing her finger as a way of drawing attention to various parts of her body. Michelle was fascinated also by how Marilyn was herself something of an invention and she had developed her famous walk early in her career.
As they worked together on The Prince and the Showgirl, there was considerable tension between Olivier and his star as they worked in such different ways. He came from the theatrical tradition and worked from the outside, whereas Marilyn had become devoted to The Method and developed her characters by exploring their psychology from the inside. Of course great acting is a combination of both and Michelle found her character by working in both ways. We learned as much as we could about Marilyn's frame of mind in 1956 and it became clear that, underneath our romantic story, our narrative included the collapse of her aspirations to be taken seriously as an actress.
On the day we did her first camera test in full costume and make up, I collected Michelle from her dressing room , which we were told had once been Marilyn's. As we walked along the same Pinewood corridors that Marilyn would have walked on the way to set, it soon became absolutely clear that something special was happening. Jaws began to fall as the usually jaded English crew caught sight of our leading lady in costume for the first time. One of the first scenes we shot brought Michelle and Judi Dench together and it was immediately clear how much Judi admired the American actress.
Some weeks later, the day came to shoot the dance that Michelle had rehearsed for so long. We were on the sound stage where Olivier had filmed the original dance and it was a joy to see Michelle so happy, recreating brilliantly the moment where Marilyn had been so happy -- in the actual spot the original had taken place.
As we have screened the film at festivals and previews, I have been thrilled and humbled that audiences have been laughing and finding so much to enjoy in our film. I have been especially pleased that the performances appear to be admired, in particular Michelle's. However my favorite response has been from Don Murray, Marilyn's co-star in Bus Stop. He has seen the film three times and said quite simply 'She nailed it!'.
Calling all HuffPost superfans!
Sign up for membership to become a founding member and help shape HuffPost's next chapter