The alarm went off and after only three hours of sleep, I had forgotten I was in NYC. After the delivery of a carafe of coffee and a basket of pastries I started to remember: I'm co-hosting the Variety Power of Women NY event today with my co-star on UnREAL, Shiri Appleby. Wait, what?
I'm going to be in a room talking to the likes of Glenn Close, Lena Dunham, Whoopi Goldberg, Rachel Weisz, Kim Kardashian and Cobie Smulders! Not to mention all the other inspiring women! We are hosting this?
No time to think, glam team arrives and we're off to the races.
After a little rehearsal time and touch-ups, it's red carpet time.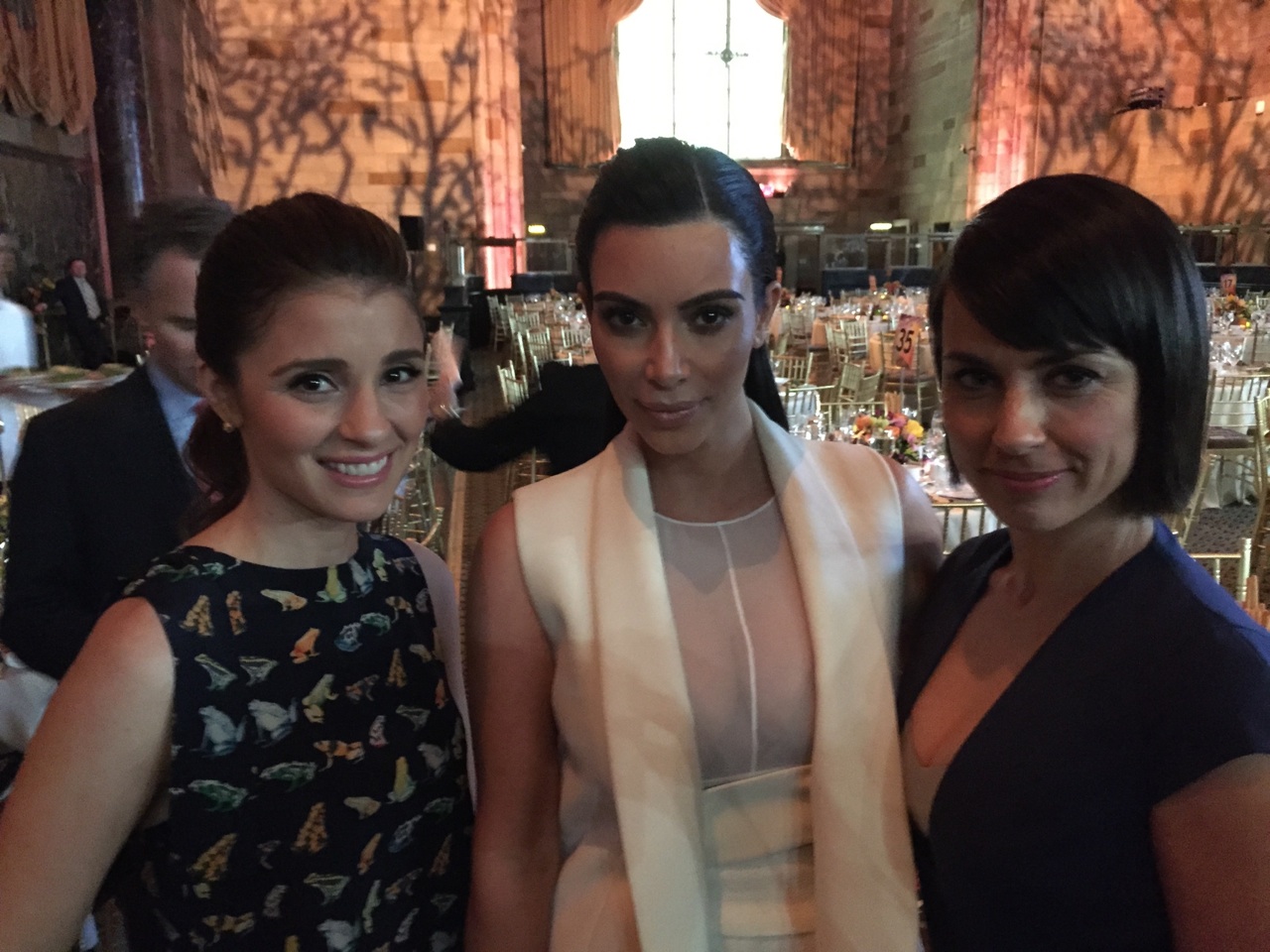 Having casual conversations with the likes of Lena Dunham and Kim Kardashian makes me weak in the knees. I have so much respect and admiration for Lena that it doesn't matter how many times I talk to her, I get starstruck. She is an incredible voice, and I'm so grateful I have a daughter that is growing up in this time with all these inspiring women to guide her.
Once the event wrapped, I was whisked away to the train station headed to DC for the White House Correspondents dinner.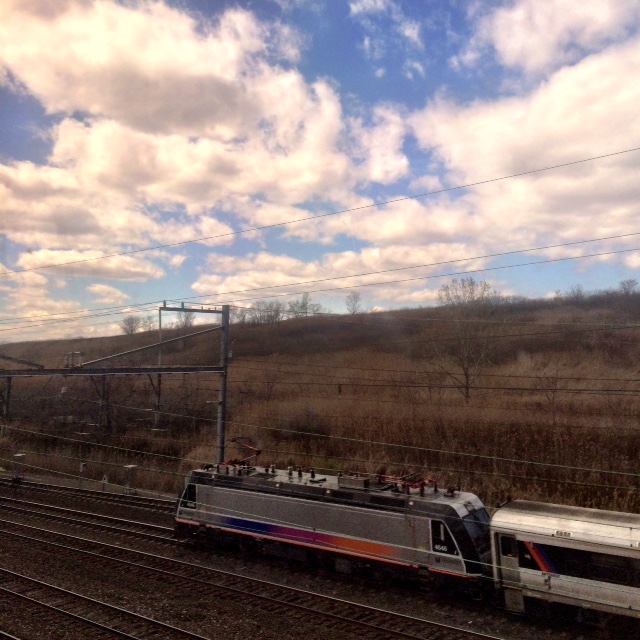 As a kind-looking gentleman sat in the seat next to me, there was that thought of "please don't talk to me," but I'm so glad he did. He complimented me on my work on The Newsroom, so I already like him. Turns out he's the owner of the Milwaukee Bucks, worked with the Clinton's, had dinner with Obama last week and played a mad game of ping pong with one of my old bosses, Doug Ellin (creator of Entourage). Small world, indeed. Such a lesson in being open to allowing life to surprise you.
I Arrived in DC, checked in with my friends at The Creative Coalition, which is who I was invited by to attend the WHCD. They've been coming to the dinner for 16 years and marching down the hallways on Capitol Hill fighting to keep arts funding in education. It's a tough fight, but they're not giving up. I had the pleasure of lobbying with them last year, urging senators and speaking with some of their chief's of staff about the many reasons, facts and statistics about why keeping arts in education is vital to our economy, our schools and our overall quality of life. I loved having a purpose last year, especially since we changed one Republican's mind, which gives me hope we can change more. Even though I didn't get to walk down the halls on Capitol Hill this time, I was debriefed and ready to keep the message going the rest of weekend. I arrived in my room to a glam team, ready and waiting with hot curling irons and makeup to get me ready for the next event.
The first stop was The Hill cocktail party at the Canadian embassy which I attended with Connie Nielsen (also in DC with The Creative Coalition). We were greeted by a Canadian Mountie and given red Canadian themed glasses. As we headed down the red carpet, I felt like I already fit in, seeing that I just spent four months last year filming my new show UnREAL in Vancouver. The Hill is a top U.S. political website and newspaper, read by the White House and more lawmakers than any other site, and their party was filled with people from all different spectrums jumping in photobooths sporting boas and crazy hats but also included a stunning rooftop with an unobstructed view of the Capitol. After a glass of wine and some more selfies with fans, we rushed back to our car, headed to STK for the dinner we are hosting as members of The Creative Coalition along with Bailee Madison, Haley Joel Osment, Emily Osment, Michelle Trachtenberg, Andrew Dost, Darby Stanchfield, Jason Isaacs, Rob Thomas, Troian Bellisario, Jennifer Coolidge, Tim Daly, Naya Rivera, Gabourey Sidibe and Alanna Masterson. I'm always impressed with the amazing group of people they assemble, but not surprised because if it wasn't for the arts that we had in our lives growing up, none of us would be here in DC fighting for it.
The Funny or Die party is always one of my favorites -- even though these parties are always insane with the amount of people crammed into a small space taking selfies and talking politics. Being on House of Cards really has given me so much more than just a job; the interactions I have had with real White House correspondents, other journalists and bloggers relating to my character Janine -- and their thanking me for representing them -- has been extraordinary. Meeting up with Beau Willimon and Michael Kelly (House of Cards) at the party makes the night complete. As we finish up the night having conversations with the senator of DC and one of Obama's speechwriters, it's fair to say that I'm exhausted and it's only 2 am.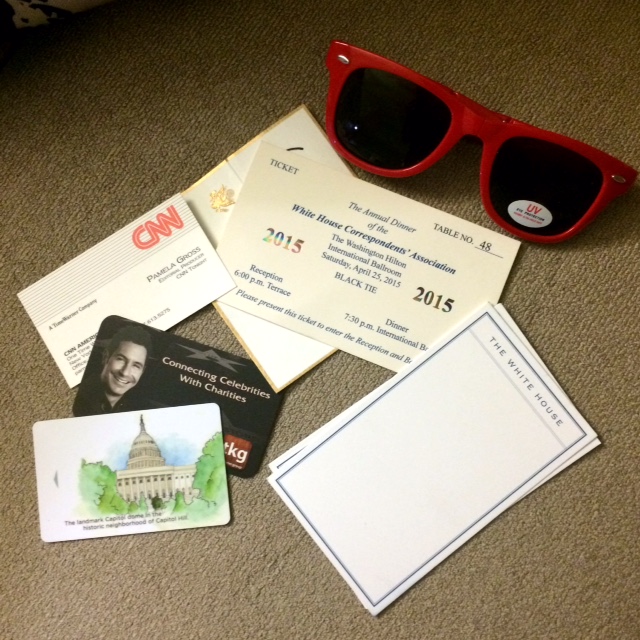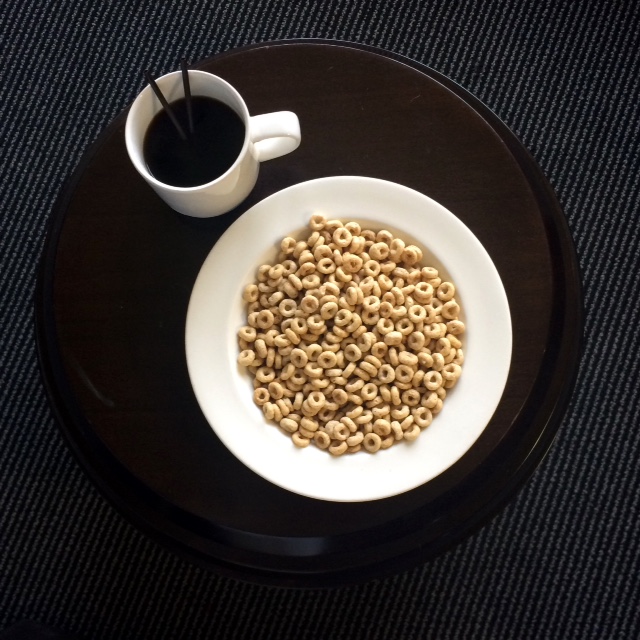 After another night of maybe five hours of sleep, having someone else make me look presentable is a much-needed luxury. There's always a beautiful brunch hosted by Tammy Haddad with food, drinks, great causes like Dog Tag Bakery and of course more politics. The scene at the brunch is always a mixture of hungover people from the night before blended with an air of excitement about the night to come -- a more casual setting where you can get yet another chance to have some interesting conversations with people who don't cross your path everyday, like Chris Matthews. I also got to speak with the incredible journalist Lynn Sweet of the Chicago Sun Times and get her advice on how we can make more waves in our fight to keep the arts funded. Glancing at my phone for a minute, I get an email asking me if I want to tour the West Wing of the White House today at 3:00 with Christopher Nolan.... Wait, what?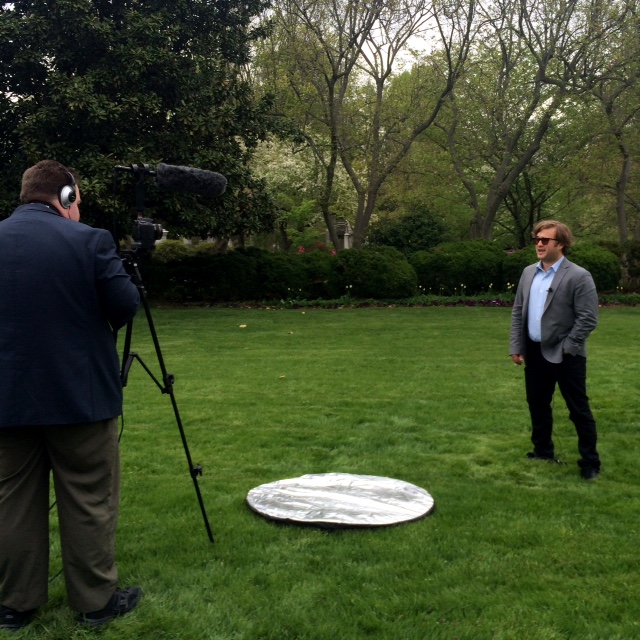 I rush out of the brunch, but not before taping a quick PSA in support of making DC a state with some of my fellow Creative Coalition friends, Haley, Emily, Troian and Bailee. In return we all get to hitch a ride with the shadow senator himself, Paul Strauss. A few crazy turns later and I am dropped off at the White House west entrance right in front of my friend I always love to fly with Eric Stonestreet (Modern Family). We await our "tour guides" and as we enter through another security checkpoint we are greeted by my favorite sidekick while in Washington, Tim Simons (VEEP). We've had the chance to bond whenever we're in DC, even though we live less than an hour away from each other in LA. We separate into smaller groups and begin our tour, meeting up with Christopher Nolan along the way, when they invite us into the strategy room. How cool is that? Touring the West Wing was amazing, even though we all couldn't help but compare every room we saw to the one's we recreated on our shows and films. Because we can, I guess.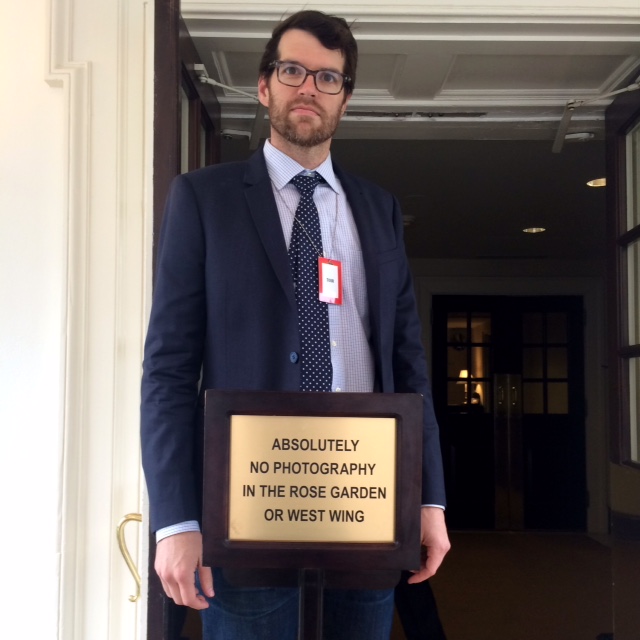 After the tour I scurry off in a cab to get back to the hotel for a glam team once again, to get ready for the main event. By the way, I still haven't eaten, so i'm super excited to find my dry bowl of $10 Honey Nut Cheerios awaiting me in the room, so I eat as many as I can one by one trying not to disturb the work in progress going on around me. Too late in getting ready, I miss the chance to get in the car with everyone else and hop in a cab. It begins to drizzle and then turns into pouring rain, and I have no umbrella. Oh boy. They've blocked off the roads closest to the Hilton for security purposes and the kind taxi driver gives me his umbrella, because even he felt bad for me. So with my heavy beaded dress, purse and umbrella in hand, I staggered through the rain in three-inch heels to a detoured walkway. As luck would have it, I got there just in time for them to close all the roads to clear the way for the POTUS, so I was stuck in the garage for another 15 minutes. I got to see the cavalcade of cars, so that was cool. Detoured once again, I found a man in a tux, and we walked another block around the corner, but this time I had someone to hold the umbrella. Through puddles and crowds we got inside the ballroom and onto the red carpet just as my publicist lets me know that my dress is ripped.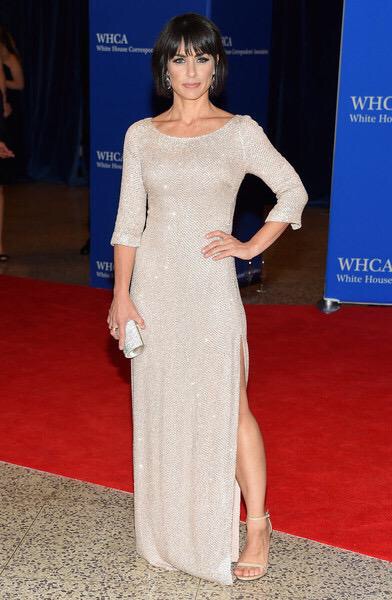 The ballroom is packed with hundreds of people, some recognizable as actors and others as politicians or reporters we've all seen covering the biggest stories on television. It's a flurry of activity and selfies everywhere.
I was lucky enough to have my friend Connie Britton (Nashville) at my table and a few people from CNN, a man who works for Volkswagen, along with some of our hosts from The Hill. After the fastest meal I've ever eaten, the real evening begins with amazing video clips honoring retiring journalists, others we have lost in the field and scholarships celebrating the new ones coming in.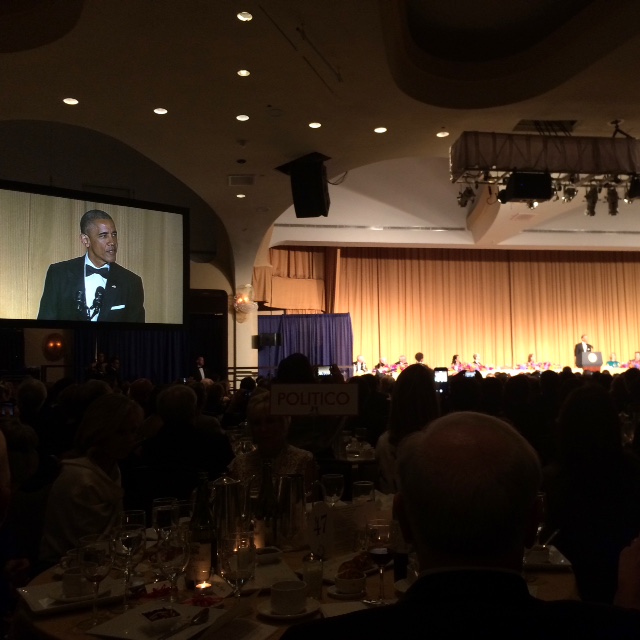 Now let the real fun begin: President Obama and his speech. His delivery of answering whether or not he has a "bucket list" for his last year in office with "I have something that rhymes with bucket," is as good as any comedic actor out there. He has no problem wearing his mistakes on his sleeve while reprimanding so many others in the most eloquent way. He reminds us of the real serious issues but then invites "his angry voice" on stage (Keegan-Michael Key of Key and Peele) to show us what he's really feeling. I could go on and on about his speech, but instead I highly recommend watching it on C-Span. Not only for Obama's speech but to also watch Cecily Strong, knock it out of the ballroom. How incredible to have a woman as the host this year! The last one was 20 years ago; that's too long. It's seems so timely and not a coincidence that this is becoming the year of the woman. "I am woman. Hear me roar," as so well said by Helen Reddy.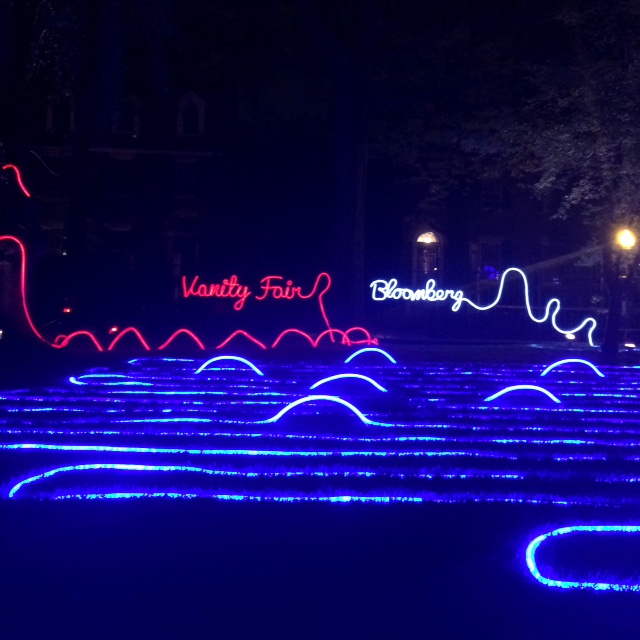 Then it's over and it's a mad dash to get out of the ballroom and into cars for more parties. The Vanity Fair/Bloomberg party is -- in my opinion -- one of the best. It switches back and forth between the Italian Ambassador's house and the French Ambassador. Once inside and out of the rain, I'd be okay to never leave. Highlights of the night: chatting with Michael Bloomberg and Graydon Carter, meeting Tina Tchen (chief of staff to the First Lady), getting recognized by Katie Couric, forcing Nancy Pelosi to take a picture with eight of us, the photo booth with Sophia Bush, Connie Britton and Carla Gugino and, last but not least, being able to sit on a couch in a fancy party and hang with some incredible women.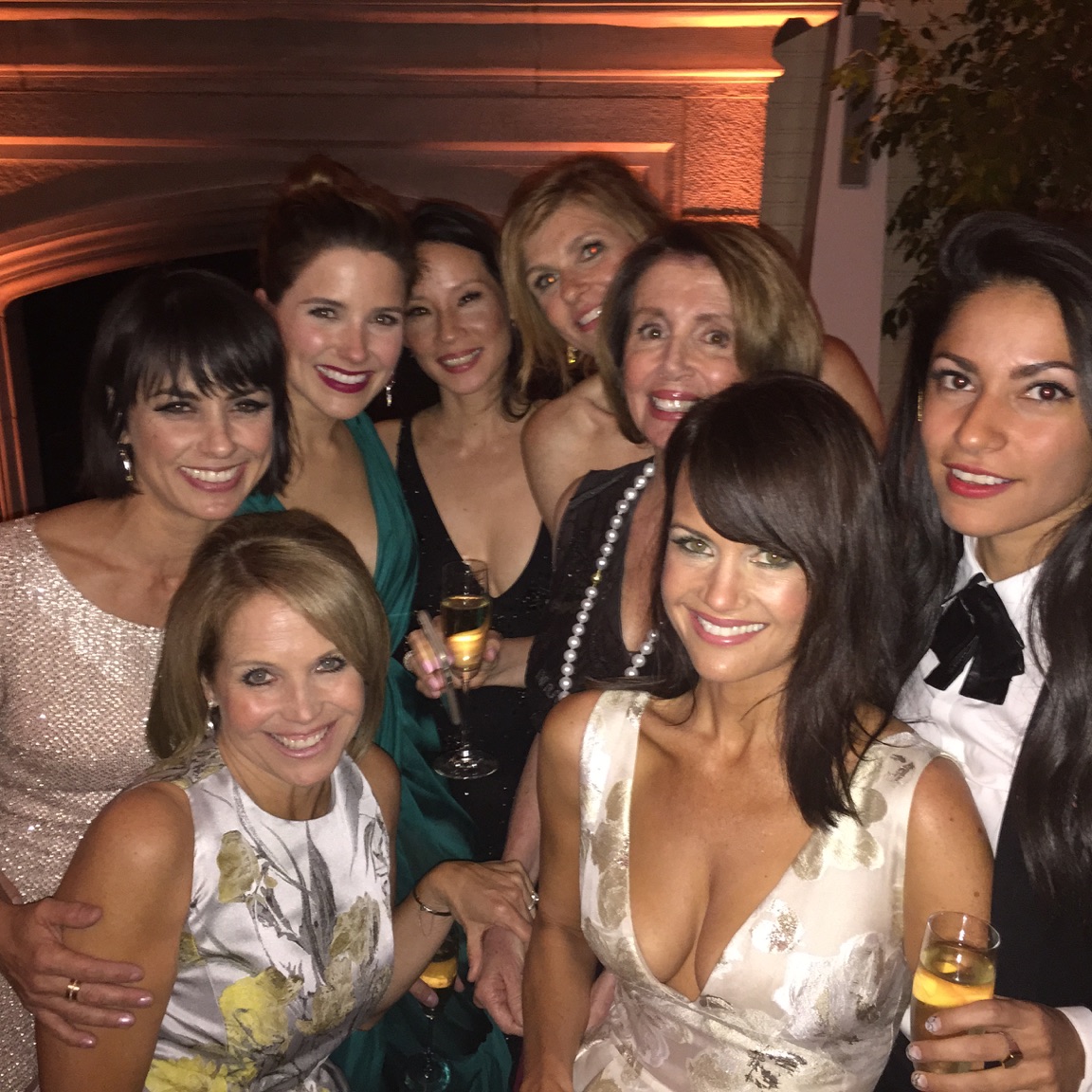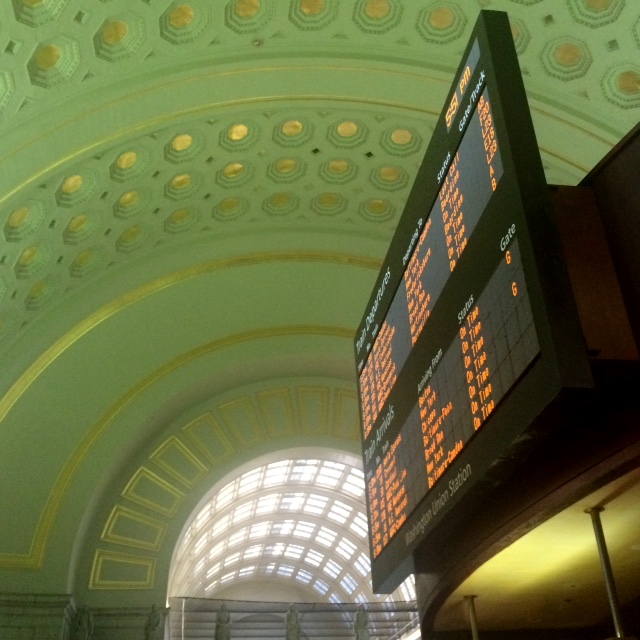 Still not enough sleep, but can't stop now: It's back on the train to NY for meet and greets with magazines for my new show UnREAL. I have to say, I've never been more excited to go to bed tonight.
Popular in the Community