You were smitten. It was one of those heart-rending autumn days. You knew it in your heart: the big chill (winter) was just around the corner, so you let afternoon warmth seep into your bones and spirit as you contemplated writing a poem. You'd just met your poetry idol, master poet Garrison Keillor - a.k.a. GK - for the first time in person, at his home in St. Paul, Minnesota. Would you ever rhyme again?
As I lounged on his multi-tiered veranda, savoring a glass of Chardonnay, I decided on a sonnet. He loves sonnets. Yards away, golden oak leaves floated downwind into the Mississippi River. They made me think of falling tears - a good beginning.
After GK fed me well, I wandered through his kitchens (two, both charming) under an antique Powdered Milk sign, through the dining room where I imagined The Guy and His All-Star Shoe Band from his famed radio show "A Prairie Home Companion" sitting around the table, cracking wise. I admired eclectic paintings, festive rugs, warm yellow walls... a comfy, lived-in manse. I wanted to live there. With him - my poet laureate, my music maker, my humor hunk - forever.
His smallish office was remarkably similar to mine in controlled chaos and overstuffed bookcases. He had two whole shelves dedicated to books he'd written, most of which I'd read. I swiveled in GK's big desk chair, eyes closed, absorbing vibes as if the air he breathed would infuse my soul with his endless creative magic. It gave me goose pimples, communing with his personal stuff (I touched nothing, btw) - stacks of reading material, unopened priority mail and bottles of wine, music scores, notes, files, photos, doodads, a birdhouse. His laptop chirped... I could've sneaked a peek at his email address but it seemed invasive. What was I thinking?
Not much was stashed away in anticipation of company, e.g., his Rx bottle. Personal things were just lying around, like in your own home. It was then he became a real man to me - not just the most prolific, talented radio entertainer ever, with a sensitive to-die-for baritone. I saw him newly, sweetly vulnerable, getting viruses and prescriptions as do the rest of us.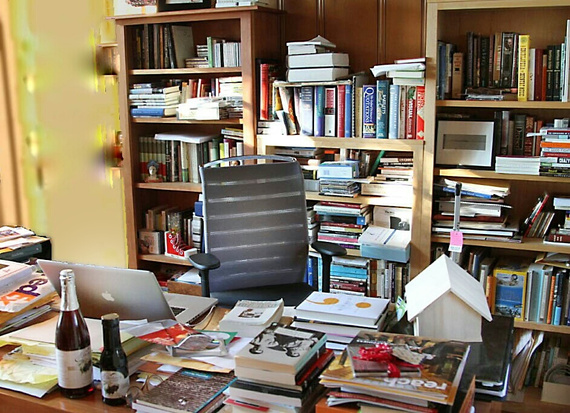 We spoke only briefly when I arrived, but I could tell he wanted to chat. Alas, there was this problem: a snaky line of fans awaited his attention. I'd been invited for brunch at his Victorian home - along with 150 others - as a surprise for traveling from out-of-town to his annual street dance show. Okay, okay, so I wasn't alone with him, exactly, but still, we were 'alone together' in a crowd. I was certain from his lingering gaze as I moved along the line - he definitely craved another 20 seconds with me.
How cool is that? He'd opened his home to us, the "out-of-towners" who had trekked far to watch his live radio broadcast in celebration of F. Scott Fitzgerald's birthday. GK had us transported to his private domain from the Fitzgerald Theater, to banquet tables of fantastic food under canopies on his lawn. He stood in his driveway, like a monumental sculpture, waving hello, as bus drivers pulled up to his open gate. I thought I'd won the lottery or gone to heaven (having been, a mere hour before, inside the gates of the pearly, ethereal St. Paul's Cathedral.)
He was casually dressed, cup of coffee in hand as he greeted the hordes of star-struck fans descending on him. I was halfway into the queue of visitors eager to speak with him, touch him. I watched him pose for snapshots and shoot the breeze with each, in his patient, kind, steady, Norwegian way. No one seemed to refill his cup but he stood there holding it for three hours, never leaving, shaking hand after hand. When he said we were free to check out the main floor of his home, of course I ran straight for his office to be alone, at least, with his kindred spirit. That we were in the company of a true gentleman, a generousman, was lost on no one.
He's my longest LTR - 30 years; I've not even been married as long as I've been swooning for GK. Usually he and I rendezvous on Saturday evenings or Sunday mornings on NPR (depending on when I can get away) to make beautiful music together - country, bluegrass, blues, gospel, opera, anything goes. Sometimes I dance or he tells jokes or recites me a poem hot off his press (the ultimate romantic, no?) Or I sit at his virtual knee for the "News from Lake Wobegon" or "Lives of the Cowboys".
We have mutual friends - Guy Noir (Private Eye), Dusty & Lefty (metro cowpokes), Ray Dworsky (world's premier pianist), Sue Scott (actress of a thousand voices), and Fred Newman (sound simulator extraordinaire). The family is moving on because GK is retiring. I saw it coming, like a faraway train, but still I'm not ready. He did it before. So did Frank Sinatra; they each came out of retirement once. This time GK is on a goodbye tour coast-to-coast, though we can hope it's not a real goodbye... in the way that Cher's final goodbye tour wasn't strictly 'final'.
His home in St. Paul was not actually the first place we'd locked eyes. Two months prior, I'd gone to GK's Summer Love tour stop in Denver where he chose to glide among the audience sitting on grounds of the Botanic Gardens. He sang goofy tunes and tearjerker ballads - of unrequited love, young love, misguided love - and recited love poems as he meandered through the multitudes in his white suit and red tie. People arose and followed him, as enraptured Romans might trail the Pope.
He was coming close so I fiddled in my bag, head down, madly searching for my camera when I noticed red tennis shoes right in front of me. GK had stopped there, his toes parked inches from my picnic blanket. I raised my gaze, mouth agape, up the mountain that is he, and there was this halo of sunlight, an aura framing his head. He was singing one of his favorites - "Love's a Word I Never Throw Around" - to me!

I followed him to three other cities (after that, who wouldn't?) so I've almost memorized the stories about his tomato-throwing sister, and how, as a boy in Minnesota winters, he peed a wide arc that froze, mid-air. But I never tire of them or of his ketchup jingle - "Ketchup, for the good times". He sounds fresh every time and can sing-speak a tripping twenty-minute maniacal monologue of non-stop tongue-twisters, never bungling a beat, word, or cue. I can only attribute such genius thespianism to an ultra large head (or to his astrology - dramatic Leo). Something instilled in him this rare ability to hold sway with the masses through poetry and music, wit and wisdom.
But if it's true, this retirement gig, then I'll be happy for GK. He's given me his best years, his ketchup years. Three decades of weekend trysts. He needs to get on with his memoir writing and maybe consulting. Lots of retired people do that. Perhaps he can consult with the next president on how to gain and sustain a high approval rating. ~The End~
P.S. to GK: I trust you found the Petrarchan sonnet left on your chair, composed by yours truly. You may need an extra poem for your blowout retirement extravaganza at the Hollywood Bowl. See you on July 1st! - Love, Petra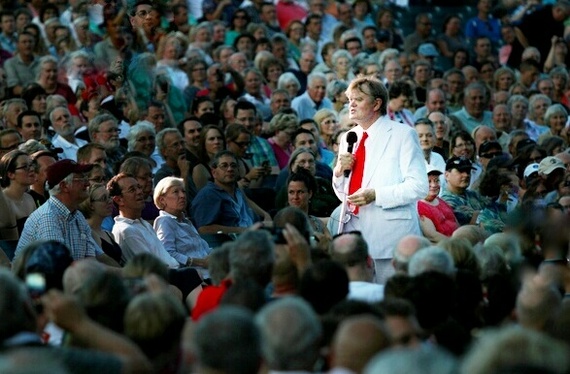 Calling all HuffPost superfans!
Sign up for membership to become a founding member and help shape HuffPost's next chapter