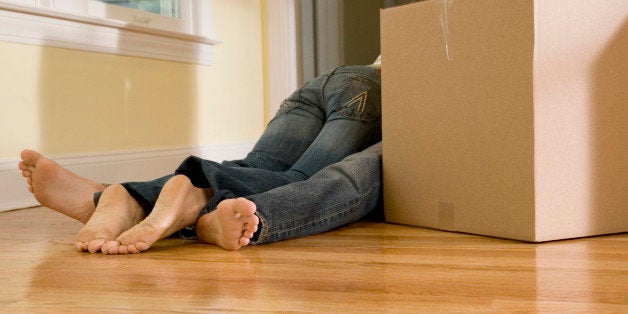 Late last year my wife informed me that she would like a divorce. We have two boys 12 and 15; we have been married for over 21 years. Not a complete surprise -- we had been going to a marriage counselor who abruptly retired at the end of the year. We tried an arbitrator but that didn't work and she had me served with divorce papers.
We slept in the same bed but no sex for months. Finally, she moves to the guest room while I have the kids out of town for the weekend. A couple of months later we go to our temporary hearing and determine how to split time with the kids and the house and she has to move out over the summer.
So the whole time she is telling me that she shouldn't have to cook for me or grocery shop for me then slowly she starts to change and begins texting me asking if I need anything, she started doing laundry again. Shortly there after we start having sex again and not once or twice a week or monthly like before, but almost daily even multiples a day. She started joking the bathroom was becoming her favorite room.
She continued to look for a house and purchased a large townhouse. So about 3 weeks ago she moves out and into her new place. Since then we have had sex only once and she has been really cold the past week or two as school has started and we are seeing each other in public situations. I was not happy in my marriage but I did not want the divorce. Also she lost about 50 pounds in the past year and looks great. What could be our last court hearing is less than a week away. My question is this normal behavior and should I encourage her not to finalize the divorce? Please let me remain anonymous. I'll be looking forward to the title.
There is a fairly common but always confusing phenomenon whereby many people have the best sex of their lives after divorce has been decided upon. People are looking forward to their new lives, they feel happy, optimistic. They often lose weight like your wife did. They've gotten a lot of rah-rah advice from friends about starting over. You were the happy recipient of all of this overflow of excitement and your wife feeling alive again.
Do not pursue her for sex anymore. The spigot has turned off, to you at least. I strongly suggest that you go on Match.com or similar sites and find yourself another woman in exactly the same position as your wife currently is -- immediately post-divorce, looking to hook up and have fun and feel 25 again. There are loads of women like this. My middle-aged male clients are always shocked to see the sheer number of available and enthusiastic dates and sexual partners waiting for them after their divorce. This is UNFAILING and has happened to every single man I have worked with at this stage of life, no exceptions. They all get way more dates than they thought they would.
Please keep me updated about the amount of awesome sex that you end up having with willing post-divorce females. This blog post can serve as a beacon of hope to the men that come after you, no pun intended. Best of luck, and till we meet again, I remain, The Blogapist Who Says, Post-Divorce Sex Is A Thing, Guys.
Learn about Dr. Rodman's private practice, including therapy, coaching, and consultation, here. This blog is not intended as diagnosis, assessment, or treatment, and should not replace consultation with your medical provider.