My work is one big technology puzzle. I think it is brilliant that we are able to solve some of the challenges of yesterday using new technology of today. I ask the right questions, find solutions and make sure all the pieces fit together. That's what drives me.

Favorite subjects
I've loved solving puzzle since I was a child. My favorite subjects at school were mathematics and physics, and I continued in the same line at university. I have a bachelor's degree in mathematics from the Middle East Technical University in Ankara, a master's in IT from Istanbul Technical University, and a master's of computer science from Amsterdam University. During my studies, it struck me that, in Turkey, women more often choose technical subjects than they do in the Netherlands. In the Netherlands, I was often the only female student in the class. That's never been an issue for me, though. I'm still working in a world dominated by men.
Best fit technology landscape
I started at Accenture, a global professional services company, as a technical architect, and I've now been working in the technology practice for more than 10 years. This year, I became Lead of the Architecture Group within Accenture Technology in the Netherlands. We're an international team of consultants, focusing on technical architecture assessment and implementation of cloud platform and big data architectures. It's all about enabling organizations to define and implement the technology that best fits their business needs and architecture landscape. That's our specialty, and that's how we help our clients. We do very cool things, using the latest methods and developments in technology. We design applications and systems using the latest technology to make them efficient and effective so that it really makes a difference for the user. I'm proud of that.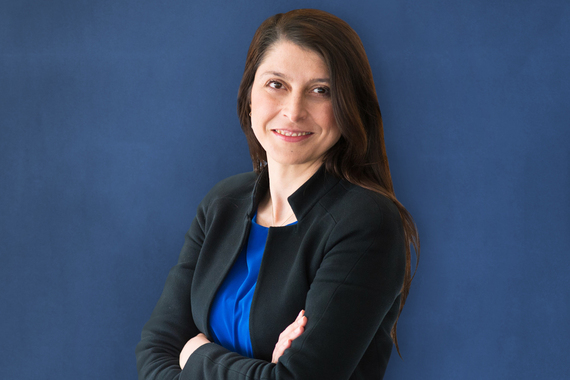 Improving lives
If you build an ecommerce platform that allows people to book tickets quickly and easily, it will have an impact. The same applies to a platform on which companies can share their data, so that people can start building software on the basis of that data. You can also use technology to make disruptive changes in people's lives.
Take the healthcare platform that my company is currently working on. By using relevant available data, our customers can give people better feedback on their health, and if necessary even send them warnings or reminders. In that way, you can use technology to really improve people's lives. I get lots of energy from that.
Speed of light
What I really like about where I work is that everyone has an opportunity to share their creative ideas and be heard. You can do what you're interested in, depending on your ambitions for the short and long term. I enjoy working with my team, an open-minded group of people-with eight different nationalities! Together, we closely follow the latest trends and technological developments. We visit events, seminars and conferences, learning from others, working closely with our colleagues in the rest of the world, and attending training courses so that we keep up to date. In our field, things change as fast as the speed of light, so we need to keep renewing ourselves constantly.
This interview was first published in Dutch in Lof Magazine.

REAL LIFE. REAL NEWS. REAL VOICES.
Help us tell more of the stories that matter from voices that too often remain unheard.