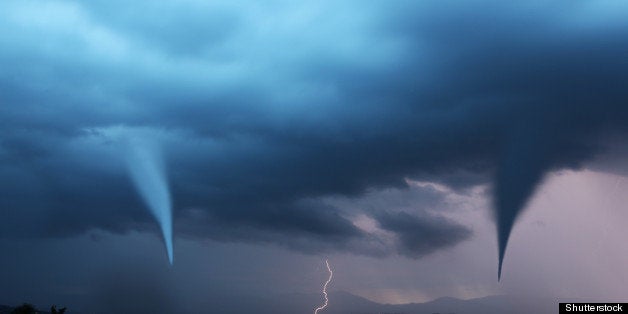 I have a recurring nightmare of a tornado ripping through my house and sucking me up into its bowels.
I grew up in Austin, Texas where the threat of tornadoes was present, but not looming -- we have a lot of hills.
Memorial Day 2015 my family camped at our property by the Pedernales River, outside of Austin. The Super El Nino had begun to make itself known, and it had been raining in Austin the entire month of May -- but no severe storms.
Our first day camping was dry until dark clouds pushed in around 2:00 p.m. The rain began and the adults hunkered down under tarps with Cards Against Humanity and jumbo bottles of wine, while the kids played soccer in a progressively expanding mud pit.
After four hours of mud play I hosed my two-year-old off and put him to sleep in our tent. Then, the thunder and lightening began, and the sky turned green.
Two minutes later, my phone started honking and displayed the message, "Tornado Warning- Take cover now!" We were camping far from any structures or drainage ditches and sleeping inside propped up fabric.
I ran over to the "real adults" (my parents) in search of guidance. They looked tense but not panicked. My dad drove down to the bridge (our only way back to town) and confirmed that it was flooded over. No way out.
Because the river was in a canyon, in the area we were camping, (and we were staying on the bluff) flooding was not one of our imminent threats.
While I willed myself to stay calm, lightening struck a tree thirty feet away and I sprinted back to my sleeping baby.
In the next five minutes the weather worsened and my now frantic mom appeared at my tent, telling me to grab my son and get in a car. The fifty-foot journey from the tent to car left us thoroughly drenched as I slogged through four inches of moving water and torrential rain while I clung to my still-sleeping son.
I didn't know where my husband was (he was in the port-a-potty -- ha!) and huddled in a Prius with my son and two other children.
The rain was so heavy, sky so dark, and thunder so deafening, our only glimpses into the outside world was when the lightening strikes, every three to four seconds, lit up the sky. We had no way of knowing if a tornado was headed for us and the warnings continued to refresh on my phone.
After four hours in the car, the lightening took a break and the warnings were reduced to advisories.
We returned to the tent and gratefully fell asleep.
At 3:00 a.m. I sat up in bed, knowing something new had rolled in. There was a fresh warning on my phone and the Doppler radar app showed a thick boomerang of dark red reaching from Mexico into Oklahoma.
This time, the lightening and moving water was too thick to attempt a dash to the car. Again, my son stayed asleep. As my husband and I lay listening to the increasing intensity of the rain, thunder, and lightening a new sound joined the mélange -- the sound of an airplane coming in for landing- a tornado.
As the deep rumble grew closer I placed my body over my son's and held on to him, tucking the blankets in around us.
That's when I had my first ever panic attack -- my heart began beating so hard and fast I thought it would push up and out of my throat, my sweat dripped onto my child, and I started to shake uncontrollably. This lasted for one hour as the distant (and sometimes not so distant) roar played tricks on our mind.
I thought we were going to die. Even if an F-1 tornado hit us our bodies would have been flung into the surrounding trees.
Stuck outside in a storm teeming with tornadoes (there were three in our area that night)- my worst fear realized. But unlike my fears from childhood, my baby's life was now at risk as well. I can come to terms with my own mortality, but not that of my child.
The red band of terror eventually passed, without a direct hit from a tornado.
The river rose 33 feet in three hours that night, ripping through many homes up river and taking multiple lives.
The next day was clear, but with the river still raging we couldn't leave.
After a day of waiting, we were able to drive back to town as we watched a growing blob of hot pink on the radar roll towards our camp. From the safety of my uncle's house we watched the newscaster report "a large and extremely dangerous" tornado rip through our property. An unheard of seven tornadoes were spotted in Austin that day, with twelve feet of moving water rolling through downtown.
I'm a believer in global warming.
Related