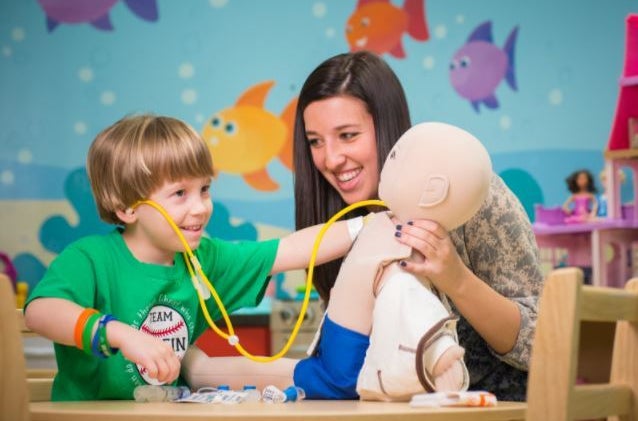 Every summer, our family looks forward to July 4 and the celebrating that holiday brings. My husband and I, along with our four kids and a Labradoodle, love the swimming, the grilling out, the fireworks and the time with friends and family.
Last year, however, a cloud of worry hung over the holiday. I mostly kept it to myself, but my intuition as a mother told me that something was not right with one of my identical twins, Griffin.
Griffin was a bright-eyed, full-of-life 6-year-old at the time; still enthusiastically playing in his baseball games, still racing his twin brother in the pool at swimming lessons, still wanting to play and wrestle and do all the things kids love to do.
Yet something was different. Griffin's legs had bruises all over them, and not your typical bruises. These were dark red with big knots underneath, and Griffin was unable to account for where he got the bruises.
As I watched him swim and play, I knew the next day a trip to our pediatrician would be warranted.
The next day we heard what no parent ever wants to hear. "It looks like Griffin has leukemia," she said.
Those words are forever etched in my mind and heart. Our happy world came crashing down in a matter of minutes with one little blood test. Griffin's blood counts hit rock bottom. He needed medical attention quickly in the form of blood and platelet transfusions.
Thankfully, there is St. Jude Children's Research Hospital. It is the most amazing place you never want to be. St. Jude gave our family hope, along with impeccable medical care and genuine love and concern.
Griffin was diagnosed with a subtype of acute myeloid leukemia called acute promyelocytic leukemia (APL).
Thanks to research and new treatments, this type of leukemia is now considered one of the most curable. APL is an adult leukemia and extremely rare in children; it only accounts for 1 percent of all childhood leukemias.
Griffin underwent eight months of chemotherapy, five days a week, along with multiple transfusions, procedures and surgeries.
St. Jude was quite literally our second home, and the wonderful employees became our second family. We made forever friends. We could not have made it through those eight long months without their love and support for Griffin and our family.
St. Jude saved our son's life. Blessing us even further, is the fact that no family ever pays for treatment, travel, housing or food at St. Jude Children's Research Hospital.
As a stay-at-home mom facing my child's cancer diagnosis, that news was such a bright light during a very dark time.
I was able to be right by Griffin's side for every single needle stick, chemo infusion, surgery, appointment, and the list goes on and on, thanks to St. Jude providing him with free, lifesaving medical care.
Griffin is now cancer-free and enjoying life in remission, life as a normal little boy again.
I believe one day in his future he will also be considered cured, thanks to the mission of hope at St. Jude.
As Griffin's mom, I am forever grateful to St. Jude for what they gave to me, and for as long as I live, I will do anything I can to support and help the beautifully unique hospital.
Authored by Shannon Goold
Shannon Goold is the mother of St. Jude patient Griffin. Her family will be participating in the St. Jude Walk/Run to End Childhood Cancer this Saturday, Sept. 23, to raise awareness and support for the hospital.
Let's end childhood cancer. Together.
In observance of Childhood Cancer Awareness Month, the St. Jude Walk/Run to End Childhood Cancer will take place on Sept. 16 and 23, in 63 cities across the country. Individuals can register to participate and raise funds to support the lifesaving mission of St. Jude Children's Research Hospital: Finding cures. Saving children. Events like this help ensure families never receive a bill from St. Jude for treatment, travel, housing or food — because all a family should worry about is helping their child live.