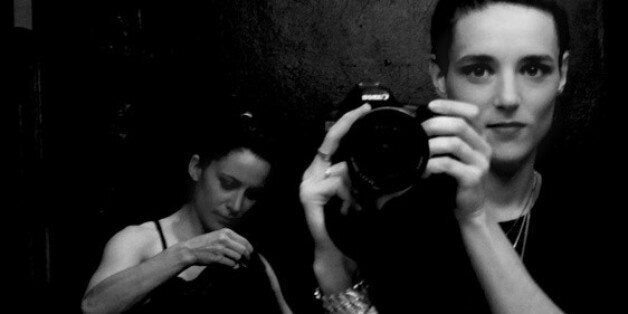 I spent a year being Jehnny Beth, night and day consumed by my persona, traveling the world and fronting Savages, doing my job the best I could. Bigger audiences pushed me to find the entertainer in me, stretch my ego, reach out to the other side of myself, then come back. It was a long and fascinating journey, not without its challenges. I drank too much, got ill, lost my voice and got depressed, until every mirror I faced seemed distorted and I lived 10 years in one. Then I came back to human size and gave my body a rest, stopped alcohol, coffee and cigarettes. I started swimming.
The tour is over I am back home in London, and while I sit at my desk thinking about the million things I need to do (for Savages -- but also for my label Pop Noire) I hear Iggy Pop introducing our song "Shut Up" on his radio show Nitty Gritty on BBC6 music. I listen carefully. He talks about the "rap" intro in the video of "Shut Up," the "Silence Yourself" text I wrote. Just before launching the track he says, "she's got a point," and it makes me smile. I smile because a year ago I remember insisting to keep this intro on the video -- when the idea of cutting it was suggested to fit Vevo's standards. I remember emails I sent, the tone I was using, God, I was so fierce:
I already explained my point of view about this and it hasn't changed. I don't want to have two versions of the video online (...) If the goal is to reach a wider audience, then let's reach them as we are, not as they want us to be.
Such determination still impresses me. Today, the "Shut Up" video has reached over a million views, and as I hear Ayse's bass vibrating my speakers on the start of it, I feel content. I was impressed how many times Iggy used the word "happiness" in his radio show. How difficult the path to make us feel happy but how quickly music can take us there, in an instant we find ourselves dancing. "That's useful music," he says playing MC5. Damn right. Useful music. What else can we aspire to?
Yes, what else can we aspire to?
I spent my whole year traveling the world, discovering countries and cities I had never seen, made interesting friends everywhere, played in front of loving crowds -- but my life hasn't changed so much. For a start, I am not richer than I was when I started. When I told my dad how much money I earned, he was shocked: "What? You go all around the world and you don't earn more money than I do?"
Now don't get me wrong, the economy of the band isn't bad. We have enough money to survive and make a second record exactly the way we want to. We are lucky, yes, but I mean for example this job doesn't give us the possibility to buy a house if we wanted to, or to start a family if we wanted to, to do what people you know do, when they have a life and their work is successful. Recognition doesn't bring money. Does it matter? Not really, and I wouldn't blame you if you didn't care at all; money is not gonna stop you from enjoying music, or me from making it. Although it doesn't make it easy for me to rent a flat... This week, every landlord I spoke to on the phone said they didn't want to rent their property to artists. I found myself arguing for nothing: "It's not because we do what we like that we can't pay our rent!" That was my reality after two years traveling the world, meeting the most amazing people -- people I've admired for years. I wanted to tell these goddamn landlords who they were dealing with.
"Do you know PJ Harvey came to my house?! Do you know that Johnny Marr listens to my music when he goes for a run in the morning? And Yoko Ono came to my show in NYC?!" Seems like making useful music isn't useful to me after all. "I am sorry," they'd reply. "We will need to see some documents."
I feel proud of my generation.
I remember the long tours in America in the tour bus, all the mistakes we've made because it was the first time we've ever done all this. We kind of learned all together as we went along. Savages' tour manager Andy Inglis is an old friend of mine; I chose him because he was a trusted friend and I admired his work ethic. I knew he would never let me down. From the start, I wanted to take my friends along with me. My label Pop Noire was a new structure when we started Savages. We released a 7" and a live EP together, but when came the album release we agreed that we needed a global partner to release the record internationally. Hence why Matador got into the picture.
Pop Noire is a structure that helps Savages to develop its artistic ideas. Matador understands it, respects it. The work with Johnny Hostile as a producer, Antoine Carlier for artwork and video ("Strife") -- and Giorgio Testi too ("Shut Up" / "Fuckers") -- were essential to become who we are now. It was great for us to carry on working with people we knew. I also wanted to work with people of my generation.
Backstage at Laneway festival in Australia, I was talking with Archy Marshall (King Krule). I remember him saying, "These are exciting times, man. Lots of great music out there." He was right. I feel proud of my generation. All the things we manage to do no matter how great the financial difficulties. I think it gives us an interesting perspective, a generation with something to say, stories to tell our grandchildren. I look around and I can't help thinking we are making history -- what we are doing is important. Me and Johnny Hostile have been investing all our time and money in music for the past eight years, in a decade when musicians like us are struggling to make money out of music. We are lucky enough to be able to survive. When I started making music professionally it was just at the beginning of the crisis. Every year was supposed to be a bad year, and then it never stopped getting worse. When people tell me about old times and how much money they dealt with, I can't really relate to that. So, yes, I think we are quite brave, or maybe just crazy. Only time will tell if we were right.
The music of Savages was imagined to function like armor. Four women facing the world, facing the industry, protected by their sound, indestructible. And it worked. We came out with a fully-formed aesthetic, controlled vision, direct sound. Some would say austere. But it was the crowds, all around the world, who taught me it was okay to put down the gun. I remember the first time we played in Portugal. The audience was so happy, I thought, "What to do with so much love?" I wasn't prepared for it. After the show, I talked to Johnny Hostile about it. He said, "You're gonna need to respond to them." I was terrified. "How?" I asked. Like Master Yoda he replied: "The Savages way, you must find." He was right.
At Christmas, Gemma Thompson (Savages guitarist) offered me the biography of Afro-American dancer Josephine Baker, a music-hall star in Paris between the two world wars. Her personality and the way she danced crystallized modern ideas at the time, a play with conventions and female charisma in Colonialist Europe that I found inspiring. I read:
She was a revelation of possibilities in human nature they hadn't suspected. The animal inside of every human being wasn't dark, tormented, savage. It was good natured, lively, sexy rather than sensual, above all, funny.
For some reason, I thought there was something revealing about the future of Savages in these lines; Josephine's sense of humor was a refreshing wake up call, but I knew I hadn't totally found the answer yet. I knew part of me needed to introduce more love into the performance -- and I kept looking for ways of doing it in accordance with myself and the band. Then I realized the answer was always right in front of me: "Fuckers."
When journalists ask me, "Who are the Fuckers?" I say I don't know, because the truth is the meaning of the song changes every night. In every city we played, "Fuckers" was taking new shapes and forms in the collective unconsciousness of the crowd. All I had to do is play with that, invent new ghosts, exorcise the spirits of those "who are sustained by your misfortunes" -- as Leonard Cohen puts it so beautifully in his Book of Longing. "Fuckers" is a song to feel intimately connected with every individual in the room, a communion song, our own attempt to make "useful music." Finally, I too was able to talk about happiness like Iggy, or dance onstage with Josephine.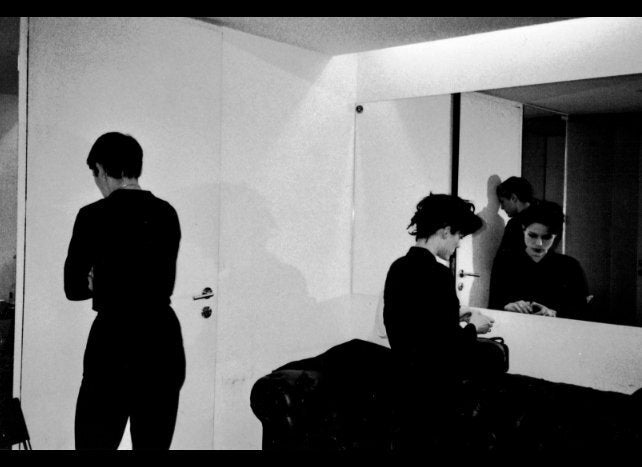 My Year In Savages
Popular in the Community