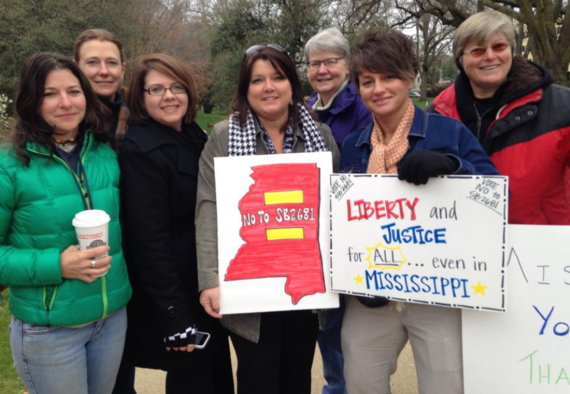 As I listen to night-time sounds tonight, I would swear that I can hear our entire house breathing a little easier. The Supremes just refused to take up the case on same-sex marriage from the Fourth Circuit Court of Appeals in Virginia, and our state, North Carolina, goes through that same system. ACLU lawyers tell us that they expect marriage to be legal here no later than Monday. And the case in North Carolina includes second-parent adoption. So tonight, we rest in the knowledge that our rights and those of our son should be fully protected soon.
This should be cause for celebration. We will have finally won our rights. And yet, I am melancholy. I am grateful, but I am not satisfied. I have this nagging, gnawing question: what about our friends?

I can still remember the night we bumped into our friends, Carla and Joce, in our neighborhood drugstore. They sheepishly admitted that they were buying a pregnancy test. We hadn't known they were trying to conceive. Their news prompted our conversation: was now the right time? Should we take the leap? They now have two children; we swap pictures and war stories. We left for Asheville. They stayed to fight in Mississippi. Tonight, our fight is over. Tomorrow, theirs wages on.
I can still remember the night we met Kresty and Lucy. Within minutes, Kresty, a nurse, explained about timing our inseminations. She later got pregnant on the first try, but she cheered us on through our fifteen month journey to pregnancy; she lent their home fetal heartrate monitor when I was neurotic after an amniotic leak; she told me my job was done and I needed to relax and accept that our son was coming seven weeks premature. Now their two kids play with our one when we see each other on return visits to Jackson. Tonight, our son will have two moms. Tomorrow, their kids still wait their turn.
I can still remember trying to come out to Connie, a colleague at the College. I knew Connie was out, and I had met Renee. I had just left my marriage to a man, and I was trying to find the words to create my new reality. "There's something that is true about you that is also true about me," I said, easing into this new topic. "You are teaching 'Introduction to Liberal Studies' next year, too," she said, completely miscalculating my intent. I blanched; I scrambled for the words. "You. Me, too. I am. Gay," I stuttered. Connie and Renee are the salt of the earth. We share our stories of aging and, sadly, dying parents -- all of us trying to be good daughters. Tonight, Donna and I can be almost certain our parents will live to see our marriage recognized in our state. Tomorrow, Renee can only hope her mother lives long enough in Mississippi.
I thought the news today would be happier, and, for my little family, it is. For millions more families in the states that, in the coming days, will see same-sex marriage bans fall, the news couldn't be happier. And I understand that these numbers of marriages make nation-wide enfranchisement for same-sex couples inevitable. But for me, tonight, as I think of my friends in Mississippi, the world is both a little brighter and a little starker.
My head follows the logic. But my heart aches for my friends who are still waiting. And one thing I know for sure: love won't be bound by a zipcode.
REAL LIFE. REAL NEWS. REAL VOICES.
Help us tell more of the stories that matter from voices that too often remain unheard.