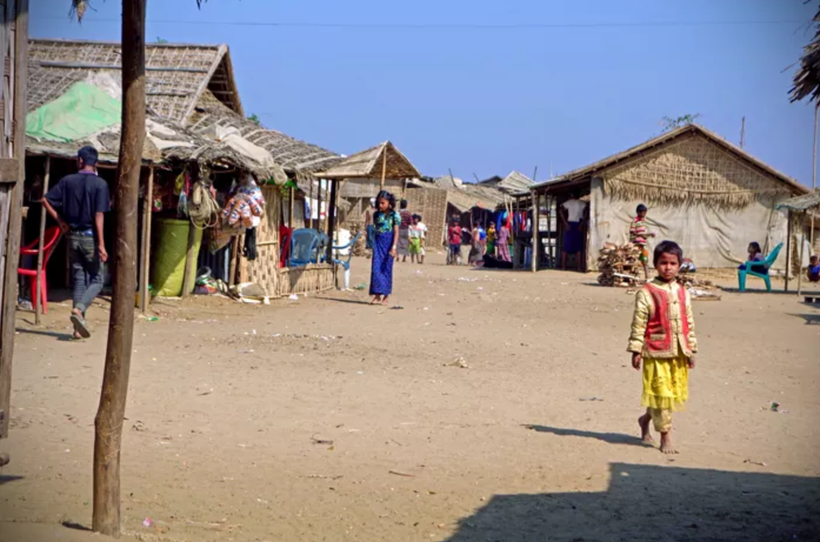 A report released today from Amnesty International titled, "Caged Without A Roof": Apartheid In Myanmar's Rakhine State, says the Rohingya crisis is "...so severe and extensive that it amounts to a widespread and systemic attack on a civilian population, which is clearly linked to their ethnic (or racial) identity, and therefore legally constitutes apartheid, a crime against humanity under international law."
What to call this situation has been of major concern over the years, and many human rights leaders—including researchers at the United States Holocaust Memorial Museum—believe it resembles a genocide. The UN has referred to this as a "textbook example of ethnic cleansing."
Over the years, Myanmar's Rohingya minority have had their homes burned down and been forced to live either in camps on the outskirts of cities or inside open-air prisons that are within city limits. In both situations they've faced starvation and conditions so violent and appalling that hundreds of thousands of them have fled (even when they knew it meant risking their lives and potentially being trafficked).
They've also been subjected to systematic rape by Myanmar's military officials and, according to Amnesty's report, the situation has "deteriorated dramatically since August 2017, when the military unleashed a brutal campaign of violence."
The report also brings up an issue many other reports on this topic have failed to address: Myanmar's Buddhists are waging this apartheid against all Muslims in the country, not just the Rohingya. And in many instances, they're even waging it on non-Muslims who they believe "look to be of Indian descent."
Here is one particularly important passage from the report:
"Restrictions on movement in Sittwe township do not only apply to Rohingya, they target all Muslims because they are Muslim. The Kaman Muslims are one of the officially recognized "national races," and are considered "full" citizens by birth by the authorities. In theory, they should have all the rights afforded to other citizens, including freedom of movement. However, in reality, they too are confined to villages and displacement camps because of their Muslim identity, and a combination of state and non-state imposed restrictions limiting their movement."
If you want to assist the efforts of a world-class nonprofit that understands this situation, support the work of Fortify Rights.
For a deeper glimpse into the roots of the Rohingya crisis, read Shadows In The Golden Land at Moment Magazine and watch The Rohingya: Silent Abuse from Al Jazeera.
Cameron Conaway is a recipient of the Daniel Pearl Investigative Journalism Fellowship. He's the Director of Content at Reflektion.
REAL LIFE. REAL NEWS. REAL VOICES.
Help us tell more of the stories that matter from voices that too often remain unheard.
This post was published on the now-closed HuffPost Contributor platform. Contributors control their own work and posted freely to our site. If you need to flag this entry as abusive,
send us an email
.