Myanmar's government appears to be intensifying its campaign to oust the Rohingya Muslim minority by permanently destroying the area they've inhabited for generations and building new infrastructure in its place, according to an Amnesty International report released Monday.
Authorities have bulldozed villages long occupied by the Rohingya (before they were driven out by what the United Nations has determined amounts to ethnic cleansing), Amnesty said in the report, titled "Remaking Rakhine State." 
Analysis of satellite imagery enabled Amnesty to determine that these are some of the same villages in the Rakhine State that had been burned to the ground last fall when Myanmar first kicked its campaign of violence against the religious minority into high gear. 
"In village after village, burnt structures ― at one time Rohingya homes, shops and businesses ― have been bulldozed and cleared," the report said. "Even surrounding trees and vegetation have been removed, rendering much of the landscape unrecognizable."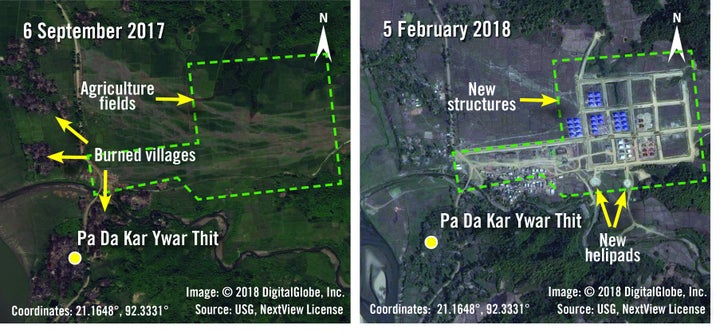 Since January, Myanmar's military has started to build new military bases on this land, Amnesty said, as well as helipads, roads and new villages it believes are destined for populations other than the Rohingya. It's also carrying out small-scale arson and looting on villages newly abandoned by Rohingya refugees.
In areas that are still occupied, some villagers have also been asked to leave their homes to make way for new construction.
"What we are seeing in Rakhine State is a land grab by the military on a dramatic scale. New bases are being erected to house the very same security forces that have committed crimes against humanity against Rohingya," Tirana Hassan, Amnesty International's crisis response director, said in a statement. 
Myanmar's government claims the work they're doing is to prepare for the return of Rohingya refugees from Bangladesh ― where almost 700,000 have fled since last August. The two countries agreed on a repatriation deal in January, in which Myanmar promised to facilitate the safe return of refugees by housing them temporarily in a transit center before allowing them to return either to their homes or somewhere nearby. The deal was postponed that same month.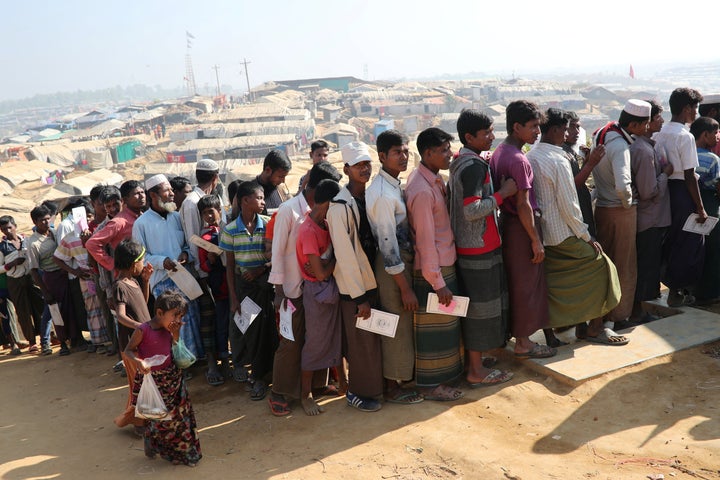 "We are going to build new villages and new homes and resettle people there according to the village planning," government spokesman Zaw Htay told The Associated Press.
Yet the satellite imagery obtained by Amnesty shows that the government has begun construction on the transit center atop land once occupied by a Rohingya village, casting doubt on the government's commitment to creating dignified conditions for the minority.
"This makes the voluntary, safe and dignified return of Rohingya refugees an even more distant prospect," Hassan added. "Not only are their homes gone, but the new construction is entrenching the already dehumanizing discrimination they have faced in Myanmar."
Calling all HuffPost superfans!
Sign up for membership to become a founding member and help shape HuffPost's next chapter
BEFORE YOU GO
PHOTO GALLERY
Photos Of Rohingya Fighting For Survival In 2017