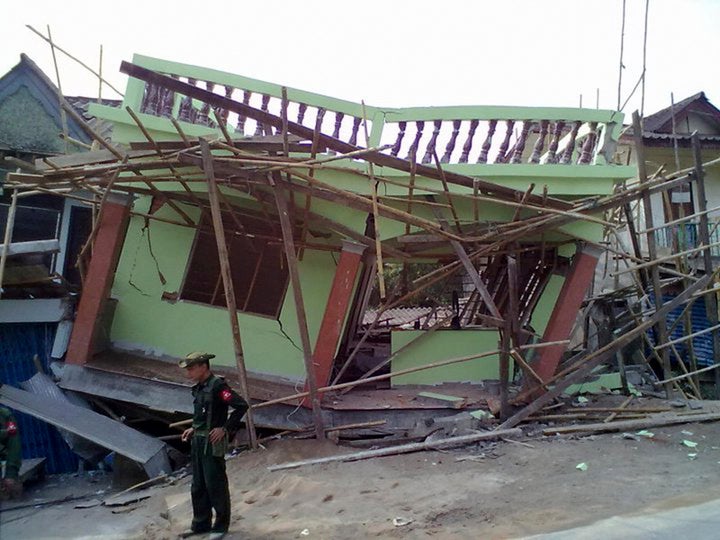 MAE SAI, Thailand (Reuters) - At least 74 people were killed in a strong earthquake that struck Myanmar, state media said on Friday, while a series of aftershocks have caused panic but only limited damage in Thailand and Laos.
The death toll from Thursday's 6.8 magnitude tremor was expected to rise slightly in Myanmar after 225 homes and nine government buildings were destroyed. Over 100 people were injured, according to state television.
The quake sparked panic, but no major damage, in other countries across Southeast Asia. This month's devastating Japan quake and tsunami have revived memories of the even more powerful 2004 Indonesia quake and tsunami which killed around 226,000 people.
An aftershock of an estimated magnitude of 5.5 rattled Thailand on Friday but caused limited damage, although residents living in properties close to the epicenter were advised to leave their homes.
The initial quake shook the famous "Golden Triangle" region, where Myanmar, Thailand and Laos meet. It was felt in the capital cities of Thailand and Myanmar and as far away as Vietnam, where people evacuated tall buildings.
It was 6.2 miles below the surface but caused only slight damage on the Thai side The town of Tachilek in Myanmar was badly hit by Thursday's quake. People fled their homes and cracks were seen in the roads.
"We were extremely frightened to enter the house since there were several strong aftershocks," a teacher said by telephone. "Some people are haunted by what they saw on TV about the recent earthquake in Japan."
Witnesses crossing the border into Thailand said a large tent had been set up on a soccer field for hundreds of people whose homes were destroyed. Officials said nine government offices and 10 Buddhist monasteries were destroyed.
The Red Cross said a hospital in Tachilek had been damaged and trained local volunteers had been mobilized to provide relief and first aid.
Thursday's quake was centered 111 km (69 miles) north of Chiang Rai, Thailand's northernmost province and a sparsely populated, hilly area. It forms part of the Golden Triangle, a popular tourist destination and famous for the cultivation of illicit opium.
In Chiang Rai's main town, little damage was seen. The spires of several Buddhist pagodas were bent, some tiles were smashed and a few cracks were seen on the ground close to a hotel.
Fearing more aftershocks, people in the province's Mae Sai district, 60 km from the epicenter, had left their houses and were seen setting up makeshift shelters in open spaces. One woman died in Mae Sai on Thursday when a wall of her home caved in.
Somchai Hatyatanti, Chiang Rai provincial governor, said cracks were seen in some buildings. Power was briefly knocked out and some telephone lines were down.
Bountheun Menevilay, head of the disaster preparedness division of the Red Cross in neighboring Laos, said the quake was felt strongly in the thinly populated border provinces of Luang Namtha and Bokeo, but no deaths or injuries were reported.
Vibul Sguanpong, director general of Thailand's Department of Disaster Prevention and Mitigation, said there had been dozens of aftershocks.
"We urge those in very old houses or tall, old buildings near the northern border with Myanmar to check for cracks and other signs of damage, and consider leaving for the next two days while aftershocks are likely," he said.
(Additional reporting by Aung Hla Tun in Yangon, Arada Kultawanich and Ambika Ahuja in Bangkok; Writing and additional reporting by Martin Petty; Editing by Sanjeev Miglani)
Popular in the Community