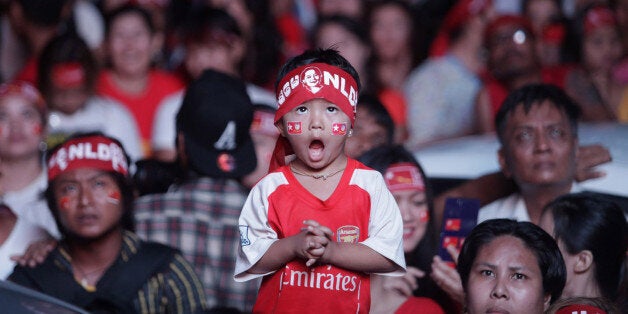 YANGON, Myanmar -- People in Myanmar and international observers alike are excited at the prospect of a new democratic era following the successful election on Nov. 8. After almost five decades of military rule, having a democratic government is a dream no more.
However, the road ahead will be truly bumpy and tricky. The country surely needs change. But how? This is an enormous challenge for all stakeholders, especially the National League for Democracy -- the party led by former political prisoner and Nobel Peace Prize winner Aung San Suu Kyi -- and the army. Will there be a good civil-military relationship? How would they build it? How could voters help figure it out? Questions remain. But answers are also queuing up.
Voters' voices were heard
Since 1988, Myanmar had only three elections -- in 1990, 2010 and 2012. The fourth one, this year, is perhaps the most successful and momentous. There are several reasons to say so.
First, the turnout rate of this election is pretty high (80 percent). Second, voters were sensible and well disciplined. Why? Fear, favor, sympathy, compensation and passion. All these complex moods and emotions pushed people to go to polling stations. Even before polling had started, there were long queues of voters. And after getting some confirmed results later in the evening on election day and the days after, people still keep a cool and calm attitude.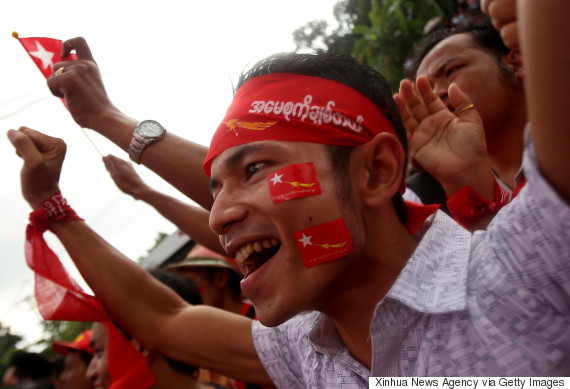 Supporters of the National League for Democracy party watch votes being counted after the election. (Xinhua/U Aung via Getty Images)
After the 1990 election, the NLD, which was the winning party, was prevented from forming a Parliament by the country's military rulers, who refused to recognize the NLD's resounding win. This year, after an even stronger win for the NLD, most people hope Aung San Suu Kyi will become president. But they know she is constitutionally barred from the position. People also remember that in the 2010 election, packages of advance votes for the military-backed Union Solidarity Development Party arrived after votes that favored other parties had been counted. Some people, like soldiers and civil servants, lost their chance to vote as they were told at polling stations that their votes had already been cast by their respective departments. This year, voter fraud and other evidence of foul play by the Union Electoral Commission made people worry about losing their votes. People proved that they are good learners from lessons in history. Sympathy for Suu Kyi and a desire for her party to be compensated for these past injustices likely drove many votes to the NLD.
With the help of a little openness in the last three years since the 2012 election, after state censorship had stopped and more space for civil society organizations had opened up, people improved their political awareness. In this election, voters' attitudes were peaceful and hopeful even as the UEC and army -- both of which, paradoxically, seek to gain fresh trust from people -- got up to their old tricks (cheating and robbing votes). Voters seem to have stuck to the old practice of creating a landslide victory for one party, but they also bore a fresh attitude of hope for a peaceful and democratic society.
The army clings to power
According to the current constitution, executive power needs to be shared between the president and the commander-in-chief. The right to appoint three key ministers -- defense, home affairs and border affairs -- is the commander-in-chief's. And the army also has a right to nominate a person with or without a mandate from voters as one of three presidential nominees. The selected nominee has a right to form his or her cabinet with or without a mandate from voters. (This sounds like an insult to voters, to have someone without a mandate becoming either president or a cabinet member.)
Given these facts, the winner of this election is not guaranteed to gain absolute executive power. Similarly, a landslide winner -- in this case, Suu Kyi's NLD -- can not have more than 75 percent of legislative power, since the other Parliament seats are reserved for unelected military representatives. Furthermore, ultimate power lies on the National Defense and Security Council, which is composed mostly of army-appointed officials, so the winner of the election is forced to work with the army in order to gain a share of executive power no matter what.
The USDP's candidates' response to the election result shows an attempt to maintain dignity. Apart from the way the Union Electoral Commission is handling the final approval of the result, the response from the army and other ethnic political parties is positive enough. However, the key problem for the USDP, the UEC and the army is distrust from people. People cannot differentiate those three as separate independent bodies and they themselves seem struggling to do so, too. How, then, can the NLD gain trust from the army at the same time as maintaining trust from the people? This question remains to be answered.
A smooth and peaceful transition?
It will take time for the political transition to fully take shape: a new Parliament could be finalized by January and the formation of the government could take until March. People are afraid of something happening between now and early next year; their past experiences prepare them for this. Many have noticed that there should be negotiations between the NLD and the army during this time. Rumors have swirled that there has been a secret dialogue between them already. However, people bear many concerns, as they have lost trust in the army and the current government. They cannot appreciate anything good done by these institutions, since many old problems still remain without any justice: students in detention on hunger strike, for example, and internally displaced people in the northern part of the country, where armed conflict goes on.
Of course, foreign investment and international support are key factors for the county's prosperity and development. Some key foreign investors and international stakeholders do not want turbulent change with the current economic situation. Some still believe that this government is capable enough to maintain ongoing political reforms, though it cannot expand further nor dig deeper. For some, the current situation is comfortable, since they are accustomed to certain people and government departments as they are now.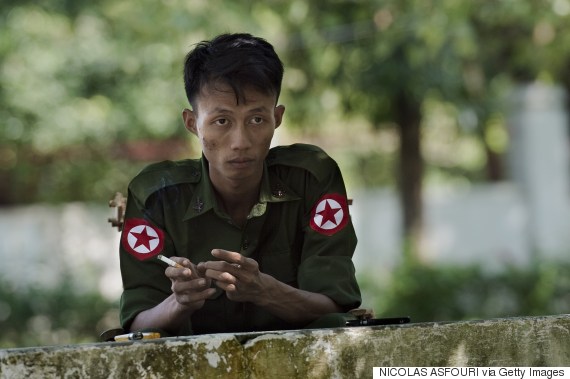 A Myanmar army soldier secures the entrance of an army compound in Yangon. (NICOLAS ASFOURI/AFP/Getty Images)
At the same time, the army has its own comfort zone -- the 2008 constitution. That is why a military coup is not a favorable option for the army, even considering what looks like a landslide victory by its arch rival, the NLD. How then can the NLD bring the army out of its comfort zone? Will the NLD let the army expand its comfort zone further in order to create a more inclusive space? People already understand that constitutional reform is the most sensitive challenge for the army. In order to work together as partners, the winner of the election might be clever enough to avoid forcing the army to relinquish its comfort zone.
However, constitutional reform is key to making Myanmar a federal state, which is a vital development for the country's democratic progress, and it's especially important for ethnic minorities. Though not many ethnic political parties seem to have won big during this election, their voices and contribution should be well counted for a smooth and peaceful transition. Indeed, even armed ethnic groups are having their voices heard because of their established role in the peace process with the government. Though the army and eight armed ethnic forces signed a cease-fire agreement this year, seven other groups, including the largest and most powerful rebel armies, refused to sign the agreement. They still have a chance to spread their voices while the peace process keeps rolling and may have an opportunity to take part in constitutional reform if this issue becomes a part of future political reform.
The current peace process hints at a promising future. Though it may not lead to constitutional reform, the army appears to be committed. This is another important moment in the army's process to either get out of or expand its comfort zone. A lot of ministers of the current USDP government and the armed ethnic groups are also committed. It just needs to be more inclusive and legitimate. Though this peace process retains the army, ethnic groups and top officials, it has not yet gained legitimacy from the current Parliament.
Constitutional reform is key to the future
The next new step should be from the upcoming Parliamentary session. Since the peace process and its key contributors do not yet gain any legitimacy from Parliament, there should be an urgent proposal on a bill to legitimize the peace process and its contributors. That bill should also include more guaranteed space for potential contributors from the NLD and ethnic parties and also a more meaningful and productive dialogue. Then this bill could keep either the peace process going or retain its contributors for future discussion.
The new government need not undermine the results so far of the peace process; rather, it should continue that work. The army could be allowed to stay in its comfort zone for a certain amount of time and take up its role in constitutional reform later. Both ethnic armed and political groups could also still be happy with this new and more inclusive peace process under a new government. Even the USDP could be happy to keep its current cabinet members in this process, though they won't be part of executive power in the future.
Hopefully the new government will appreciate some of the good legacies of the current government and prove its capacity to build a healthy and secure environment for everyone in the country to the army, which still has the power to destroy any trust built among other stakeholders in the current peace process. The maintenance of the peace process will still be both a dominating agenda item and a huge challenge for the new executive power holders.
PHOTO GALLERY
Myanmar's Landmark Election
Calling all HuffPost superfans!
Sign up for membership to become a founding member and help shape HuffPost's next chapter