 Dressed in matching traditional Myanmar clothes and garlanded with jasmine, a gay couple married in a lavish public ceremony that they say was the first of its kind in the conservative nation.
Tin Ko Ko and Myo Min Htet exchanged rings in an upmarket Yangon hotel Sunday, in the latest sign of changing social mores in the Southeast Asian nation as it emerges from the shadow of military dictatorship.
The marriage does not enjoy any legal status but followed the customs of other Myanmar weddings, with the two men arriving in solemn procession followed by six groomsmen in front of some two hundred guests.
"My family accepted me. I am so glad that my parents were understanding... but he had to overcome many difficulties from his family," said Tin Ko Ko, 38, of his partner in an emotional speech.
The pair, who both work for rights groups, have lived together for 10 years without publicly declaring their relationship.
Same-sex relations are criminalised under the nation's colonial-era penal code.
While the law is not strictly enforced, activists have long complained of harassment and discrimination.
But taboos around homosexuality have begun to be relaxed after a quasi-civilian government replaced military rule three years ago. Myanmar held its first gay pride celebrations in May 2012.
Tin Ko Ko and Myo Min Htet had discussed their wedding in local media, but the pair kept the venue a secret for fear it could attract protest.
But some journalists were able to attend and pictures of the ceremony were splashed on the front pages of several local newspapers Monday.
"We both tried hard to make this a reality. I am almost speechless, I am so happy," said 28-year-old Myo Min Htet, adding that the event also marked the couple's 10-year anniversary.
Wedding guests applauded as the couple kissed after cutting a red heart-shaped cake.
"This is like a challenge to our neighbours, who do not understand us and see us as very strange people," said Aung Myo Min, from the rights group Equality Myanmar, addressing fellow guests.
Copyright (2014) AFP. All rights reserved.
Before You Go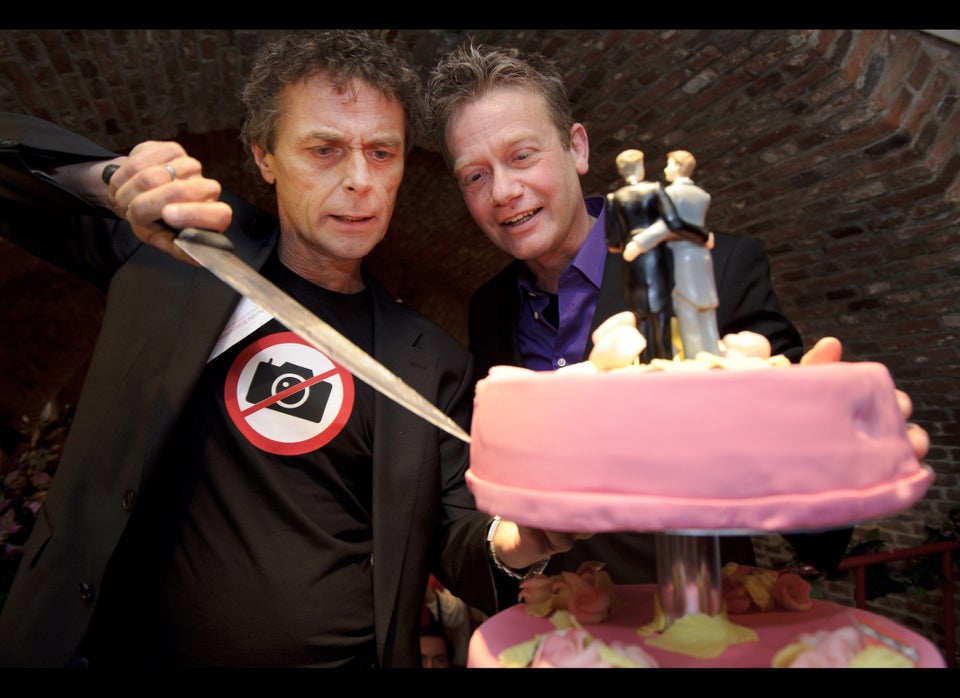 Gay Marriage Around The World
Popular in the Community