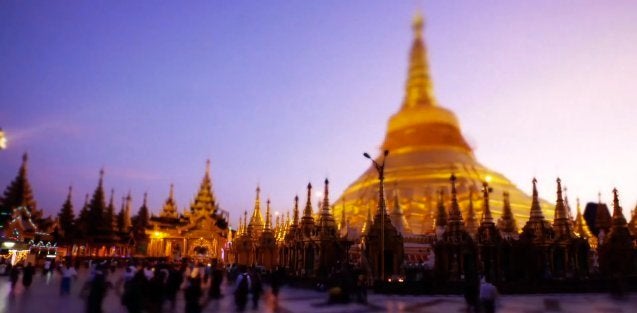 Curious to get a glimpse inside the notoriously closed-off nation of Myanmar? The country is exposed thanks to the handiwork of German videographer Joerg Daiber, who shot a tilt-shift video inside the reclusive nation.
Following the success of his "Cute Creta" film, Daiber headed to Myanmar and shot from December 2011 to January 2012 in such places as Yangon (Rangoon), Kalaw, Inle Lake, Madaly and Bagan.
Daiber told The Huffington Post that "Burma was probably one of the most amazing place[s] where I have ever been. It feels like Asia 20 years ago in terms of traditional-ity and I have hardly encountered so friendly and welcoming people ever." He added, "This whole miniature thing is sort of my personal project."
It's very well explained here but basically it's applying blur to the images so the human eye is fooled into thinking that the image is macro photography. Then there are a few other elements that help sell the effect, like shooting with wide-angle lenses from elevated positions and adding contrast and saturation to the image. I apply the tilt shift effect in post production. In my opinion it provides much more flexibility and control over the final end product. I know that some other guys would call this cheating, but what do I care ;)
Up next for Daiber? A video from Laos, where he traveled after Myanmar.
Fancy yourself a fan of Daiber's miniatures? Check out the rest of his films over on his YouTube page.