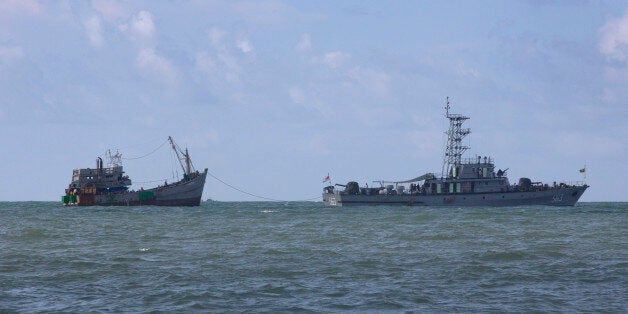 YANGON, June 2 (Reuters) - Myanmar said a boat crammed with 727 migrants that it has kept stranded at sea for days was being escorted to a "safe" area for identity checks, bringing fresh criticism that it was only prolonging the suffering of people desperate to come ashore.
"The operation is starting. They will be taken to a safe destination," Information Minister Ye Htut told Reuters by telephone, adding that the migrants had been provided with food and water. He would not disclose that location due to "security and safety concerns."
Earlier, Ye Htut had said Myanmar's navy was taking the converted fishing boat to Bangladeshi waters - prompting its neighbor to underline that it would take back only those who were genuinely its citizens - but he later clarified his remarks to say the verification process would take place first.
The migrants were found drifting in the Andaman Sea on Friday in an overloaded fishing boat that was taking on water.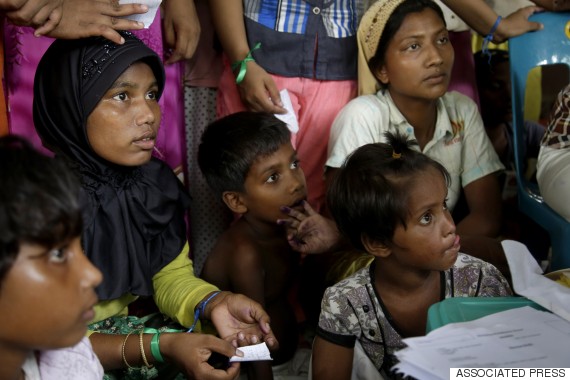 Ethnic Rohingya gather to receive medical treatments at a temporary shelter in Langsa, Aceh province, Indonesia, Friday, May 22, 2015. (AP Photo/Tatan Syuflana)
They are the among an estimated 2,000 people, mostly Rohingya Muslims from Myanmar and Bangladeshis, the UN said could still be at sea after being abandoned by people-smuggling gangs since a crackdown started last month in Thailand.
A three-star Thai general accused of involvement in human trafficking turned himself in to authorities on Tuesday, the most high profile among scores of suspects wanted as part of the drive to snuff out an illicit business that has boomed in recent years.
Police say 51 arrests have been made so far in a campaign that has also brought the grim discovery of scores of graves along the jungle-clad border dividing Thailand and Malaysia.
Lieutenant General Manus Kongpan said he was ready and willing to go to trial.
"I ask for justice. I'm ready to fully cooperate with officials in every way," he told reporters by telephone on Tuesday while en route to a police post at Pedang Besar, a town on the Thai-Malaysia border where trafficking has flourished.
Myanmar's government initially labeled the migrants on the overloaded boat "Bengalis," a term it applies to both Bangladeshis and Rohingyas, a mostly stateless Muslim minority of about 1.1 million living in Myanmar's Rakhine state.
It refuses to use the word Rohingya and insists most of them are illegal Bangladeshi migrants. They live in apartheid-like conditions and are resented by Rakhine's Buddhist majority.
The exodus of Rohingyas, who say they are fleeing persecution, is a sensitive issue for Myanmar, which is under international pressure to grant citizenship to the Rohingyas but risks outrage at home if is seen as recognizing them among its dozens of ethnicities.
U.S. President Barack Obama on Monday said Myanmar needed to end discrimination against Rohingyas in order to make its fledgling democracy a success.
A navy officer who declined to be named told Reuters on Sunday that some migrants aboard the crowded boat could speak a dialect that is used in Rakhine state but not widely spoken in Bangladesh.
In Dhaka, the foreign ministry made its position clear.
"Those who are identified as Bangladeshi nationals, we will bring them back to our country," a senior official at the foreign ministry said, declining to be named. "But we will verify them first."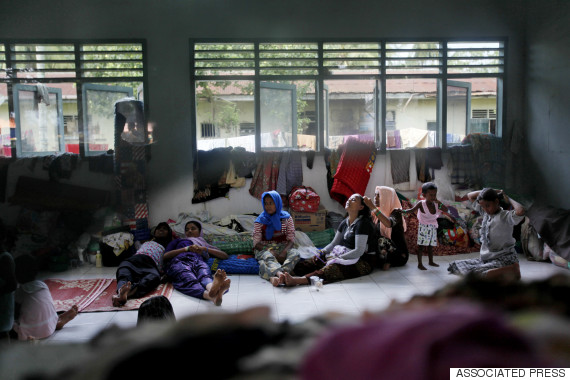 Rohingya migrants sit inside their temporary shelter in Bayeun, Aceh province, Indonesia, Sunday, May 24, 2015. (AP Photo/Binsar Bakkara)
The International Organization for Migration (IOM) said it was concerned the boat might be taken to Bangladeshi waters.
"Which takes us back to the topic which occupies us so much the past couple of weeks, these smuggled migrants not being given due places to land and continuing to suffer while they are aboard these vessels," IOM spokesman Leonard Doyle told a news briefing in Geneva.
Chris Lewa, whose Arakan Project tracks the movement of Rohingya boats, said the migrants should be put ashore immediately and the UN should have access to them to provide assistance and identify who they are.
"They should be allowed to go home without punishment whether they are Rohingya or from Bangladesh," said Lewa, adding that some Rohingya would be reluctant to identify themselves as such because, unable to provide identification, they could be jailed in Myanmar for illegal immigration.
The seaborne exodus mushroomed last month into a regional crisis for which Myanmar insists it is not to blame. Seventeen countries were represented at a meeting in Bangkok last week after around 4,000 Rohingya and Bangladeshi "boat people" landed on the shores of Thailand, Malaysia and Indonesia through May.
Scott Busby, the U.S. Deputy Assistant secretary for democracy, human rights and labor, on Tuesday welcomed an agreement between affected countries to address "root causes" of the exodus, but said Myanmar should make a start by granting Rohingyas citizenship.
"Many people have been there for a very long period of time, they need access to citizenship," he told reporters in Cambodia.
Hollywood actor Matt Dillon was in Sittwe, the capital of Rakhine State, on Monday. He visited a camp for displaced Rohingya and a fishing village from which many migrants had left on smugglers' boats.
"I saw a grim situation, a lot of barbed wire ... The residential area was ghettoized," Dillon told reporters in Bangkok. "I felt that this is a very vulnerable group. These people are the most desperate of the desperate." (Additional reporting by Reporting by Kaweewit Kaewjinda and Simon Webb in BANGKOK, Ruma Paul in DHAKA, Prak Chan Thul in PHNOM PENH and Stephanie Nebehay in GENEVA; Editing by Alex Richardson)
Calling all HuffPost superfans!
Sign up for membership to become a founding member and help shape HuffPost's next chapter
BEFORE YOU GO
PHOTO GALLERY
Myanmar And Bangladesh Migrant Crisis