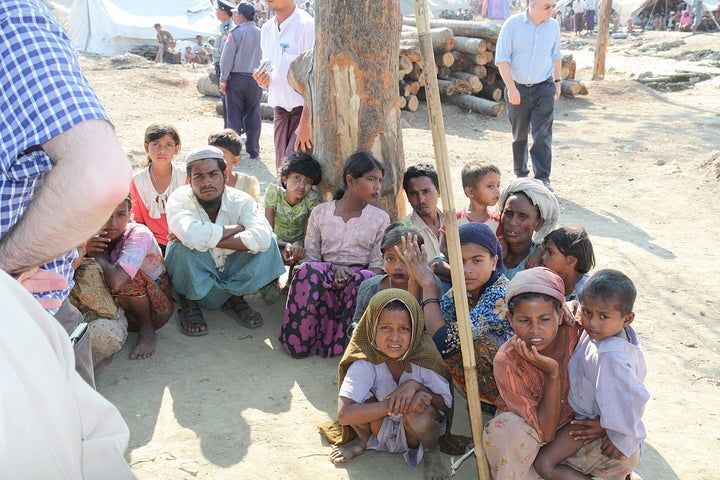 Myanmar is reeling under gross human rights violations, where the fundamental 'right to life' of over one million people is threatened as a consequence of perpetuating ethnic violence. The Rohingya muslims constitute a significant block of Myanmar's 55 million population, inhabiting the politically turbulent state of Rakhine. Termed the 'most persecuted ethnic community in the world' by the United Nations, the Rohingyas face multiple discrimination at the hands of their host state - Myanmar, as well as their parent state - Bangladesh.
Not recognized as citizens or accorded the status of residents in either Myanmar or Bangladesh, the Rohingyas have confronted huge disappointment from neighboring states such as Indonesia, which recently shut its doors for 'illegal immigrants' permanently. Human right abuses of 'illegal Bengalis' (as the Rohingyas are known in Myanmar) has further escalated, following the killing of nine policemen by a group of Rohingya men and boys on 9th of October. As a consequence, the civilian government and military has declined access to basic humanitarian aid- food, nutrition, health care, to over 130,000 men, women and children.
With a long history of tussle between the Rohingya muslim population and the ethnic Rakhine Buddhists prevailing since 2012, certain factions had apprehended smothering of this age-old friction with the coming to power of Aung San Suu Kyi. However, on the contrary, in the face of heightening tensions in the Burmese land, the Myanmar government has out rightly denied reports of human right abuses in Rakhine. Authorities have rather claimed them to be on-going 'clearance operations' targeting specifically on the perpetrators of the October 9 incident. Accompanied by heavy clampdown on media and human rights activists, the government forces have failed to suggest that everything is under control to the global onlookers. International outrage has garnered greater momentum, so much so that Malaysia's foreign minister Anifah Aman and Canadian authorities have urged Myanmar to take urgent steps to establish peace in the region.
In such a grave situation, the legitimacy and credibility of the newly elected civilian government is put to doubt, which has amassed wide regional support, including from India. As the largest and oldest functioning democracy in the region, India has traditionally taken up the role of a peace builder. Either as the front-runner of the 'non-aligned' movement, or through its independent nuclear doctrine and subsequent stance on the Non-proliferation treaty. India has perpetually striven towards acquiring a unique position in the regional realm, which has catered adequately to its global status. A status of such kind can be acquiesced not just through economic transactions or military exchanges, but by means of proclaiming an identity and sustaining values and norms in diplomatic endeavors and negotiations that is uniquely and intricately woven to the state structure.
In doing so, India has 'intervened' in the affairs of its neighbors to establish peace and stability: Bangladesh in 1971, Maldives in 1988 and Sri Lanka in 1990s, and very recently Myanmar. While reports claimed that India has secretively tried to break into the sovereign territory of Myanmar, Myanmar has denied such allegations. In this context, it needs to be highlighted that India has a long tradition of contributing to the UN peacekeeping missions. India has been participating in multiple operations including that of Congo, Sierra Leone, Sudan and Gaza. Such has reflected continuity in India's foreign policy doctrine, and its opposition to forcefully transforming a peacekeeping operation into a peace enforcement without suitable UN authorization. As the principle of consent has held utmost significance for India, it has renewed its engagement with the Burmese government following a brief period of estrangement, in 1990s. And very recently, Suu Kyi's government has shown renewed enthusiasm to engage with India in developmental activities and economic growth, owing also to its rich past and cultural symphony with India.
It is worthy to note here that India has not issued any public statement either in support of the Myanmar government or as siding with the international community in condemning blatant human rights abuse in Myanmar. With a history of being a conflict mediator, this stands as an opportunity for India to sensitively aim at resolving this crisis through peaceful methods of collective decision making. As a partner to Myanmar at the ASEAN, WTO, and BIMSTEC, India can play a major role in ameliorating the struggle of millions of stateless civilians who have turned into victims of a spiraling ethnic conflict.
By carefully delineating its stance as neither interference nor forceful imposition of its might, India has the onus of collectively driving the process of peaceful transition of Myanmar. While concerns over China are relevant for India, considering growing proximity between Myanmar and China in the recent past, India upholding its value system of tolerance and non-violence, has the obligation to act responsibly and deliver upon its role of a 'legitimate' player in the region.
Domestically faced with unprecedented violence in Kashmir which led the Prime Minister to pick up on the volatility of Baluchistan, India's quietude over Myanmar could be mistaken as 'self-contradictory' in the global realm. And in hindsight could be referred to as India's failure to keep up with its agenda of establishing rule of law and sustainable democratic structures. As India proclaims its foreign policy doctrine to be guided by the principle of democracy, development and diaspora, it is apt time to not just support UN mechanisms but also garner force in the region, to pressurize the civilian government to act boldly and support the cause of human rights in Myanmar. Taking into account Myanmar's attempts to boost relations with India alongside India's growing stature in the international realm, the former's voice will count much more than any other regional partners.
Calling all HuffPost superfans!
Sign up for membership to become a founding member and help shape HuffPost's next chapter