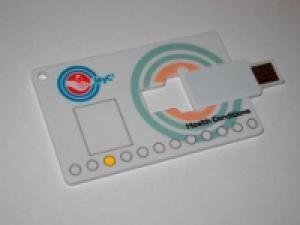 You have your credit card to make purchases, your drivers license for identification, but what about a card that could save your life in an emergency? Enter MyCare, a revolutionary card developed by engineers at City University London and Coventry University.

If the card's owner is injured in an accident or becomes ill and cannot speak, paramedics can find the card and have immediate access to their full medical history as well as their allergies, blood type, and preexisting conditions. According to a report by ScienceDaily, the prototype's initial trials were successful and could be ready for commercial use in three to four years.
Although similar products have been tried out around the world, MyCare offers a unique feature in that the system is written in a "portable way using Python programming language, meaning that it can be ported easily between different...computer operating systems."
City University's Professor Panicos Kyriacou told ScienceDaily that the card will become paramount to medical emergencies: "Our device makes potentially life-saving data easily accessible. For example, it's vital to know whether a patient is allergic to latex. If they are, use of latex gloves by a paramedic might be fatal."
In nonemergency hospital or clinic visits, patients would give the card to medical professionals so that the information could be updated at the end of the visit.