The widow of a U.S. soldier killed in Niger said she was "hurt" when President Donald Trump told her in a phone call last week that her husband "knew what he signed up for."
"He couldn't remember my husband's name," Myeshia Johnson told ABC's "Good Morning America" on Monday, referring to the presidential condolence call that ignited a weeklong controversy. "I heard him stumbling on trying to remember my husband's name."
She said Trump told her that her husband, Sgt. La David Johnson, "knew what he signed up for but it hurts anyways. And it made me cry because I was very angry at the tone in his voice and how he said it."
The president's call made her "very upset and hurt," she said. "It made me cry even worse."
Trump quickly shot back on Twitter, saying that his conversation with Johnson was "very respectful" and that he did say the fallen soldier's name.
Johnson's death has been front and center in a controversy Trump himself created when he drew attention to the fact that he hadn't phoned the immediate families of all service members who had been killed during his presidency and made the erroneous claim that his predecessors didn't make such calls.
Trump did phone Johnson last week. Rep. Frederica Wilson (D-Fla.), who was in the car with Johnson when Trump made the condolence call on Tuesday, was the first to speak out about the conversation:
"Sarcastically he said: 'But you know he must have known what he signed up for,'" Wilson told NBC6. "How could you say that to a grieving widow? I couldn't believe ... and he said it more than once. I said this man has no feelings for anyone. This is a young woman with child who is grieved to her soul."
Johnson's aunt, who was also in the car, backed Wilson up last week. (The aunt, who raised Johnson, was identified earlier as Johnson's mother.) Trump on Wednesday accused Wilson of fabricating what he said, claiming he had proof.
"Whatever Ms. Wilson said was not fabricated," Johnson's widow, who is pregnant, confirmed on Monday. "What she said was 100-percent correct. The phone was on speakerphone. Why would we fabricate something like that?"
She said she has nothing further to say to Trump.
Johnson's widow said she's still desperately seeking answers to what happened.
"When they came to my house they just told me that it was a massive gunfire and my husband as of Oct. 4 was missing," she said. "They didn't know his whereabouts, they didn't know where he was. And a couple of days later they told me he went from missing to killed in action. I don't know how he got killed, where he got killed, anything."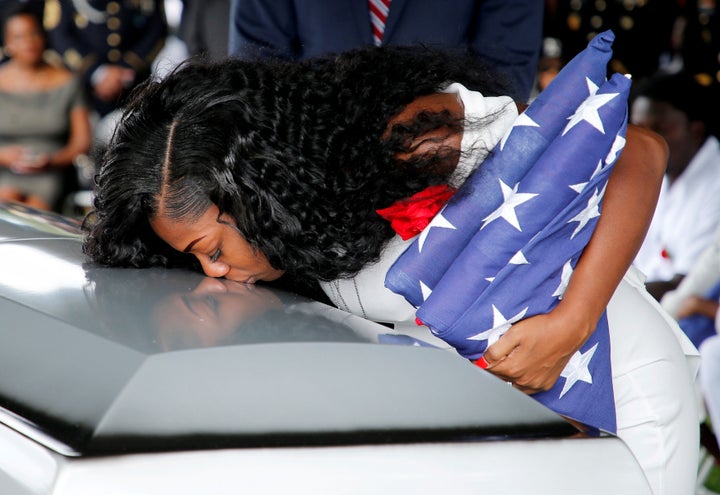 She said she still hasn't been able to see her husband's body.
"They told he was in a severe wrap and I wouldn't be able to see him. I know my husband's body from head to toe and they won't let me see anything. I don't know what's in that box, it could be empty from head to toe."
Approximately 1,000 people attended Johnson's funeral on Saturday.
The administration is reportedly rush-delivering condolence letters to families of slain soldiers amid the controversy. Three Gold Star families told The Atlantic that they hadn't received correspondence from Trump until last week.
In fact, the White House apparently had to scramble to find contact information for Gold Star families who lost a service member since January in order to determine who Trump hadn't yet contacted, according to an internal Defense Department email obtained by political news site Roll Call.
Popular in the Community