 By Ben Fractenberg and Janon Fisher
The boy's body was carried out of the swirling snow in a white casket by the Harlem Youth Marines, as the crowd looked on and wept. The casket's arrival was delayed two hours by snow-related traffic, arriving at 7 p.m. instead of the planned 5 p.m., according to the pallbearers.
"That's my nephew," a woman called out from the congregation.
Members of the crowd gasped when the funeral director opened the casket to reveal the boy dressed in a white suit and matching top hat.
Myls' maternal grandmother, Faye Bennett, who took care of him at points in his life, approached the coffin first but was overcome with emotion at seeing his body and had to be assisted back to her seat.
The boy's mother, Ashlee Dobson, who had a history of abusing Myls and lost custody when a Family Court judge deemed her mentally unfit to look after him, remained in her seat.
Okee Wade, Myls' father, approached the coffin as well, and then temporarily left the service.
Wade was released on his own recognizance from a New Jersey jail last Wednesday to attend the funeral, after he pleaded guilty to his role in a bank fraud scheme. He is due back in February.
Wade's transgender girlfriend, Kryzie King, 27, who was looking after the boy in a luxury Midtown high-rise while his father sat in jail for missing a court date on those charges, did not feed the child for weeks over the Christmas and New Year holidays while subjecting him to beatings, burns and exposure to frigid temperatures on the balcony of the apartment, prosecutors said. He lost 25 pounds while in her care, authorities said.
King initially told police that the boy fell off a counter in the apartment's bathroom and was knocked unconscious, but later confessed to having beaten and tortured him with increasing severity in a failed bid to discipline him, authorities said.
She's been charged with assault and reckless endangerment, but prosecutors have promised to seek more severe charges pending the Medical Examiner's official cause of death findings.
The boy's death has motivated state lawmakers to introduce a bill that would close a gap in child welfare policies.
Myls Law, sponsored by Assemblywoman Linda Rosenthal and Sen. Jose Serrano Jr., would require law enforcement officials to notify ACS workers when they arrest a parent with primary custody of a child.
"His life stands for something now," community activist Tony Herbert told the group. "This child left a mark on our city in a positive way."
The Rev. Al Sharpton, who gave the eulogy, blamed the city's child welfare agency for the boy's death.
"Somebody in ACS needs to be held accountable for this," he said as the crowd stood and cheered.
"This is not about his mom or his father, this is about how the city protects a 4-year-old child."
He added, "This baby represents all of our babies."
Before You Go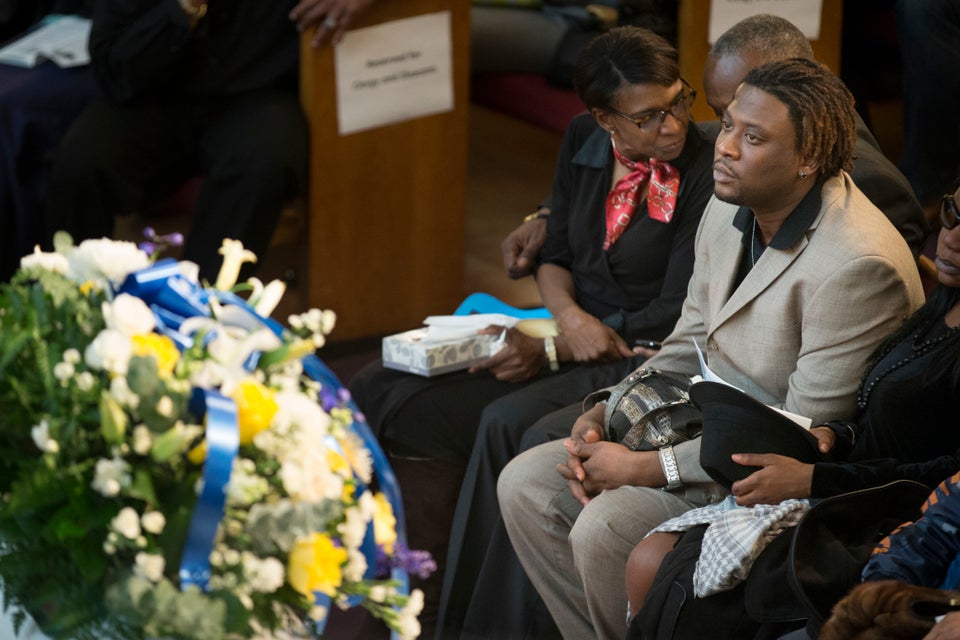 Myls Dobson Funeral
Popular in the Community