When I first crossed paths with Myron Dewey earlier this year, six months had passed since the Standing Rock controversy. Dewey, an indigenous journalist-professor-filmmaker, and the founder of Digital Smoke Signals, became one of the more significant figures to emerge from Standing Rock, in fact. His live stream media coverage using drone technology exposed many injustices that would have remained hidden during the months-long protest over the Dakota Access Oil Pipeline (DAPL).
For those among us who need a refresher—no judgment; 2017 has been loaded with political upheaval: the Standing Rock protest found Indigenous People—and allies who traveled near and far—gathering in camps at or near the Standing Rock Sioux Reservation to protest the Dakota Access Pipeline (DAPL), a $3.7 billion project that was to transport 470,000 barrels of crude oil a day through four states, 1,172 miles in all.
The big debate was over the 38 miles of the Dakota Access Pipeline cutting through territory that belongs to Native Americans, based on an 1851 treaty signed at Fort Laramie in Wyoming. Of course, protecting the Missouri River, the main water source for the Standing Rock Reservation, from a potential pipeline leak, was also a major concern, too.
While the project eventually was passed—after much brouhaha—Dewey has been open about his experiences at Standing Rock. In our conversation in this episode of "Mystics in a Chat Room: Conversations With Agents of Change (above), Dewey shares what went down at Standing Rock and why exposing the injustices brought upon Indigenous People remains forever important and necessary.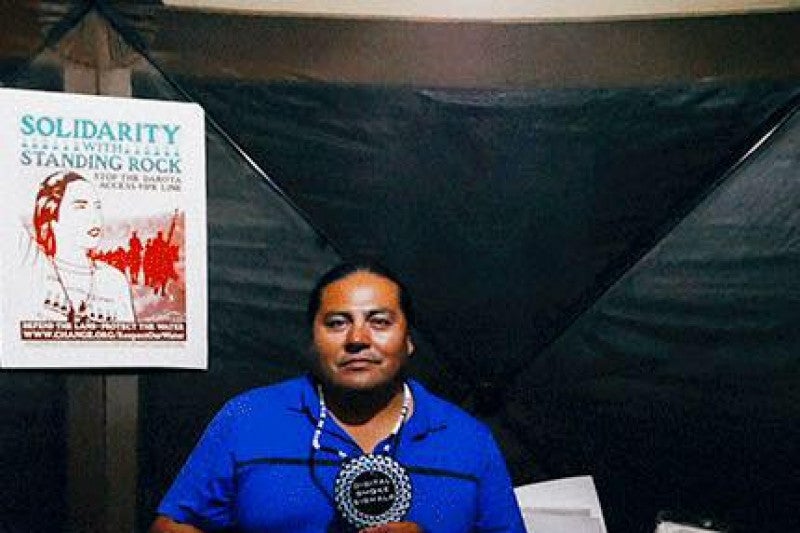 Keep track of Myron Dewey here.
REAL LIFE. REAL NEWS. REAL VOICES.
Help us tell more of the stories that matter from voices that too often remain unheard.
This post was published on the now-closed HuffPost Contributor platform. Contributors control their own work and posted freely to our site. If you need to flag this entry as abusive,
send us an email
.