Using just three simple ingredients found in nearly every kitchen, Alfredo Moser will soon be able to bring light to 1 million poor homes.
The innovative Brazilian mechanic first dreamed up an alternative to the standard light bulb back in 2002 when he was enduring a routine blackout and noticed that the factories around his darkened home remained lit, the BBC reported. Moser started experimenting with what he calls "simple refraction of light" and found that by putting water and a bit of bleach into an empty bottle, he could emit 40 to 60 watts.
Moser never intended to get rich off of his innovation, but he did capture the attention of Illac Angelo Diaz, director of MyShelter Foundation in the Philippines. The organization works to make green technology available to people who can't afford it. Once the organization caught wind of Moser's innovation, it decided to launch the "Liter of Light" campaign to bring the mechanic's bright idea to people without electricity.
The program has since lit up 28,000 homes in Manila and has expanded to India, Indonesia and Switzerland, according to the organization's website. The campaign hopes to reach 1 million homes by 2015.
Throughout the early 90s, the country suffered through constant blackouts. In May, the Philippines' center for commercial and industrial activity went dark. Just last month, the 1.2 million people living in the Albay province lost power for 39 hours because the local electricity provider failed to settle its $93 million bill, which had been outstanding for 15 years.
Though it's one of Asia's fastest-growing economies, it's a place where electricity is still viewed as a luxury, and a plaguing hassle to live without.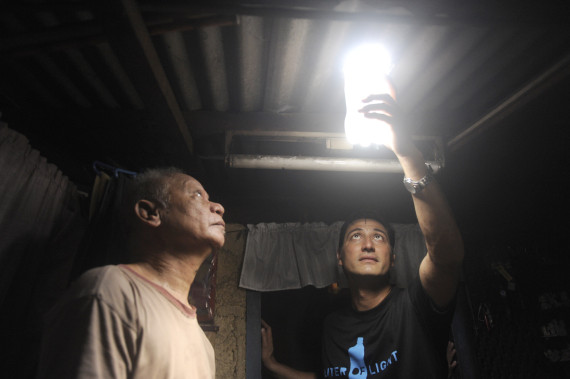 These bulbs are particularly useful to hundreds of millions of families that live in slums and in shacks that have just tiny windows that barely let any light in, according to the New York Times.
But this innovation is offering so much more than the convenience of reading with a funky-looking light hanging overhead.
Using this eco-friendly alternative is safer and more economical that using, say, a kerosene lamp, which is what many desperate households resort to.
If a kerosene lantern burns for an average of four hours a day, it will emit over 100kg of carbon dioxide a year, Evan Mills, founder of the Lumina Project, a program that promotes low-carbon alternatives, told CNN.
The indoor air pollution from such lanterns also pose a risk for fatal respiratory problems and the lanterns can also lead to accidental fires.
As for Moser, the brains behind the operation, he sees light as a democratic concept to which everyone deserves access.
"It's a divine light. God gave the sun to everyone, and light is for everyone. Whoever wants it saves money," Moser told the BBC. You can't get an electric shock from it, and it doesn't cost a penny."
See more amazing photos below:
Related
Before You Go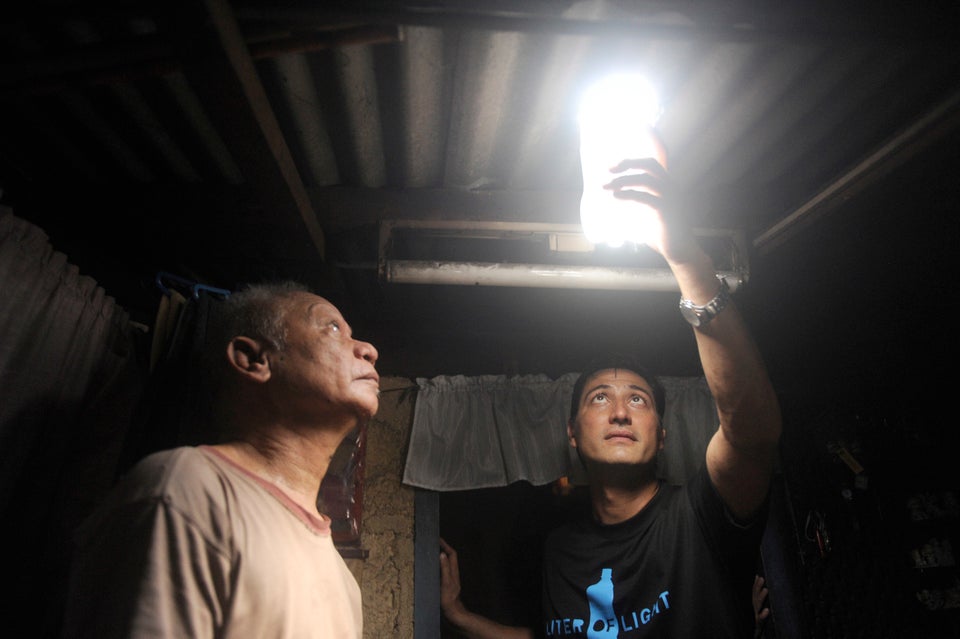 Mechanic's Invention To Bring Light To 1 Million Homes