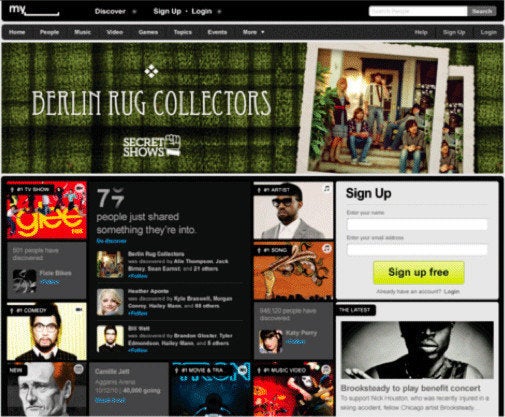 First look at the New MySpace promises changes in design -- embraces community knowledge and passion.
Today MySpace is reborn as a content centric discovery platform. It's a big shift, and it might just work.
First, there's a new look. But pretty much everyone agrees that a new coat of paint isn't going to bring the site back from the wilderness.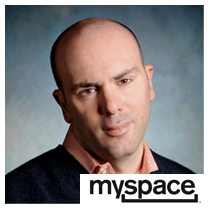 Far more interesting is the wholesale change underlying the editorial thinking of the site. As MySpace exec's explained to me, they went looking under the hood and found a untapped goldmine of member generated tastes, picks and passions.
There's one word that sums up the new MySpace says Music Chief Courtney Holt: "Curation."
"When I look at the word curation I think what's interesting to me is that everybody can be a curator."
As Mike Jones, CEO of MySpace explains: "Myspace is unique in that it is powered by the passions of our users, who program the site by expressing interests, sharing tastes and knowledge around particular topics, and scouting out up-and-coming subcultures."
In the past, MySpace music's editorial process was much like many media companies. Timeliness, hotness, and the barter that happens in media where the label bundles one hot artist with another up-and-coming name drove the programming.
But that's changing, as the MySpace team began to look at member's behavior.
"I started to look at the notion of what playlists were and we built up a huge critical mass of playlists. I've got something like 170 million playlists that have been built in MySpace" said Holt. "Then I started to look at top playlisters. And a top playlister has an active audience that would rival what a terrestrial radio station might have."
The aha moment came as he explored the data.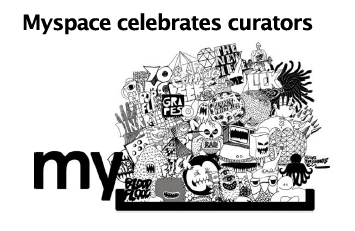 "I literally started to go through with a microscope and look at the network and say "Wow, this user has a lot of followers. If they edit a song on their page, 100,000 to 200,000 people immediately know about it." And I'm like, wow, that kid may have more influence than the modern rock radio station in Rochester."
"You start to see who are the people who are really, really early. So I can go back and look at the data and say, who do you think the first person is who added Lady Gaga to a playlist?"
Why does it matter? Because artists will self-publish first to MySpace while they're looking for a record deal. So MySpace members who discover hit music first are a powerful new force. Holt says if you recognize those fans early, you're creating a new kind of A&R machine.
"I'm calling this class of users Social DJ's" says Holt.
And I thought about it, most of my musical discovery comes through trusted sources and often times through people." "We have a history of artists that build a following, Mike Posner, Jason Derulo, Drake. These are recent artist successes that start with publishing content directly to fans via MySpace."
Social DJ's are Curators in the new MySpace world
"So I think the broader lens of curation really comes when can you empower people to be recognized by us and their peer group for being good at discovering artists early."
The power of the crowd, and of filtering for trends, and discovery leaders is something that isn't exactly what formerly powerful distributors want to embrace.
What is a network in the modern era?
"The record labels won't recognize a couple of things. And I think it's not just record labels. Record labels, movie studios. We have the largest aggregation of young people interested in consuming content that I've seen. And it would rival that of a network."
"We have a lot of people every day that are young and come through the front doors of our network. I'm really trying to pay attention to what they're doing, because their behavior... even someone who is just passively consuming is effectively curating."
Members curating content turns the tables on old media, giving members the role of tastemaker that used to be held by the powerful publisher.
So the MySpace platform is being re-launched as curation platform, embracing the discoverability of their users, and letting them know that they're being valued for their ability to find new gems and trending hits.

There are big changes in the site - including a focus on an intuitive, predictable, simple UI. There's a narrower focus. The focus is content.
"We made the sourcing and socializing of content better. We've made it a lot easier to connect with things that you love, but we've also made it easier to build discovery around things you didn't know you love but probably should", explains Holt. "Those are core things, and we have also built this in a way that can be collaborative."
MySpace to Play Nice with the web
By collaborative he means MySpace will play well with others, be it Facebook, or Twitter, other api's.
"The platform is built to optimize for the types of content-rich and curation-rich experiences", says Holt.
There's a new MySpace, and it's built to facilitate and promote curation. Now the question is, will old users adopt the change - and will new users arrive and embrace the model.
That's the question that users will decide.
One clue, new users will get the New MySpace when they sign up. Old users will have to wait till November.

Steven Rosenbaum is founder and CEO of Magnify.net, a NYC-based Web video startup. He has been building and growing consumer-content businesses since 1992. He was the creator and Executive Producer of MTV Unfiltered, a series that was the first commercial application of user-generated video in commercial TV. His book Curation Nation will be published this spring by McGrawHill
Popular in the Community