An unknown artist has been expressing her gratitude to the cultural centers of Edinburgh with a little culture of her own. Mysterious book sculptures, taking the beauty of words and ideas to new heights, have been popping up around the Scottish city's libraries and cinema houses, alongside unsigned thank you notes.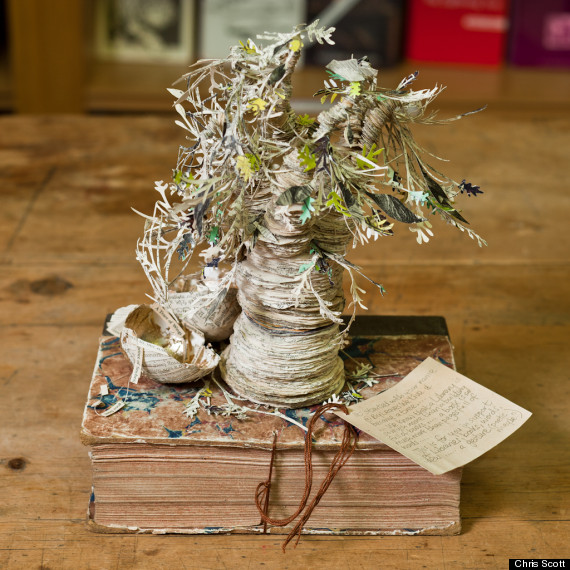 The elaborate gesture began when a sculpture entitled "The Poetree" surfaced at the Scottish Poetry Library. Staff stumbled upon the piece, sitting alone without any clue as to who made it. The tree was carved out of a paper book, with textured bark, spindly branches and fragile leaves that brought the words on the page to life. A paper egg rested alongside the tree, along with a note, which read: We know that a library is so much more than a building full of books... a book is so much more than pages full of words... This is for you in support of libraries, books, words, ideas. The Library director Robyn Marsack commented in The Guardian, "It's paradoxical: these books are cut up in celebration of books and reading."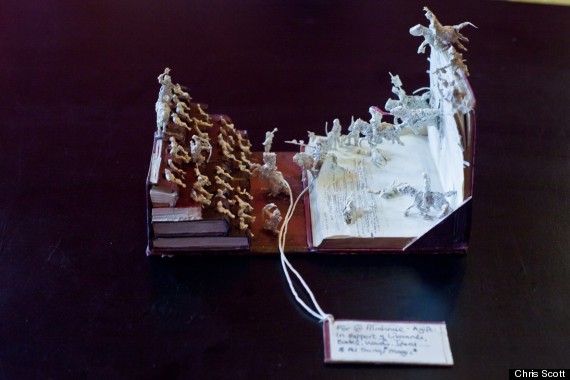 Other sculptures include a cup of tea, a maze of corn and a magnifying glass, each constructed with generous quantities of detail and whimsy. The curious gifts feel more like they would pop out of a scene in "Alice in Wonderland" than appear in real life. We have enough trouble writing thank you notes as it is, and are truly entranced by the kindness and mystery in this anonymous artist.
For the first time, the entire collection of the gifts will be on display for the public at Aberdeen Central Library on August 17, kick off a brief UK tour. At this time, Scottish Poetry Library director Robyn Marsack is in contact with the artist through an anonymous email address, though she believes the artist is female. Marsack said, "I feel quite strongly we must respect her anonymity, and not blow her cover; that's part of the joy of it really." We agree.
See a slideshow of her work below, and let us know your thoughts in the comments section.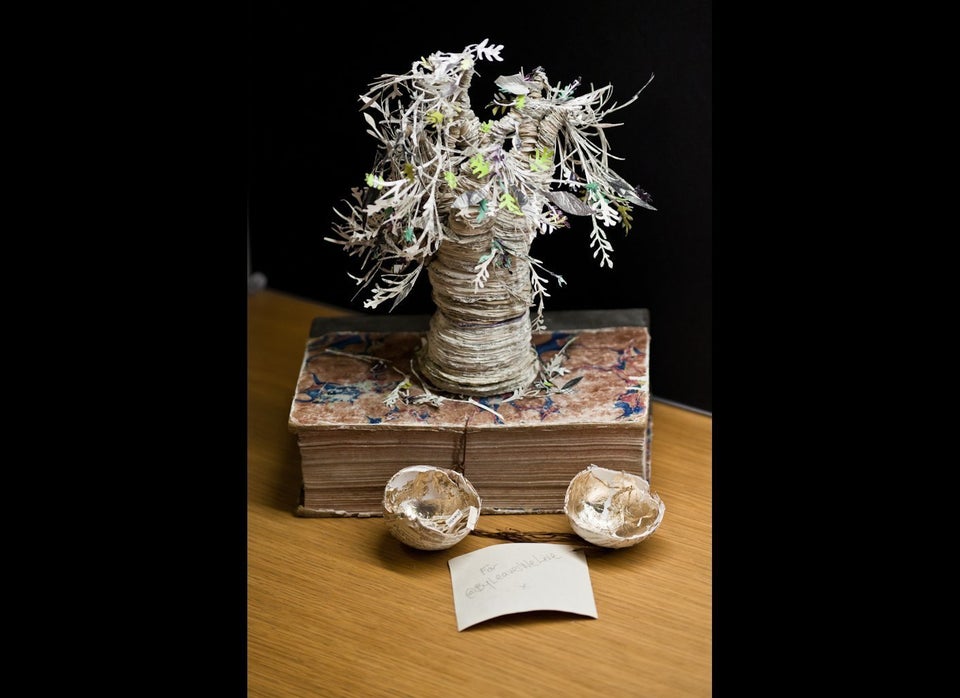 Book Sculptures
Related
Popular in the Community