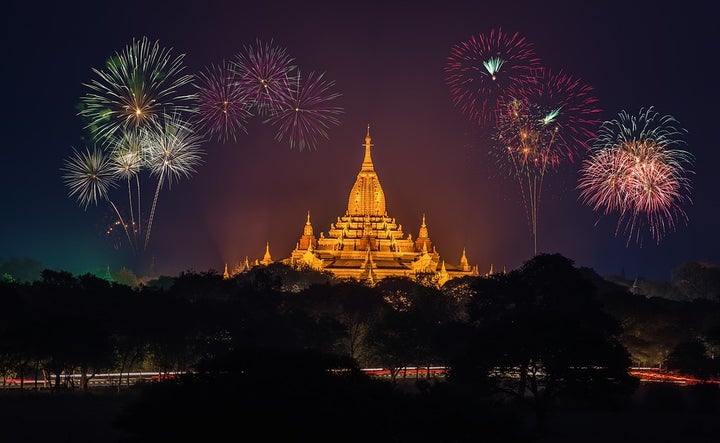 Myanmar will celebrate the 69th anniversary of achieving independence from Great Britain's 60-year colonial rule on January 4, 2017.
In 1945, General Aung San unified the divided Burmese people and fought alongside the British to expel Japanese forces from Burma in World War II, allowing nationalist leader General Aung San to establish political influence in the region. In 1947, General Aung San signed the Panglong Agreement that guaranteed Burma's independent sovereignty, and the the Union of Burma (renamed 'Myanmar' in 1989) became an independent republic in 1948.
Since this landmark in the country's history, Myanmar has undergone several political revolutions in its movement towards democracy. In 2015 Secretary of State John Kerry congratulated Myanmar on "moving one step closer to a more democratic, peaceful, and prosperous future."
As Myanmar's independence day approaches, consider these four fascinating facts about the holiday that reflect its vibrant history and promising future.
The actual date of Myanmar Independence Day changes every year according to the lunar calendar. It falls on the 10th day after the full moon in the month of Tazaungmone. Myanmar's Independence Day is not the same as their National Day, which is in November, and remembers the anniversary of university student strikes against colonial rule in 1920.
To celebrate Independence Day, the Burmese dress in their colorful national costume, aingyi (a blouse or shirt), and longyi (a long skirt). Festivities include a presidential address to the Burmese people, impressive military demonstrations, music and song such as the national anthem, Kaba Ma Kyei. The capital of Naypyidaw is elaborately decorated in the national colors, and citizens pour into the streets to enjoy the parades, fairs, and sporting events.
One sport activity you might see when visiting Myanmar on a holiday is known as Chinlone. This game is played by a team of six, who work together to keep a ball in the air without using their hands, all while moving with artistry and grace. Chinlone dates back more than 1,500 years, and players used to entertain Burmese royalty with their fluid movements and skill.
This Independence Day will be particularly special, as Aung San Suu Kyi is widely viewed by the Burmese populace as the de facto leader of Myanmar. A passionate human rights activist, her non-violent protests helped put the country on a path toward democracy, Aung San Suu Kyi won the Nobel Peace Prize in 1991 and the committee chairman referred to her as "an outstanding example of the power of the powerless".. In 2016 she was elected by the National League for Democracy (NLD) as state counsellor.
These four insights give us a glimpse into Myanmar's vibrant culture and their path towards independence. As Myanmar moves towards a new era of democracy, progress, and peace, the Burmese celebrate January 4th as a landmark moment in their country's rich history.
Sharon Schweitzer, J.D., is a cross-cultural consultant, an international protocol expert and the founder of Protocol & Etiquette Worldwide. She is accredited in intercultural management, is the resident etiquette expert for CBS Austin's We Are Austin, regularly quoted by BBC Capital, Investor's Business Daily, Fortune, The New York Times, and numerous other media. She is the best-selling, international award-winning author of Access to Asia: Your Multicultural Business Guide, named to Kirkus Review's Best Books of 2015 and recipient of the British Airways International Trade, Investment & Expansion Award at the 2016 Greater Austin Business Awards.
Related
Popular in the Community