JR, the intensely private globetrotting French street artist, is known for big things. His projects, which he calls "photograffiti," involve pasting up giant, blown-up black-and-white pictures of faces on city walls. And his canvas is truly global. At the end of February, for instance, ten of his massive, soulful portraits appeared in Los Angeles, as the third part of a trilogy of public art projects called The Wrinkles of the City, whose previous two installments were in Spain and China. Now, for JR's latest and possibly most ambitious project, he is proposing a scheme to empower volunteers to collaborate with him to make their very own JR works via the Internet, with the goal of plastering streets all over the world with photo-murals as part of one vast international public art project.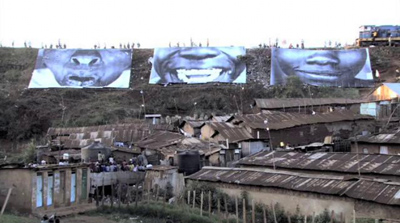 JR's "Inside Out" project makes posters out of crowd-submitted photographs. Courtesy Inside Out project
The initiative was announced yesterday at the TED 2011 event in Long Beach, California, where JR's proposal for "Inside Out" -- as the project is dubbed -- won the $100,000 TED Prize. TED (which stands for Technology, Entertainment, and Design) sponsors a series of conferences, while its signature prize is designed to fund one "wish to change the world." Previous recipients have included Bono, Edward Burtynsky, Bill Clinton, Dave Eggers, and Jamie Oliver. At 28, JR is the youngest recipient of the prize since its 2006 inception.
For his part, the artist opted to stake his project on the following goal: "I wish for you to stand up for what you care about by participating in a global art project. And together we'll turn the world INSIDE OUT." In practice, that means that the prize money goes to fund a website -- already live at www.insideoutproject.net -- where fans from around the world can submit a photo that is meaningful to them. JR then has the equipment in place to transform the submitted images into poster-sized prints, which he will mail back to his collaborators, so that they can take to the streets wherever they happen to live and paste it up, JR-style. As of 6 p.m., the "Inside Out" website claims to have received 500 photos, and prepared 150 posters to be sent out.
While this may sound like a project that's almost too vast to realize, the TED organizers' endorsement actually makes it possible for "Inside Out" to attain the global scope it aspires to. According to TED's Web site, the prize involves more than cash, and is "designed to leverage the TED Community's exceptional array of talent and resources." No sooner had the honor been announced than assorted big shots were clambering to support JR. The Guardian reports that offers have included a pledge to help fund a documentary about "Inside Out" from the founders of the Sundance Film Festival, a gift of 25,000 square feet of free studio space in Brooklyn, and access to a network of 150,000 photographers across the world from the founder of a photography Web site. Google offered to create an online archive of the photos.
Calling all HuffPost superfans!
Sign up for membership to become a founding member and help shape HuffPost's next chapter