A mystery diner is being hailed this week after leaving an encouraging note for a family who was out to dinner with their 8-year-old son with special needs, according to WBTV. A picture of the note, which was written on a receipt, is now going viral.
The England family was out to dinner at Stag 'n Doe Pizza House in China Grove, N.C., on Friday night when Riley, who has special needs, began causing somewhat of a commotion. Riley's mother Ashley England told WBTV her son was likely aggravating some customers.
But then something happened that eased the family's concerns. A waitress came over and told them another customer had paid for their bill and left them a note that read "God only gives special children to special people," according to WBTV.
Here is the picture of the receipt: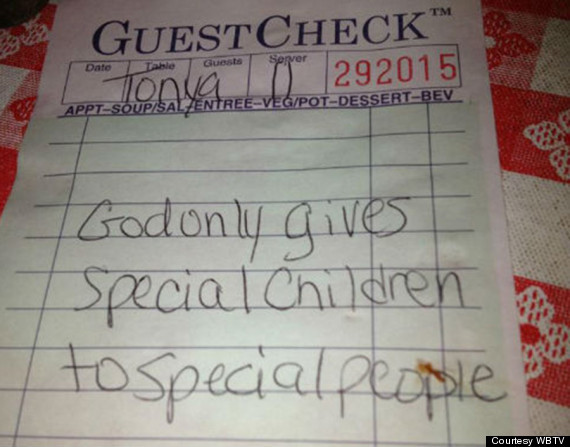 The England family says it's grateful for the gesture, whether or not the mystery benefactor knew the impact it would have.
"Little did he know what struggles we had been facing lately, and this was surely needed at that moment," Ashley England told WBTV.
Stag 'n Doe manager Donna Manriquez confirmed the story to The Huffington Post over the phone. She believes the customer who wrote the note wishes to remain anonymous.
This mystery diner's kind gesture comes not long after another unknown customer went around leaving thousands of dollars in tips at two bars in Ogden, Utah. Another restaurant owner in downtown Albuquerque was also recently paid back after picking up a young man's $40 tab 16 years ago.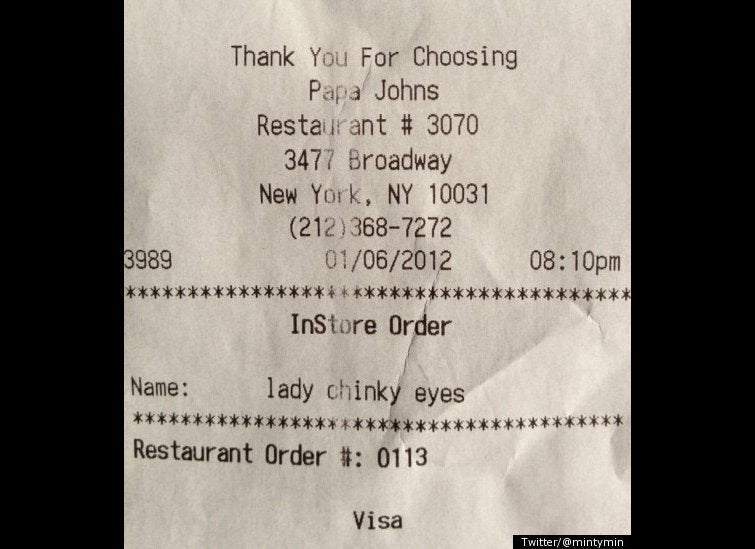 Outrageous Receipts (EXPLICIT LANGUAGE)
Popular in the Community