When does a documentary about an artist become a work of art in and of itself? When the documentary is Oscar winning director Jessica Yu's hauntingly beautiful In the Realms of the Unreal -- The Mystery of Henry Darger. First released in 2005, Yu spent five years bringing this reclusive artist to life on film.
Henry Darger was born in Chicago in 1892 and spent much of his childhood in a home for feeble-minded children. As an adult, he lived a solitary life, supporting himself as a janitor, living in a single room. Upon his death in 1973, hundreds of paintings, many of which were over 10 feet long and double-sided, a 15,000 page single-spaced novel, an autobiography, and thousands of pages of journals were discovered in his humble room. Sadly, no one, except Darger himself, had known this work existed.
Fortunately, Darger's landlords, Nathan and Kiyoko Lerner, recognized the value of the treasure trove they had stumbled upon, and took charge of his estate. Darger is now considered one of the 20th century's greatest self-taught artists.
In writing and illustrating his monumental novel, The Realms of the Unreal, Darger created a rich and complex imaginary world for himself. The novel tells the story of the Vivian Girls, seven sisters who are princesses of the Christian nation of Abbieannia who lead a child slave revolt against the evil Glandelinians.
Many of the paintings depict naked hermaphroditic girls, which at first glance makes their beauty disturbing. However, as filmmaker Yu paints her portrait of Darger's life and work, his innocence becomes apparent. Just as his Vivian Girls were virtuous, Darger strove to be like them, attending Mass and taking Communion every day. Yu leaves us not with lingering doubts about Darger's sexuality, but rather with a deep sense of mystery about who Darger really was.



Yu draws almost exclusively on historical and autobiographical information about Darger, letting viewers draw their own conclusions about him. There are no interviews with art historians or psychologists. Yu deftly weaves together parallel threads of Darger's life: readings from his autobiography, the scant documentary material from his real life (there are only three known photos of him) including interviews with the few people who knew him, and his life's work. Dramatic readings from his novel are brought to life by artful animation of his illustrations, sound effects, and music. The film features narration by Dakota Fanning and Larry Pine, as well as music by Tom Waits.
Parallel texts from Darger's autobiography and novel provide insight into the bleakness of Darger's real life circumstances and how he transformed them into the rich world of his inner life.
I do not remember the length of time I remained in the Mission of Our Lady's Home, but one part of the last year I was taken to be examined by a doctor who said my heart was not in the right place. Where was it supposed to be? In my belly? I did not know it at the time but now I know I was taken to the doctor to find out if I was really feeble-minded or crazy. Had I known what was going to be done with me I surely would have ran [sic] away... During the cold, windy, threatening late November day, I was hustled on to the Chicago and Alton Unlimited train and brought to some kind of home for feeble-minded children outside of Lincoln, Illinois. If I had known the cause of me being sent to that children's nut-house, I sure would have never forgiven those at the Mercy of Our Lady home. I, a feeble-minded kid. I knew more than the whole shebang in that place.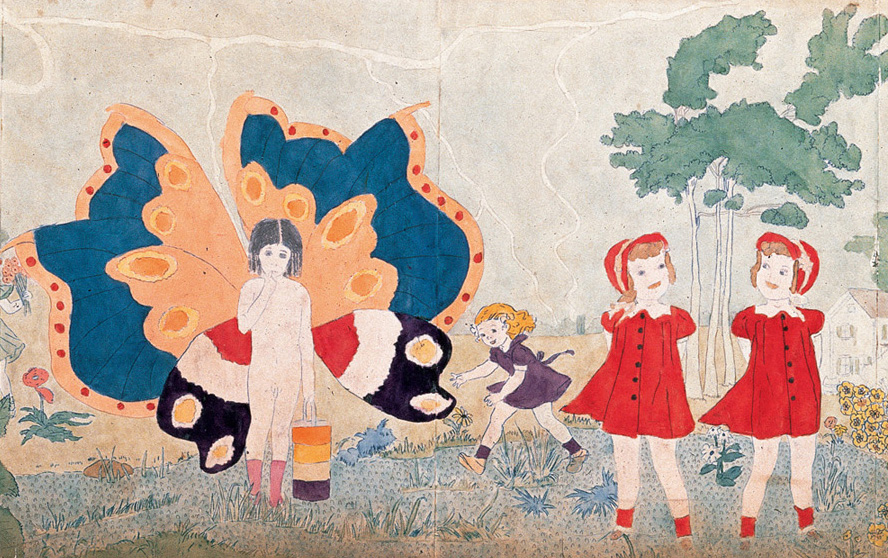 In this story, for more than 43 years, child slavery existed in the Calverinian country. Hundreds of thousands of children torn from their parents, made to work themselves to death without getting a cent, and horrors upon horrors, almost equal that of perdition... To free the children, the Christian nation of Abbieannia wages a four and a half year war against the godless Glandelinian slave owners. Leading the child slave rebellion are the seven Vivian girl princesses: Daisy, Hettie, Violet, Joice, Jennie, Angeline and Catherine... They shunned evil ways, not through fear of their parents but through fear of god. They were always willing to do as they are told, going to Mass and Holy Communion every day and living the lives of little saints. But their lives, for at least a number of years, were to be all of sorrow.
Since his death, Darger's work has been shown worldwide and commands huge prices at auction. The room where he lived was preserved by his landlords until 2000, when Intuit: The Center for Intuitive and Outsider Art in Chicago took possession of the contents of the room and recreated it as an installation at the Center which is now open to the public. Darger is buried in a cemetery in Des Plaines, Illinois. His headstone is inscribed "Artist" and "Protector of Children."

Cross-posted from Jane Chafin's Offramp Gallery Blog
Popular in the Community