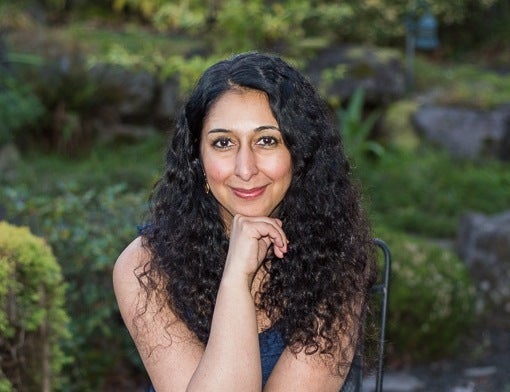 There are moments in our life where "what was" and "what is" feel like fractured realities, but the power immersed in our collective groundings indelibly determines what will be.
My parents arrived in the U.S. as the first of their lineage in a new country. They were armed with stories threaded in treasured and deeply impactful memories, each one shining a light on the immigrant anecdote: if your aspirations are met with diligence, the payback can be your imagined dream. Dreams were the blueprint for possibilities. My father once shared that as young man, he wrote all the chemistry formulas on the walls of his room. Each day he was reminded that the four walls of his room could one day be the four walls of his office. He smiled recalling with pride, "It is always in the details, the elements. Look around, everything has a formula." He was born a scientist, curious and dedicated to solving problems. But his greatest equation to decode was his own human body and its unsteady manifestations. He held dual citizenship: a man brimming with intensity and astute knowledge and a resident in the kingdom of the ill, both accompanying him to the end.
Building a relationship, often a hostile one, with this phantom illness required me to foster a comprehension of it. At its best, it was disciplined and consistent with its endless perplexing presence. At its worst, it ravaged any sense of solid ground I had laid out for myself- every breath felt tentative. I had never been a proponent of fully accepting an unknown, yet "I don't know" were the three pulsing words of my resounding anthem to which I moved to the beat of for many years. It was the response I gave to friends and co-workers, the silent voice in my head when I inquired of myself as to what to do next and the conclusive statements that came from multiple doctors as they shared my father's test results. My measure as a daughter was to never give up, to muster as much energy as possible as I pushed through any undiscovered terrain.
Being a witness to intransigent, steady and unpredictable illness exposed me to the rawness of our humanness. It rescinds a lens of romanticism. It unravels the cries of our pain and leaves no transcendence. And in those corners of care were a ferocious orchestra of endless urgencies. I became a manager of crises.
Still, in times of crisis, everything is extraordinary. In between each crisis are curtains of unwavering peace and a foundation for faith. Images of the past are revisited and near. It is in this selection of what was that I found a central passage to strength. It was in the smell of the finely cut grass, the warm summer days, the lemonade freshly made, when I heard my father's voice say, "Thank you. We still have more to do but one step at a time. We'll continue the work tomorrow." I consider a new day.
What has surprised me the most and given me ultimate liberation is my release of certainties.
Inquiry is what makes us human.
Mystery can show up as an unsolvable riddle rooting us in wonder.
And illness offers a line of perspective drawn in the sand, of what was, what is and what could be.
I find that everyday I gently, and other times ambivalently, join the dance. But what matters in life is knowing that the floor is always open.
I am one daughter of a group of diverse millions who are or have been caregivers to their parent(s). These are the principles I lived by and share with you- from chaos and critique to clarity:
"You are the successor of this experience."
THERE ARE NO SHORTCUTS:
The presence of the wild, the incorrigible and the insurmountable are most certainly vigorously kicking every day and at any time in the caring process. Among the bold are the quiet spaces, mystifying us by its silence and at times giving voice to the guilt of not filling it with activities of assistance. But gather closely, there is sincerity and fervor in the struggle. There is democracy between the daunting and the spirited. The road is long and intact with irrationalities and inadequacies, but it is also overflowing with mercy. We are allowed to have, feel and settle in both the dirt and the air irrespective of any timeline. Never feel obligated to get there quickly. Take time to gravitate to the right words and clear room to grapple with the complexity of your emotions. In the moments of dissidence, find relief in the "and" versus the "but." Exude every effort of care for yourself as you do for others. You are the successor of this experience. Let it extract the astonishments and let it nurture you. Let it immerse you and let it contradict what you once believed. And most importantly, let it show you the long winding road as one of life's hallmarks.
PROTECT WHAT YOU DO KNOW:
What can serve us with any impasse is the inherent knowledge we are born with and continue to experience. Take a moment and dwell in this. We can be dangerously driven by centering ourselves in a place of unfamiliarity. However, there is much of you intact and rooted in real vigor. Yes, the unexpected is a part of the narrative and so is the medicinal justice you can regain from holding the sacred close to your heart. So I implore you to protect the incredible memories, the moments of triumph and of defeat, the immortal learnings and burdensome misfortunes. Trust and confide in the strength that lives within and compassionately try to march toward with acquiescence of what lies ahead for you. It will be a minefield of the unexplored and the overwhelmed and it is accurate to denote the myriad of challenges in that. Still, below the surface are many new beginnings reminding us that every second of everyday we are held. We are in fact not only protectors of the ones we love but of ourselves as well.
"But the questions that will allow you the time to wander are the compelling and unanswerable ones."
DEVELOP A RELATIONSHIP WITH QUESTIONS:
Comprehending the possibilities of a question requires asking the ones that have the most potential. Most often in times of crisis, we tend to ask the "why" questions such as "why me" or "why is this happening" which are necessary to ask and most definitely have its place in the caring process. But the questions that will allow you the time to wander are the compelling and unanswerable ones. Their spectrum is boundless and can be bountiful. As in any relationship, listening is of key importance. The interesting thing about questions is that they can either ask us to revel in the pain of our internal beliefs or they can inspire new revelations. Sometimes they incline us to do both simultaneously. While my father was moving through his illness for many years, what kept me informed, galvanized and even at times hopeful was the introspection it provided. The wounds were always open but doing its best to blaze a trail for me to follow, which I ultimately did. In the aftermath of my father's passing, it was the questioning of my own identity and the many caregivers I continue to speak with today that led me to a kinship with exploration. I have reckoned with the realization that my story will always have some sense of mystery but it will also have the capacity to educate me as well. Perhaps I have found my ideal formula.
Priya Soni is the Founder and CEO of The Caregiving Effect LLC, a platform and service launched to create a space for adult children who have cared for their parent(s)/parental figure(s) due to aging, illness and/or disability. She has developed a mission to build a movement of mentors, caregiver visionaries, who are utilizing the insights and wisdom from their stories as a tool to help the many who will or are walking the path of caregiving. Through her mentorship and coaching, adult children turn their unexpected role as caregiver into a role of a lifetime—The Caregiving Effect (#thecaregivingeffect), a term she has coined.  In addition, she currently works at a mission-oriented organization focused on educational inequity. Priya has earned a B.S. in Theatre and Psychology from Towson University and M.A. in Disability Studies from City University of New York's School of Professional Studies. She has worked in a variety of settings including working with women who have substance abuse; women who have been affected by domestic violence; and with children and adults with disabilities. One of her greatest passions is creating community. Reach out to Priya at www.priyasoni.net. Instagram, Facebook
Calling all HuffPost superfans!
Sign up for membership to become a founding member and help shape HuffPost's next chapter
This post was published on the now-closed HuffPost Contributor platform. Contributors control their own work and posted freely to our site. If you need to flag this entry as abusive,
send us an email
.