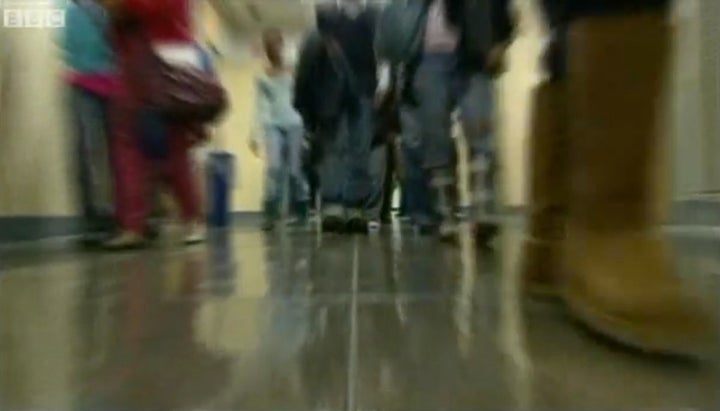 A New York doctor has announced that some of the people with the mysterious Tourette-like illness in LeRoy, N.Y., are getting better, according to news reports.
The neurologist who has seen 15 of the patients -- 12 of them students at Le Roy High School -- told WGRZ-TV in Buffalo that two of her girl patients are better now, with three more patients on their way to being recovered. These girls were diagnosed with what is called conversion disorder -- a physical manifestation of stress -- that can be "spread" when someone unintentionally copies symptoms from someone else.
HuffPost mental health editor Dr. Lloyd Sederer, M.D., explained conversion disorder in a recent post:
Medical symptoms that prove to have no infectious or toxic basis can be explained by how the body can express emotional distress. This is often called conversion disorder (literally, where emotional distress is converted to bodily symptoms) or somatoform disorder, where physical symptoms are not the result of a physical illness. The symptoms truly look like a physical disease but are rooted in stress and distress and typically begin in adolescence.
"What we do believe is that there may have been one or two index cases who truly had tic disorder or Tourette disorder and then there was an individual who came after that was most likely good friends with this individual that developed symptoms." the neurologist, Dr. Jennifer McVige of Dent Neurologic Institute, told WGRZ-TV. She said the original person with the condition is probably not among her 15 patients.
However, some people are saying that the patients of Dr. Rosario Trifletti, a New Jersey neurologist, are getting better, WHEC-TV reported. Trifletti issued a statement earlier this month, saying that he believes the root cause is an infection called PANDAS, and that the condition can be treated with antibiotics.
PANDAS, or pediatric autoimmune neuropsychiatric disorders associated with streptococcal infections, is characterized by a sudden onset of symptoms -- including obsessive behavior, vocal or motor tics and having compulsions -- that happens seemingly overnight, according to the National Institute of Mental Health.
"I can tell you that they are testing positive for, each one is testing positive either for streptococcas or mycoplasma, which are known triggers of the PANDAS/ PANS Syndrome," WGRZ reported Trifiletti as saying.
Recently, University of Buffalo neurology professor Dr. David Lichter told WKBW that the symptoms might have spread via social media by students unintentionally mimicking the symptoms they've seen in videos.
Related