Wedding photographers know that good timing is of the utmost importance. But sometimes, the greatest wedding photos are captured at the most unexpected times.
Photographer Mike Karas wasn't even working a wedding when he shot the stunning image below.
Karas was hiking through the mountains of Yosemite National Park in California last Thursday when he and a few friends decided to stop and take pictures of the sun setting over Taft Point, a picturesque ledge that hangs over a dramatic cliff.
That's when a bride and groom in full matrimonial garb stepped out onto the point, their silhouettes contrasting beautifully against the ombré haze of dusk.
"It basically just unfolded in front of us and we started snapping away," Karas told The Huffington Post.
The couple was posing for their own photographer Taylor McCutchan further back on the cliff, but the wedding photographer couldn't be seen from Karas' viewpoint nearly 200 yards away. By the time the sun had set, the couple disappeared.
Karas later posted the picture on Instagram, but it wasn't until one of his friends asked him if she could send the photo to the newspaper The Oregonian that Karas thought to try tracking down the couple.
"I never thought we would even find them, let alone go viral," Karas told The Huffington Post.
When the newspaper published Karas's picture of the couple on Sunday, it set off a days-long search for the mystery bride and groom.
On Tuesday, the anonymous newlyweds revealed themselves when the bride, Catharine Mack, posted Karas's picture on Instagram.
Mack and her husband Rick Donald, who are both actors from Australia, had just completed their wedding ceremony in the national park when Karas got his shot, the New York Times reported.
Hours after speaking with the newlywed's own photographers on Tuesday, Karas was able to chat with Mack over the phone. He called the experience "surreal," and published to Instagram yet another breathtaking image he captured on that romantic evening at Yosemite.
Thanks to Karas, his camera and perfect timing, these newlyweds have a whole new way of remembering their special day: with incredible photos from an unexpected angle.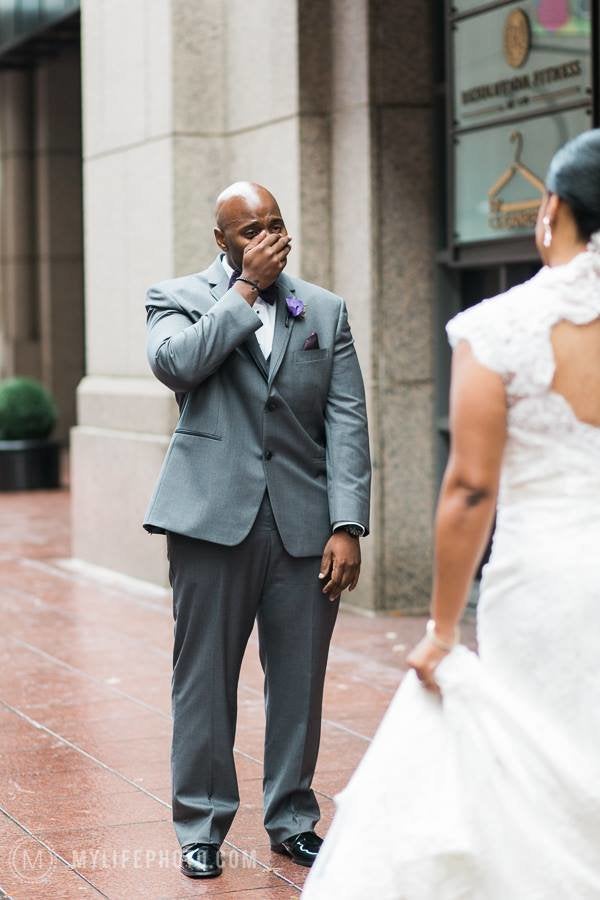 Emotional Grooms At Weddings