A 20-year-old University of Iowa student is still missing Tuesday after vanishing during an evening jog.
Mollie Tibbetts has not been seen since the night of July 18, when she was spotted jogging in the small rural town of Brooklyn, which is approximately 70 miles northeast of Des Moines.
Relatives raised the alarm the following day when Tibbetts didn't show up at her camp counselor summer job. Investigators have canvassed neighborhoods and area roads for clues into the whereabouts of the young woman and the FBI has joined the investigation.
At the time of her disappearance, the young woman was reportedly dog sitting for her boyfriend's brother.
Dalton Jack, 20, lives with his brother and has reportedly been dating Tibbetts for nearly three years. Tibbetts regularly spends nights there, according to a now deleted Facebook post by Jack's mother, Cynthia.
"She was staying at the house by herself and taking care of the dogs while my son (her boyfriend), my other son and his fiancé were out of town working," Cynthia Jack wrote on Facebook, according to Heavy.
The FBI on Monday served a search warrant at the house shared by Jack and his brother. What, if anything, was found is not yet known.
"I don't know if anything I say will get that out of people's minds, but I had nothing to do with it," Dalton Jack told KCCI 8 News in Des Moines. "I am just kind of putting trust and faith in the law enforcement."
Authorities said Jack's last contact with his girlfriend was at about 10 p.m. on July 18, when she sent him a selfie via Snapchat. There was reportedly nothing unusual about the photo.
Tibbetts, a California native, is a sophomore at the University of Iowa. She's majoring in psychology, according to her Facebook profile.
The university on Friday posted a brief statement on their official Twitter account: "Our thoughts are with Mollie Tibbetts' family and friends. The University of Iowa is monitoring the situation and will offer support as needed."
"She's the kind of person who is there for anybody anytime and would be the first person to help anyone," Calderwood said.
Tibbetts' cellphone has not been active, according to police. Thus far, there have been no real clues as to what may have happened.
Volunteers have been focusing search efforts on her running routes. Her family has been encouraging people to share posters with her photo and information.
A spokesperson with the Poweshiek County Sheriff's Office was unavailable for comment Tuesday. Sheriff Thomas Kriegel told People on Monday there are growing concerns for Tibbetts and investigators are "preparing for the worst."
"At this point, everything is being considered," Kriegal said. "We are looking at everything and everybody."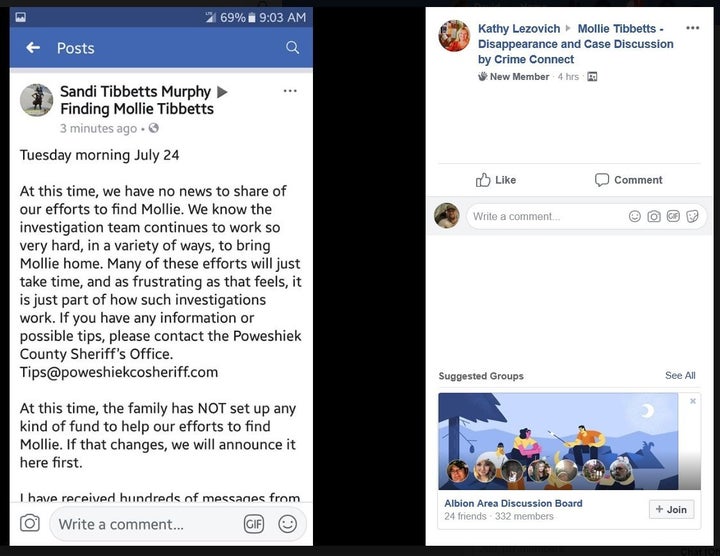 The sheriff's office has not named any suspects or persons of interest in the investigation
Tibbetts was last seen in gym shorts, a black sports bra and running shoes, according to a release from the sheriff's office. Family members have created a Facebook group to share information about the young woman's disappearance.
Dalton Jack told KCCI 8 News he remains hopeful his girlfriend is safe.
"We love you," he said. "We are looking for you and we are going to never stop."
Tibbetts is described as 5 feet, 2 inches tall, weighing 120 pounds, with long brown hair and brown eyes. Anyone with information is asked to call the sheriff's office at 641-623-5679.
Related
Popular in the Community