From my front-row view of the riot, the uproar over STONEWALL misses the mark.
By David Ehrenstein
"The past is a foreign country: they do things differently there." So goes the deathless opening line of The Go-Between, L.P. Hartley's 1953 novel, so memorably filmed by Joseph Losey and Harold Pinter in 1971. Its story takes place in England at the turn of the 19th century. But that opening line is applicable to any number of times, places and circumstances. For me it comes quickly to mind when speaking about what has come to be known as "The Stonewall Uprising" -- an event that took place forty-six years ago, but is credited with having jump-started what we now refer to as "the LGBT community" and the newly emerging place it has taken in American life -- no longer "outside" but practically mainstream.
At 1:20 a.m. on Saturday, June 28, 1969, four plainclothes policemen in dark suits, two patrol officers in uniform, and Detective Charles Smythe and Deputy Inspector Seymour Pine marched into the Stonewall Inn, a "speakeasy" located at 53 Christopher Street in Sheridan Square and announced that it was being shut down. There was nothing particularly new about this. Ever since the dawn of Mayor Robert F. Wagner's administration in 1953, orders went forth that businesses knowingly catering to "sexual deviants" were to be closed and their clientele whenever possible arrested. There had been a similar raid at the Stonewall Inn on the Tuesday before the riots -- and the Checkerboard, the Tele-Star, and two other Greenwich Village clubs had been shuttered as well. This time, however, the customers fought back, and so did those gays and lesbians in the street outside the club -- quickly overwhelming the relatively small number of police that were sent for the raid.
Resistance to police intimidation was not new for gays and lesbians. In San Francisco in 1966 a riot erupted when the police tried to arrest patrons of Compton's Cafeteria in the Tenderloin. In 1967 this scene was repeated when the police tried shutting down Silver Lake's Black Cat Tavern. But Stonewall was different. After that first night, Sheridan Square became a hub of activity, and for weeks afterwards New York's gays and lesbians more or less took over the area. In full public view they congregated and planned for future action in the wake of this very public triumph. The Gay Liberation Front and the Gay Activists Alliance were born out of these open-air confabs, and as a result of their protest activities in the early seventies, a movement took shape -- one that has not only made it possible for successive generations to be "only gay" but also fought the AIDS crisis and made same-sex marriage (barely a shred of a dream back in 1969) a Supreme Court-decreed reality nationwide. As for the "Stonewall Inn," plans are currently underway to turn the area into a National Park.
The remarkable speed with which gays and lesbians went from pariahs to active "open" contributors to American society has given the Stonewall uprising a retrospective glow that can be quite deceptive. It wasn't the moment of the riot that magically changed everything, but what came in its wake in the years that followed. Unfortunately, rather than explore this complex and multifaceted reality, many prefer the myth that would claim a single incident did it all. Therefore any film that attempts to recreate that fateful night in June of 1969 is heir to that myth. That's why there's been so much controversy surrounding Stonewall director Roland Emmerich's new film about June 28, 1969 -- not to be confused with Stonewall, director Nigel Finch's 1995 film about the very same thing.
While critically well-received, Finch's Stonewall wasn't a box-office bonanza. Emmerich, with list of popular successes behind him (Stargate, The Day After Tomorrow, Independence Day) clearly feels he has what it takes to put this story over. What he didn't count on was the backlash that erupted on social media (principally Twitter) when the trailer for Stonewall first appeared, critics claimed that Emmerich had "whitewashed" an event whose principle players were said to be transgender people of color. How the film actually plays out remains to be seen. But I worry that to retrospectively declare transvestites to be "transgendered" as the term is used today overlooks the fact that any number of these individuals were perfectly satisfied with their gender and "presentation of self" they had created without recourse to surgery. I recall transvestite Warhol superstar Holly Woodlawn (recently in ill-health but in good spirits and happily still with us) responding to an outraged Geraldo Rivera sputtering on his TV show. "Are you a man or are you a woman? Are you a woman trapped in a man's body or -- what are you?" to which Holly sagely replied "What does it matter darling -- as long as you look fabulous!"
While Marsha P. Johnson and Sylvia Rivera's participation in the overall Stonewall protest are a matter of record [Ed.: and their activism on a number of social justice issues at the time as well as later should not be overlooked or diminished], archival photos show the large numbers of white rioters there. The strained face of one of those rioters in the above photo belongs to Jim Owles -- a young gay man that the police declared was "the face of Stonewall." Here's his mug shot.
Jim went on to become one of the founders of the Gay Activists Alliance. And I am very proud to say I stood shoulder-to-shoulder with him and the organization's other members as we did everything from protesting fourth estate slanders of our lives to calls for basic civil rights protections. Jim died at forty-six in 1993 of AIDS-related toxoplasmosis. Stonewall, alas, isn't "The Jim Owles Story." It centers instead on a fictional mid-western gay boy (played by Jeremy Irvine) who comes to the big city to discover himself. Rather than join the movement, he goes back home to try and reconnect with the man he left behind. But this is of little consequence to the film's social media critics.
Director Roland Emmerich was fourteen at the time of the Stonewall riots; his screenwriter Jon Robin Baitz was eight. I was twenty-two and while I never went into the Stonewall Inn, being that it was Mafia clip joint where overpriced watered drinks were served in glasses that were never washed, I was "on the scene." It was Christopher Street that attracted me; it was alive with gay life and therefore of real interest -- socially and politically -- to me and many others.
Besides the street, what's really overlooked in both Stonewall films is the story behind the riots -- whose truth is illuminated by the words a rioter scrawled in chalk on the Stonewall's boarded-up windows for all to see: "Gay Prohibition Corupt$ [sic] Cop$ and Feed$ Mafia.")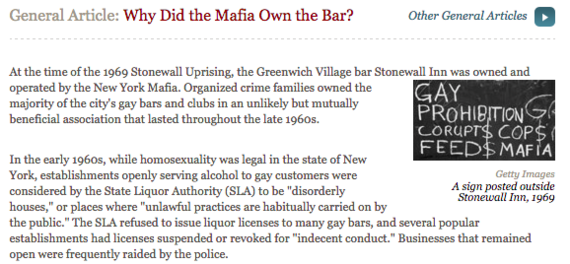 PBS 'American Experience' covers Stonewall, based on David Carter's critically acclaimed book, 'Stonewall: The Riots that Sparked the Gay Revolution.'
This was the real "bottom line." Prohibitions against establishments serving "sexual deviants" led to the Mafia creating such clip joints and paying the police off under the table. When payments were made the bars stayed open. When they didn't come in time or weren't as generous as the police would want, the bars were raided. This is what happened on June 28, 1969.
There was a story going around at the time that the owners of the Stonewall Inn (a legendary Mafia crime family) were blackmailing wealthy customers who worked in the financial district. The Mafia appeared to be making more money from said extortion than they were from the bar itself. The police were therefore out to close Stonewall because they weren't getting their "cut" of this racket. That wealthy closeted gays would repair to a dive like Stonewall rather than procure hustlers from male "Madams" well-established in the city seems hard to believe. But the fact that graft was the Stonewall bottom line can't be denied. And it was all made possible through the legal prohibitions Mayor Wagner put in place. This is why Julius', a popular gay bar, functioned as if it weren't. Thanks to the police a "This is a Raided Premises" sign hung on the wall. Consequently the bar's customers couldn't consort in the usual manner. However, a larger tilted mirror that hung over the bar made "pick-ups" possible. People silently signaled to one another via the mirror then left the club to "seal the deal" outside. Rather awkward and not very romantic. But that was life before Stonewall.
It wasn't always this way. Back in the twenties and thirties, Greenwich Village was home to any number of gay and lesbian clubs that upper-class New Yorkers in a mood for "slumming" would flock to. In the Clara Bow vehicle Call Her Savage, our heroine visits such a place where waiters in frilly outfits entertain the customers with song and dance in a wildly effeminate style. This was part of what was called the "Pansy Craze" of that era where "sophisticated" entertainers like Jean Malin would sing clever double entendre-laden ditties about gay life, and for the upper crusters select "Pansies" would lecture ladies on style in the manner of Tyrell Davis, playing a society "Pansy" named "Ernest," who is featured in the climactic scene of Our Betters, George Cukor's adaptation of a Somerset Maugham play refashioned as a Constance Bennett vehicle.
In the "pre-code" years this was all seen as the height of casual sophistication. But then World War II came along, gays and lesbians discovered themselves and each other. When the war was over they created the early gay and lesbian groups The Mattachine Society and The Daughters of Bilitis. But anti-gay and lesbian prohibitions also came, and their end wasn't seen until the rise of the organizations that came to life after Stonewall. But it does us all well to remember that the past is indeed "a foreign country" whose ways cannot be rewritten to line up with today's ever-changing political fashion. And in the country in which we now live, we "do things differently" with a freedom of which the past could never dream.
David Ehrenstein has been writing about film and politics since 1965 for numerous publications including Gay City News, Film Comment and Cahiers du Cinema. His books include The Scorsese Picture and Open Secret: Gay Hollywood 1928-2000. His website can be found at http://www.ehrensteinland.com.
Calling all HuffPost superfans!
Sign up for membership to become a founding member and help shape HuffPost's next chapter