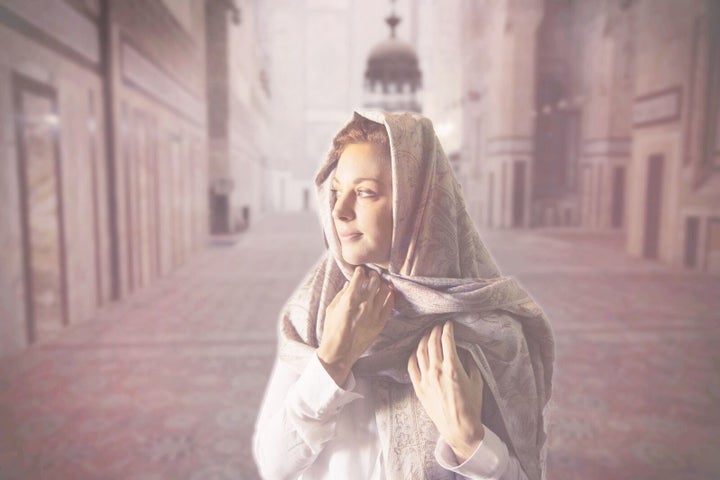 I recently chatted with my friend, Beth Doane about a trip she recently took to the Middle East. When she first talked of traveling to the Middle East, her excitement was met with concern. However, there are many myths about traveling to this part of the world that need to be addressed. Made up of sixteen individual countries, the region has a vast diversity of fascinating cultures and traditions and is home to some of the greatest archeological treasures on the planet. While there are certain countries you certainly should not visit right now, there are a few gems that are both safe and utterly breathtaking.
MK: How did you pick the places to travel?
BD: To narrow down the list consulted with tour operator Abercrombie & Kent who unlike other companies who left the Middle Eastern region at the start of the Arab Spring in 2011, proudly stayed, showing their commitment to supporting their guides and fueling the economies in these areas, which hugely depend on tourism.
MK: How do you ensure your safety while traveling in the Middle East region?
BD: Abercrombie & Kent are also known for their strict safety measures and bespoke itineraries, which are both key factors to consider when traveling to this region.
MK: What was one of the driving factors for you, taking this trip?
BD: I've long since been fascinated by this part of the world. I also wanted to capture the experience with incredible photos, and to help prove that perceptions are not always accurate - read on.
MK: Where was the first place you visited?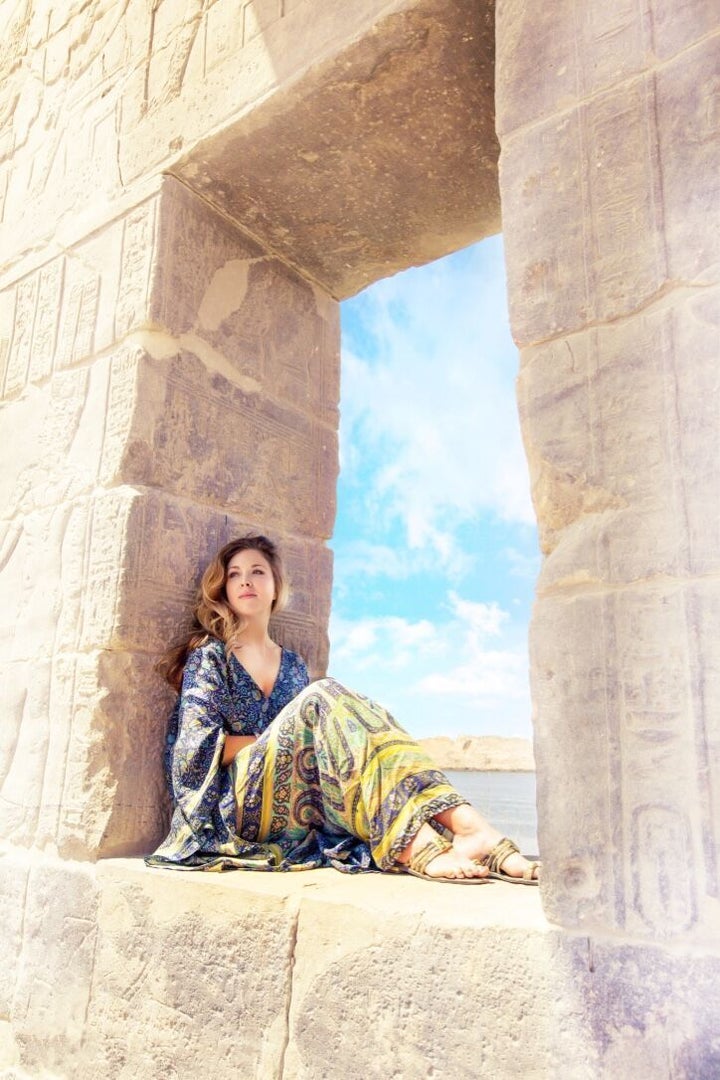 BD: I visited Jordan. The Kingdom of Jordan is a small country that borders Israel, Syria and Saudi Arabia, but don't let its Syrian border put you off, Jordan is one of the safest countries in the Middle East right now. After the Arab Spring of 2011, there was a big shift in Jordan. The government implemented key reforms to - to quote the Prime Minister - "strengthen democracy and provide Jordanians with the dignified life they deserve." Self described as "the quiet neighbor in a noisy neighborhood", Jordan is a vibrant mix of old and new, containing some of the greatest ancient wonders of the world alongside a thriving social scene.
For decades Jordan has also been a hugely popular tourist destination, but in recent years tourism has dropped by a massive 85% leaving much of its population who rely on it struggling to make a living.
MK: What is it about Jordan that makes it such an amazing destination?
BD: The first thing you notice upon arrival is the warmth of the people. The capital city of Amman is a destination all by itself. Set on a series of seven hills, the city is a mix of ancient ruins, high-end restaurants and shopping. Jordan is most famous for its architectural wonders and its natural beauty.
BD: Located just a few hours from Amman is perhaps the country's most famous site - Petra. Named as one of the New Seven Wonders of the World, Petra is a breathtaking experience. After a twenty-minute walk through the desert canyons your first glimpse of the vast temple - carved out of the red rock itself - is not something you'll forget. But what is most surprising is that this iconic temple (known as The Treasury) marks just the beginning of an ancient, sprawling city hidden for centuries in the deep canyons, carved by the Nabateans over two thousands years ago. With the huge dip in tourism, you'll find the place nearly empty.
MK: Tell me about your visit to Jerash.
BD: This greco-roman ruin is one of the greatest of its kind. From its pillar lined roads, to its temples and amphitheaters to walk through it is to truly step back in time.
MK: Did you visit the Dead Sea?
BD: Located at the lowest point of Earth - more than four hundred meters below sea level - the Dead Sea is incredibly hot, but smearing your body in the mineral rich mud of its banks and floating effortlessly is one of the strangest and most relaxing experiences you'll ever have.
MK: And you also visited Wadi Rum.
Beth: Yes, Wadi Rum is an area of incredible natural beauty and home to the nomadic Bedouins. It was here that David Lean filmed 'Lawrence of Arabia' and more recently it doubled as Mars for Matt Damon in 'The Martian'. Whether you traverse it by camel or by Jeep, choose to stay in one of the many desert camps or make your way back to the luxury of Amman, this beautiful area is a must see.
MK: Tell me about your trip to Egypt.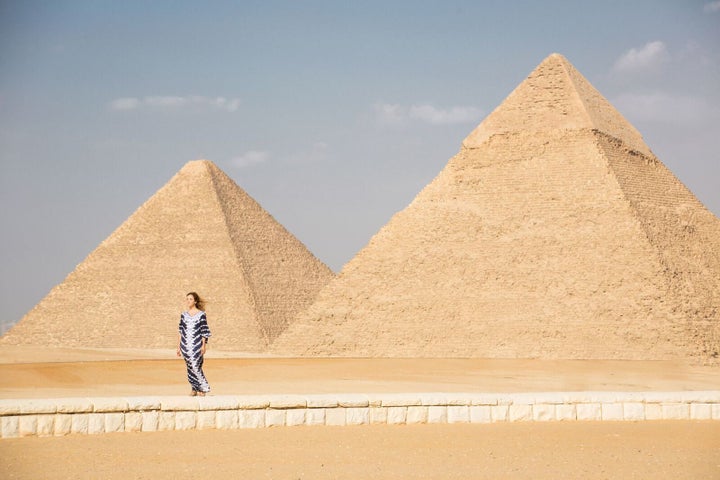 BD: Unlike Jordan, many westerners are far more aware of Egypt and its wonders. However, it too has suffered a huge dip in tourism in recent years due to its misunderstood social and political climate. Egypt is a country that is constantly being reborn. It was here that the Arab Spring began back in 2011, a movement that would change the face of the Middle East and bring forth a new era for its people. With a population of over 82 million Egypt is also the most crowded country in the Middle East that also is said to contain half of the world's treasures, much of which still lay hidden deep in desert sand.
Los Angeles based photojournalist Emily Slade captured images of what Egypt looks like currently and the award winning Abercrombie & Kent guide and famed Egyptologist, Akram Allam talked about how lucky anyone is to see Egypt now is because they will see the country in a way millions have not. You will likely get to trek into parts of ancient temples that are generally off-limits due to extreme crowds, climb to the top of pyramids only to realize to your amazement that you are the only one there, and marvel at the golden artifacts that once belonged to King Tut without being ushered away by guards who want to ensure that the thousands of other tourists waiting to see it get their chance too.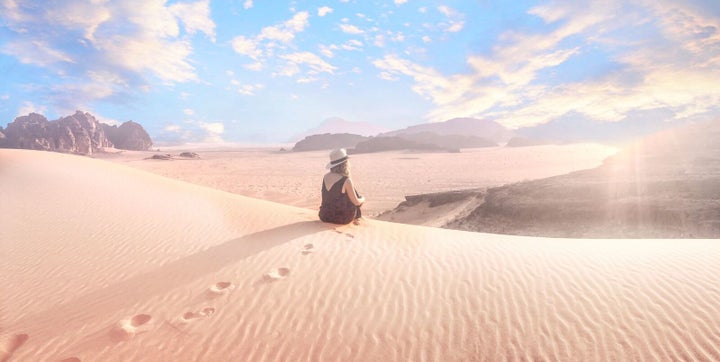 Yet, even with such a decline in tourism Cairo itself is far from quiet. With a population of 19 million, it's actually chaos. But it's the kind of chaos that sweeps you up in its vibrancy. In Allam's words, "you cannot experience a city from a car or a coach, you must feel it." And that is the best way to understand Cairo - through feeling it. This is truly a city of the senses. The people, the bazaars, the call to prayer, all mingle together to make an otherworldly experience.
And of course, like ancient stone Gods resting just outside the city are the most famous of the Egyptian landmarks - The Pyramids of Giza.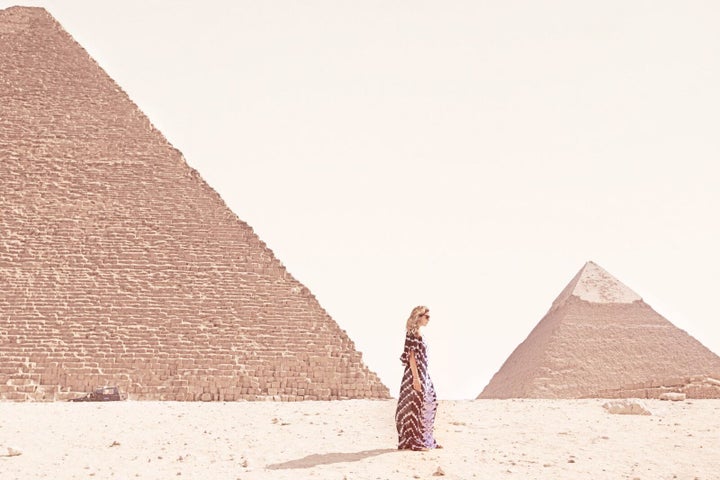 Believed to have been built nearly five thousand years ago, the pyramids are the oldest of the original Seven Wonders of the World and are as breathtaking as you'd expect. Historically, you couldn't get a photo that wasn't full of tourists and buses cluttering up the foreground of the pyramids, but because tourism is down, chances are good that you'll get that perfect shot.
Another opportunity that you should take now in Egypt is a cruise down the Nile, where you will dock in villages and ancient towns to admire awe-inspiring temples, tombs and culture as the mysteries of this ancient civilization come alive around you.
Egypt's Minister of Tourism, Hisham Zaazou shares that now is a golden time for Egypt and that although parts of the Middle East present some challenges for travelers, now is the perfect time to explore this incredible region.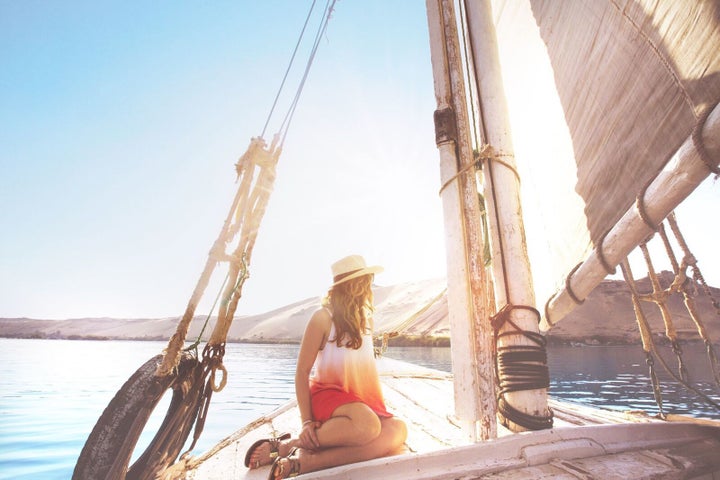 In these times of fear and anxiety, there is something profound about being exploring someplace new; feeling inspired by its people, its beauty, its future and being reminded that the world is not such a scary place after all, but in fact, full of wonders indeed.
Related
Popular in the Community