More and more brides are opting to take an additional plunge into the unknown after the big day. Trash the dress or "surf the dress" photos are increasingly in demand as a way to keep the celebration going well beyond your wedding day. While "trash" is the operative word, brides are surprised to find out their dress may come out even cleaner than it was post-reception after one too many champagne clinks and dress-to-floor swipe sessions.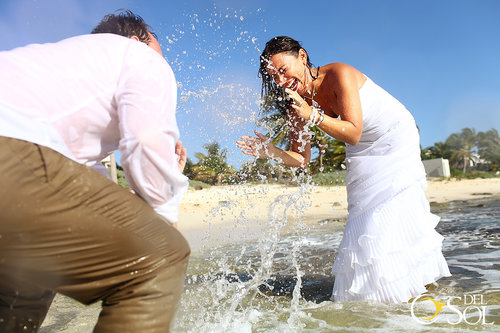 1. My dress will be ruined. I will not say that beads won't be lost and lace won't be torn. I will not say that silk would be the best choice to survive water-logging and crashing waves. I can say from personal experience that wedding dresses can survive (and even come out cleaner) after your reception. This is one of those "use your judgement" situations. If your dress is vintage or has been designed with delicate beading and materials, your story may be different. Some dresses enjoy the washing machine scrub effect of the ocean. Cenotes (underwater caves in Mexico) are freshwater and may not create any obstacles for you. If you're draping your body against rocks (above and below the water), lying against trees or dragging it through mud, of course it will get dirty! I will say that after doing all of the above, my dress was still fine!
TIP: Choose a dress in a fabric that deals well with the underwater elements such as sand, dirt, saltwater, freshwater and waves. Dresses that include a lot of lace and intricate beading may not fare as well after brushing against rocks and branches (roots are jutting from the walls of a cenote). Looking for a different idea because you'd rather not subject your dress to the possibilities? See #8.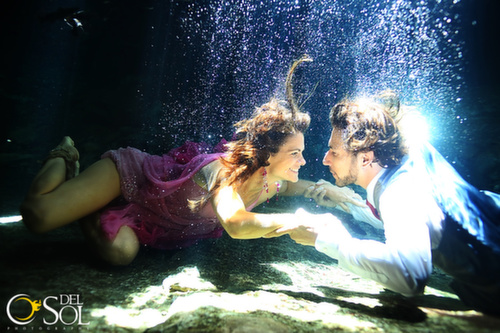 2. I can probably just DIY and not hire a photographer. Listen bombshell, please don't. Underwater disposable cameras are now readily available. There are even some that include cases to protect a camera, but if you think you're going to achieve the quality that you should be getting with a professional session, think again. Lighting is crucial and your photographer will most likely be setting up different scenes that bounce the light in all the right places. Professional equipment which includes underwater casing is incorporated to capture your every move.
TIP: If it's something you can't do right after your wedding, consider it as a one year anniversary gift to one another (that's what we did). It's another opportunity to celebrate your marriage and see your beloved carry that long white dress bag through yet another airport! It's also another opportunity to wear your "Bride" tank top while traveling if you really want to re-live the experience.
3. Props don't really matter. Although your own look is most likely top of mind for this underwater session, don't forget the extra props! Mirrors can enhance your photos both in and out of the water. A floating sheer scarf held as you swim through the water can provide a dramatic scene. Utilize the natural surroundings of vines and leaves to achieve gorgeous photos.
TIP: Traveling to your trash the dress location without a 3 foot mirror and various sheer scarves? Ask your photographer ahead of time if there are any props they can provide. Photographers are always looking to change up the look so asking ahead of time may get their wheels turning even before you arrive!
4. It's not worth it to do my hair or makeup. If you're 100 percent in love with the way you look with zero make up and haircare, I say go for it! For those of us who may not be as comfortable with sunbeams highlighting our faces without any little blots of cover up, here are some things to consider. While many of your photos will be taken as you're being a mermaid under water, there are plenty that will be taken lying on the beach, in a hammock, against trees and beyond. A little rouge on the lips or lengthy eyelashes are small things that when enhanced subtly can really pop in your photos. I do not personally think that an intricate hair design is necessary, but bed head may not be the way to go either. A little beach wave can go a long way in these photos. You'll cherish and may want to blow up many of these images, so while photographers can get crafty with Photoshop, it's important to remember you'll want to be captured in your best light without depending on editing software.
TIP: Check out photos of past brides to see what complimented their features and skin tones. Also, consulting with a makeup artist/hairstylist at the same time that you do for your wedding makeup/hair trial is a great opportunity.
5. Accessories don't really matter. Oh yes, they certainly do! Here's your chance to express yourself in a setting that is completely unique. Celebrate your different looks by incorporating vibrant colors of jewelry. Enhance your neckline with a bold, beautiful necklace or sexy strands of pearls and crystals that drape beautifully on you. Looking for an exotic aesthetic? Incorporate a stunning headpiece for the shots of you outside of the water. A goddess of the jungle scene can easily be achieved by this addition. Colorful barefoot jewelry, loads of bracelets and beautiful earrings can be switched out to achieve unique looks without changing your gown. Morph from land bombshell to mermaid with the perfect jewelry to achieve your ideal look.
TIP: Changing out accessories from scene to scene is much easier than a soaked wedding dress -- try it!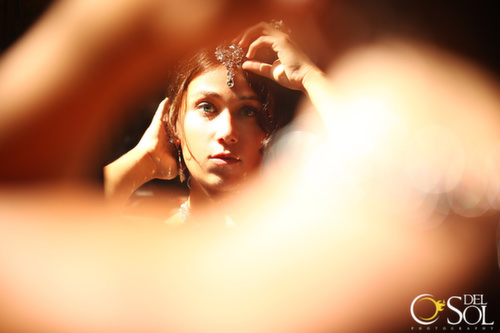 Related