UNITED NATIONS – U.S. Ambassador Nikki Haley succeeded in getting another UN Security Council sanctions resolution adopted against North Korea, albeit less aggressive than originally proposed in order to get Chinese and Russian votes.
North Korea does not like to be ignored and may take provocative action until it believes the world is paying it just respect. President Donald Trump does not like to be ignored either although what the North Koreans are doing is illegal while the U.S. president wants to sound tough ("fire and fury like the world has never seen").
With the high level UN General Assembly session beginning next week, Asian diplomats believe North Korea may do something. No doubt nearly every world leader will mention the threat from the DPRK (Democratic Peoples Republic of Korea), the North's official name.
Pyongyang has not been quiet. "In case the U.S. eventually does rig up the illegal and unlawful 'resolution' on harsher sanctions, the DPRK shall make absolutely sure that the U.S. pays due price," said a threatening statement carried by the official KCNA news agency.
Monday's resolution, the ninth measure on sanctions since 2006, was another attempt to force North Korea to stop nuclear and ballistic missile tests. Just last week it detonated a sixth device and claimed it had tested a hydrogen bomb.
Adoption of the document was swift – within one week whereas negotiations on previous measures have taken far longer. The compromises on the resolution came during intensive talks on Sunday in what British Ambassador Matthew Rycroft called "the most stringent UN sanctions regime enacted on any nation."
France's ambassador, François Delattre, told reporters it was important to get a unified council position. "This is a compromise in order to get everyone on board," he said.
The Security Council vote was a unanimous 15-0. Five permanent members have veto p
Ambassador Haley told the Council:
"We are not looking for war. The North Korean regime has not yet passed the point of no return. If it agrees to stop its nuclear program, it can reclaim its future. If it proves it can live in peace, the world will live in peace with it. On the other hand, if North Korea continues its dangerous path, we will continue with further pressure. The choice is theirs."
What the resolution says and doesn't say
The measure bans North Korea's export of textiles, estimated at nearly $800 million a year. It also limits the number of laborers North Korea sends abroad, many of them to Russia, generating millions in cash for Pyongyang.
The original draft Haley circulated wanted to block all oil supplies, which could have caused hardship to civilians in winter. The resolution puts a cap on oil imports to North Korea but does not stop them. It reduces about 30 percent of oil provided to the DPRK by cutting off 55 percent of refined petroleum products.
It also bans joint ventures and technology transfers to North Korea. Countries are asked to inspect ships with the consent of nations where the ships are registered. Originally the United States wanted countries to interdict vessels suspected of violation sanctions.
Also dropped from the resolution was a plan to impose an asset freeze on the government and leader Kim Jong-un.
China's ambassador, Liu Jieyi, said no one should think of regime change and again advocated a dialogue. China and Russia have proposed a so-called "freeze-freeze" wherein North Korea suspends its missile and nuclear tests while South Korea and the United States stop military drills. Washington has rejected this.
Most of North Korea's trade is with China, which is anxious that the country does not collapse and send thousands of refugees across the border. It would also place American troops across the Yalu River, a replay of the movie during the 1950s Korean War.
The resolution also called for talks which have not taken place since the Clinton administration, despite Trump's assertion that President Obama, his bête noir, had engaged in negotiations.
But a dialogue seems unlikely in the near future. Secretary of State Rex W. Tillerson has said the idea is to force North Korea to the negotiating table, but only after it begins to show a willingness to stop testing and gradually disarm.
"There is no good option, much less a solution," said Richard Haas, president of the Council on Foreign Relations. "No amount of sanctioning will persuade North Korea to give up nuclear weapons, nor will China step up and solve the problem for us."
"The best course for the United States would be to explore diplomacy for a limited amount of time, to consider carefully the two remaining alternatives if diplomacy comes up short [build up nuclear weapons in South Korea or take preventive military action] and then to choose the least bad option. The era of strategic patience has given way to the era of bad choices," he said.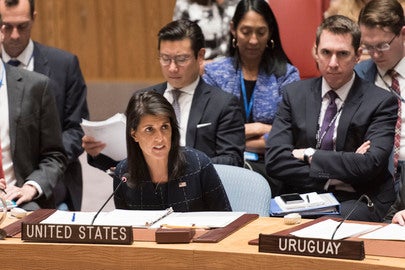 Calling all HuffPost superfans!
Sign up for membership to become a founding member and help shape HuffPost's next chapter