A shabby, ramshackle Datsun 120Y, with only the steering wheel in its proper position and graffiti all over the four-wheel structure packed with praises for the movie Na Maloom Afraad stands not in a scrapyard but outside a cinema complex in Karachi's upscale locality.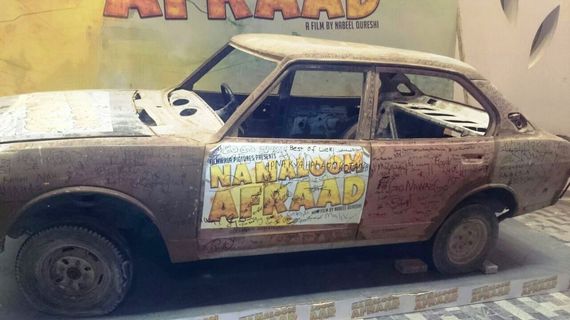 Movie buffs and especially those who wish for the Pakistan movie industry to revive are flocking to cinemas nearest them to promote the local movie industry known as Lollywood.
Na Maloom Afraad evolves around three individuals whose paths happen to coincide by luck. All these men, tried by hard twists and the impeding turns of life, be it problems at their workplaces or not having enough savings to pay their rents-saying the characters enacted are very closely associated to how an average Karachiite suffers day in and out.
The movie is shot around the landmarks of the metropolis which the local audiences can very much relate to as these areas are very much common to their daily commute. Unemployment, price hikes of basic goods, rickety dwellings and unrelenting rise in noises, the flick successfully captures the core problems in the approximate 145 minutes of its running time while not omitting the dire situation this metropolis suffers from intermittently.
Every now and then be it at the call of any political party, party leaders, influential groups, the city and its citizenry experience sudden closures for time unknown.
A Karachiite is not new to the concept of Namaloom Afraad (unknown persons) who are mentioned frequently in news broadcasts.
From muggings, assassinations to target killings all fall under the cover of being carried out by these "unknown persons". To this day most of these namaloom afraad are commonly referred to as unknown assailants who loot and plunder on the cosmopolitans streets without being caught.
The flick itself moves around how the leading characters acted out by veteran actor Javed Sheikh as Shakeel Bhai, the rising heart throb of the small screen Fahad Mustafa as Farhan and Mohsin Abbas Haider as Moon.
The comedy knitted motion picture has the right touches of humour attached to it not over or under doing it. It also brings to limelight how innocent civilians get influenced by mafia's and fall prey to them once their financial needs are fulfilled by those running the illicit trade.
The trio, each belonging to a different mindset, each with his own set of challenges get together to torch down a bank once the situation of the city worsens using it to their own benefit by staying under the cover of 'Na Maloom Afraad.'
Na Maloom Afraad revolves around the mundane struggle a citizen, specially an individual residing in the multi ethnic, intertwined city of diverse cultures and how people come up with ways to beat the harsh realities they face.
In recent years, good films from the Pakistan movie industry are produced and to say that Na Maloom Afraad will help replenish the local film industry cannot be denied. Despite the low budgets that film producers have, indeed some great direction is being done.
The rusted, dilapidated car is just a single such vehicle in front of which visitors are seen posing and getting their snaps taken. Karachiites get to witness burning automobiles whenever there is a political crisis and it is in those moments that Karachi walas (citizens) rush to their homes rather than getting their pictures taken with the blazing vehicles.
REAL LIFE. REAL NEWS. REAL VOICES.
Help us tell more of the stories that matter from voices that too often remain unheard.