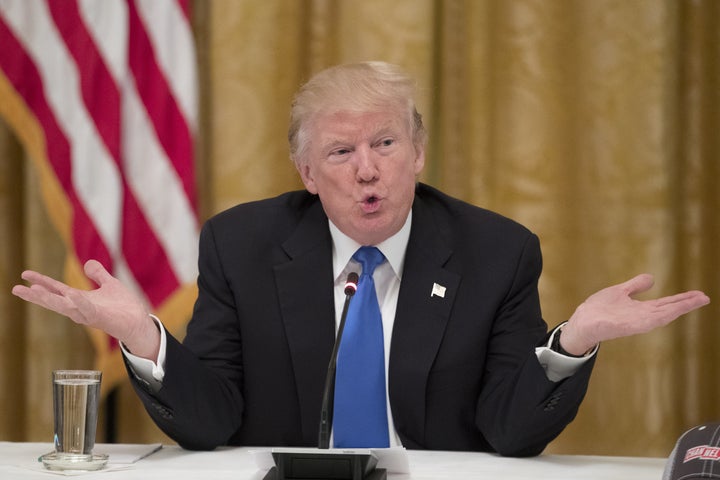 President Donald Trump has declined to attend the NAACP convention in August, and while the group's members may be disappointed, they're certainly not surprised.
The longstanding civil rights organization invited Trump to attend the 108th annual NAACP convention in Baltimore. The NAACP told HuffPost that it learned Wednesday from Boston Globe reporter Astead Herndon that deputy press secretary Sarah Sanders said in a briefing this week that Trump would not be attending. Herndon also confirmed this to HuffPost, and the NAACP released a statement after receiving the news.  
"It's extremely unfortunate that during these pressing and urgent times, the President has chosen to turn his back on the nation's oldest and largest civil rights organization ― though I must admit, his refusal to attend our convention is not totally unexpected," Leon Russell, board chairman of the NAACP, wrote in a statement to HuffPost.
The NAACP has hosted several presidents at its convention in years past, including Barack Obama, Bill Clinton, George W. Bush and Ronald Reagan, to name a few. 
"During his campaign, President Trump asked us 'what do you have to lose?' This is the second time President Trump has refused an offer to speak at our annual convention," Russell wrote. "We get the message loud and clear. The President's decision today underscores the harsh fact: we have lost ― we've lost the will of the current Administration to listen to issues facing the Black community." 
Trump's lack of interest in attending the convention ― which plans to host a bevy of black speakers and discuss issues facing the black community and possible solutions ― sends a strong message to the NAACP, which said it has lost hope, for now, in having Trump show more concern for the state of black life in America. 
"The NAACP fights to make sure democracy is real for all communities. We fight to end racism, hatred and discrimination in the United States. Our branches fight for real issues like access to healthcare, a fair justice system, equal opportunity to education, an end to police brutality and the right to vote," Russell said.
"When President Trump is ready to listen to us and the people we serve, we will be here," he added. "Until then, the NAACP will continue to strive for an America free from racism and continue to speak truth to power." 
REAL LIFE. REAL NEWS. REAL VOICES.
Help us tell more of the stories that matter from voices that too often remain unheard.
BEFORE YOU GO
PHOTO GALLERY
2016 NAACP Image Awards