The NAACP is suing the Trump administration, accusing Homeland Security of discriminating against Haiti's mostly black nationals in violation of the Constitution's equal protection guarantee.
The lawsuit, filed Wednesday in U.S. District Court in Maryland, seeks to overturn the Department of Homeland Security's November decision to cancel Temporary Protected Status for Haitians next year. TPS protects undocumented immigrants from deportation and allows them to work here legally because conditions in their home country are too dire to send them back. 
The lawsuit, like other court challenges against Trump immigration policies, uses President Donald Trump's own reported words against him, including recent comments to senators during an immigration negotiation deriding Haiti, El Salvador and some African nations as "shithole countries." At the same meeting, Trump reportedly asked: "Why do we need more Haitians?"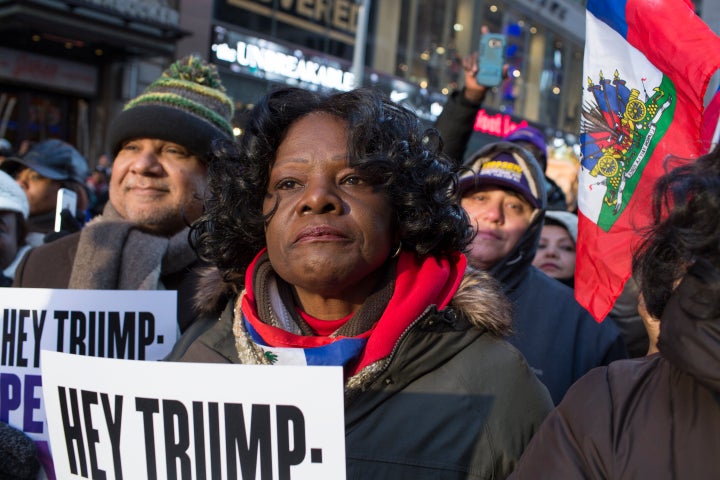 The complaint, filed by one of the country's most prestigious civil rights groups, also cites a December New York Times report that Trump said Haitians "all have AIDS." 
"In stark contrast, the President stated that immigrants from countries 'like Norway' were more desirable and should be admitted," the complaint says. It adds: "President Trump has made clear that he wishes to reduce the number of immigrants of color to the United States."
Haiti was granted TPS in 2010 after an earthquake that left hundreds of thousands of people dead and devastated the country's already weak infrastructure. More than 1 million Haitians were left homeless in the immediate aftermath.
But DHS Acting Secretary Elaine Duke announced the cancellation of TPS for roughly 60,000 Haitians on Nov. 20, writing in a press statement that that a department review found "those extraordinary but temporary conditions caused by the 2010 earthquake no longer exist."
"With this administration, you have to be skeptical of every decision they make ― especially decisions affecting people of color," Raymond Audain, lead counsel for the NAACP Legal Defense and Educational Fund, which filed the lawsuit on behalf of the NAACP, told HuffPost. Audain, himself Haitian-American, called Trump's reported comments "appalling."
The lawsuit alleges Homeland Security violated the Fifth Amendment's equal protection and due process guarantees, and departed from its normal procedure in reviewing Haiti's inclusion in the TPS program.
Then-Homeland Security Secretary John Kelly asked his staff to review the criminal histories of thousands of Haitians with TPS ahead of the decision to boot them from the program, the lawsuit says. The NAACP's membership includes Haitians who hold TPS.
"The Administration's efforts to gather this data on Haitian TPS recipients trades on false anti-Black stereotypes about criminality and exploitation of public benefits, and suggests the effort to manufacture a public safety rationale for the planned rescission," the lawsuit says.
While previous decisions to extend TPS for Haitians had been published in the Federal Register within days of their announcement, it took DHS two months to publish its rationale for the cancellation. Duke's decision didn't acknowledge ongoing problems that had led previous administrations to extend TPS for Haiti, including gender-based violence or lingering damage from Hurricane Matthew.
Kelly cited both issues in May, when he extended TPS for six months.
"Instead, DHS's true motive for terminating TPS for Haitians reflects racial discrimination," the lawsuit says.
The complaint also cites Trump's negative comments about Mexicans, Central Americans, U.S. Hispanics, Africans and Arabs.
DHS did not immediately respond to a request for comment about the lawsuit.
Some of Trump's harshest immigration policies have been halted or delayed by federal judges. The administration faces lawsuits challenging his restrictions on visitors from some Muslim-majority countries, and his abrupt decision to end Deferred Action for Childhood Arrivals, or DACA ― the program that provides deportation relief and work authorization to undocumented immigrants who arrived as children.
Those lawsuits, like the one filed Wednesday, typically accuse Trump of discrimination. While the White House has vast power under U.S. law to change immigration policy, those changes could be invalidated if courts find the actions intend to discriminate on the basis of race, nationality or religion.
Trump may see more legal challenges to his immigration measures in the future. Some immigration lawyers told HuffPost immediately after Trump's reported "shithole" comment that challenges to the cancellation of TPS for El Salvador and other countries the president slurred were likely.
Calling all HuffPost superfans!
Sign up for membership to become a founding member and help shape HuffPost's next chapter
BEFORE YOU GO