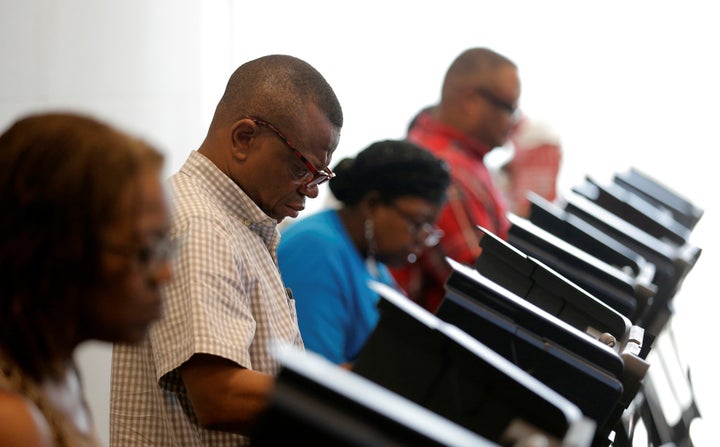 WASHINGTON ― The North Carolina NAACP said Friday it will file a motion to dismiss a lawsuit that would potentially allow Gov. Pat McCrory (R), who has been fighting to maintain the state's highest office, to further draw out the 2016 election process.
Francis De Luca, the president of the conservative think-tank Civitas Institute, filed a federal lawsuit on Nov. 22 against North Carolina's Board of Elections, asking that election results not be certified until 90,000 voters who registered on the same day they voted have their addresses verified.
De Luca's lawsuit asks for an immediate injunction that would stop votes from being counted, claiming county election boards didn't have enough time to verify same-day registrants' addresses. Such a halt would stop the state from being able to announce the official outcome of the election until Dec. 7. 
While that's only a few days away, the North Carolina NAACP wants the counting to continue because it sees the lawsuit as an attack on black voters, who are more likely to use same-day registration in North Carolina.
"The De Luca plaintiff is doing no more than beating a dead horse, and unnecessarily, to extend the voting count in North Carolina," said Irving Joyner, the legal counsel for the North Carolina NAACP, during a press call on Friday. 
North Carolina Attorney General Roy Cooper (D) declared victory over McCrory on Nov. 9 following a tight race. But McCrory did not concede, claiming the race was too close to call.
Since then, McCrory has requested that more than 60,000 provisional and absentee ballots ― most of which were filed in Democratic strongholds ― be counted, filed for a statewide recount and logged election protests in 52 counties accusing dead people and felons of voting. A portion of his protests were dismissed, and on Dec. 1, Cooper's lead over McCrory passed 10,000 votes, the threshold at which a candidate can request a statewide recount. 
It's unclear whether the 90,000 votes being challenged by De Luca would help McCrory.
De Luca and the Civitas Institute are in favor of eliminating same-day registration and requiring voters to have an ID, two rules implemented by North Carolina's voter ID law in 2013. A federal appeals court struck down the law in July, after judges determined that Republican lawmakers in the state mandated specific ID requirements, shortened the early voting period and changed registration procedures in order to suppress black voters.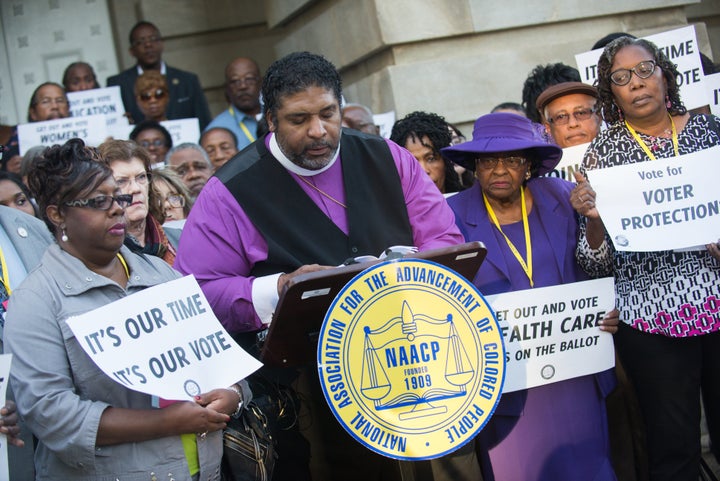 The Rev. William Barber, the president of the North Carolina NAACP, said conservative efforts to challenge the election are ironic considering "they have been found guilty numerous times in the federal courts of engaging in voter suppression, voter schemes and race-based quota denial."
"Now they're trying to suggest and project onto others their own guilt. They ran this election and they're saying ― it would be laughable if it wasn't so serious ― that they suppressed themselves," he said.
The current case is similar to another legal battle the North Carolina NAACP won in November. In that case, election officials in Beaufort, Moore and Cumberland Counties canceled voter registrations after mailers sent to voter addresses were returned as undeliverable. 
The North Carolina NAACP sued in response, claiming many of the voters still lived at the addresses on their registrations or had simply moved within the same county, allowing them to still vote there. The civil rights group said the cancelations were an attempt to suppress the black vote. 
CORRECTION: A previous version of this story said De Luca's lawsuit targeted voters who registered on Election Day; the suit focused on voters who registered during an early voting period.
Calling all HuffPost superfans!
Sign up for membership to become a founding member and help shape HuffPost's next chapter
BEFORE YOU GO
PHOTO GALLERY
U.S. State Capitol Buildings