The NAACP and a civil rights group representing Asian-American women will argue before the 9th Circuit Court of Appeals Wednesday that an Arizona law banning race- and sex-selective abortions illegally discriminates against ethnic minorities.
The 2011 law, called the Susan B. Anthony and Frederick Douglass Prenatal Nondiscrimination Act, prohibits doctors from providing an abortion if they suspect a woman is doing so because of the race or sex of the baby. Republican supporters of the bill pointed to the practice of female infanticide in places like India and China as justification for the bill. "We are a multicultural society now, and cultures are bringing their traditions to America that really defy the values of America, including the cultures that value males over females," State Sen. Nancy Barto (R-Scottsdale) said during debate over the bill in 2011. Other lawmakers noted that black women have a disproportionately high rate of abortion compared to white women.
The American Civil Liberties Union, which is representing the NAACP and National Asian Pacific American Women's Forum, is suing the state of Arizona over the law, which they say promotes racial stigma and unconstitutional discrimination against black and Asian-American women.
"These laws stem from racist stereotypes that Asian-Americans do not value women and girls and that black and Asian-American women can't be trusted to make our own reproductive health decisions," Miriam Yeung, executive director of NAPAWF, told reporters on Wednesday.
The ACLU is appealing the case because a district court dismissed it in 2013, deciding that it lacked legal standing. Arizona Attorney General Tom Horne argued at the time that the law actually protects minority and "disfavored genders" from discrimination in the womb.
The civil rights groups will argue again Wednesday that the law violates the equal protection clause of the 14th Amendment by imposing "a badge of inferiority" on black and Asian-American women.
"Racist stigma hurts," said Yeung. "Stigma should be sufficient legal injury."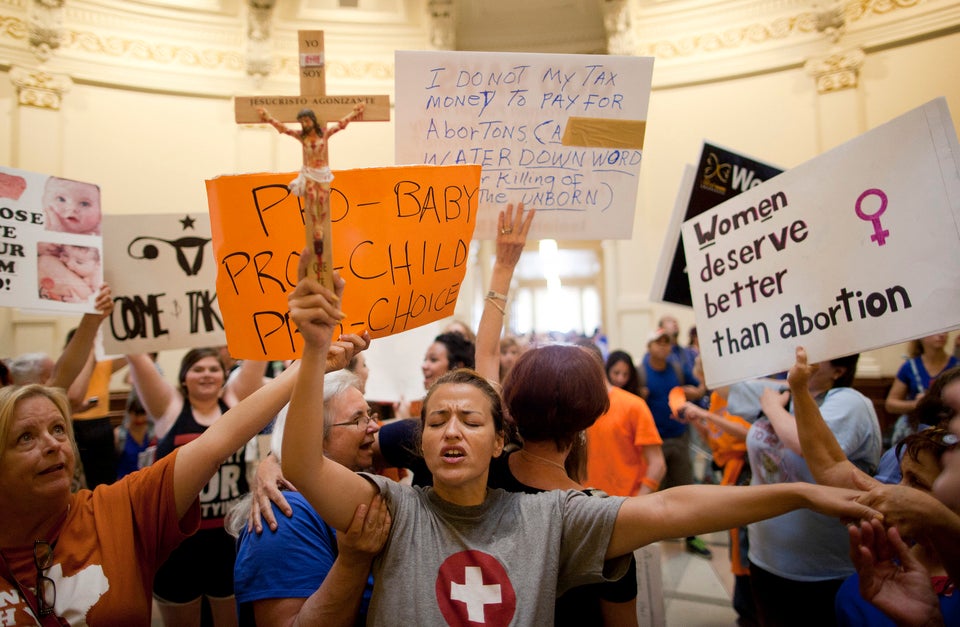 Abortion Protests Around The Nation
Popular in the Community